This section will spotlight the movements happening on the ground. All around the globe, energy is building, people are rising up and movements are emerging. Hear from the organisations spearheading change and find out more about the collective action happening at a grassroots level, working to bring down systems of oppression, violence and exploitation.
Failed by the Government, international institutions and the world, three Indigenous activists have been murdered by Mexican Narco-paramilitary group
The threat to refugees and people seeking asylum and the importance of migrant justice groups fighting back against growing right wing hostility
The author, whose parents fled the Iranian regime after the 1979 revolution, talks about the current women-led protests in Iran.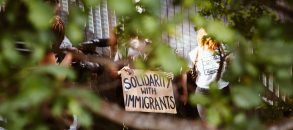 How using a camera to capture the spirit of protest and brutality of modern migration can provide a genuine pushback against the prevailing narrative