This section will spotlight the movements happening on the ground. All around the globe, energy is building, people are rising up and movements are emerging. Hear from the organisations spearheading change and find out more about the collective action happening at a grassroots level, working to bring down systems of oppression, violence and exploitation.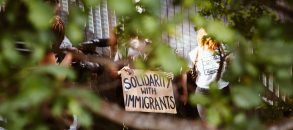 How using a camera to capture the spirit of protest and brutality of modern migration can provide a genuine pushback against the prevailing narrative

A look into the resistance of the Indigenous Totonaco communities from the Sierra Norte of Puebla against transnational mining, fracking and hydroelectric projects, and how they are building new forms of community resilience following the COVID-19 pandemic.

The unheard role of South Asian women in the feminist movement in early 20th century England

Jay Price on disability, accessibility and highlighting outsider art