"Six million streams, now I want the ocean," raps Louis VI at the launch party of his newest album, EARTHLING. It's summer in London, and the energy is palpable in the room as we move excitedly together to celebrate this unlikely climate warrior's latest release. 
"The genre can't be tied down to one or two – the genre of this is in the vibe that the music makes you feel," explains Louis when we meet later to discuss the influences on EARTHLING. An amalgamation of hip-hop, afrobeat, trap, orchestral, dub and house, jazz, funk and neo-soul, the mix reflects the varied sounds Louis became inspired by growing up. 
Born and raised in North London, Louis's heritage is a mixture of French, Dominican, Scottish and Italian. "Music has always been there. My mum played music my whole life in the house. We had De La Soul, Fela Kuti, Buju Banton – and all the reggae you can imagine." Surrounded by music as a child, Louis saw it as a way to build new worlds and connect to others driven by the same passion.
And EARTHLING does just that: it brings people together not just to dance, but to unite around themes of nature, political frustration, a longing for land justice, and overwhelmingly, deep-rooted admiration for Mother Nature. And if you listen closely, throughout the album Louis has sampled British bird songs and the sounds of the Amazonian rainforest, transporting the listener directly to the places he's calling out to protect and grounding us in the ecosystems from which we've come. 
It's Louis' Dominican ancestry that is the driving force for connecting climate justice with his music. Known as the nature island of the Caribbean, Dominica has suffered first hand the impacts of climate change – not caused in any way by the tiny population of 70,000, Louis is firm on. The impacts of Hurricane Maria in 2017, which almost destroyed the island completely, are still ricocheting through his ancestral home, and as with almost all climate injustices, those (such as native Dominicans) who contributed least to the climate crisis are suffering its impacts the most harshly. EARTHLING takes us on a journey through conversations Louis had while exploring his connection to his heritage, family and land, and reimagines a future where this injustice is put right.
Before this journey, Louis had always had a great appreciation for nature and as a child his love of dinosaurs would lead him often to the Natural History Museum. "My obsession nearly killed someone as a kid," he laughs. "I had a huge file, full of facts and pictures of dinosaurs. One day I was leaning on a ledge with it and it fell and barely missed someone's head."
Despite his passion for both, Louis struggled to make the worlds of music and nature collide. It wasn't until a life-changing conversation with his sister changed all that. "There's no time to be your full self," she told him – emphasising that her brother needed to follow his passions now rather than waiting for the right time – and this advice was a catalyst that birthed an era where Louis VI will shamelessly and unapologetically intertwine his interest in nature with music.
The conception of EARTHLING took place on Louis' trip to Joshua Tree in the Californian desert and, like many creatives before him, the artist gathered with his peers and consumed psychedelic mushrooms. He describes his trip with clarity, reminiscing on the alien landscape of the park and seeing an eagle flying over him. He had a heightened awareness of the ecosystem around him. The journey reached its pinnacle when he heard a voice, which he believes to have been Mother Nature, call out: "Your life needs to be devoted to this. Your life is measured in how much you help save the natural world." It's referenced in 'VIBRATE,' where we hear him rap: "saw God in a rock outcrop and she told me the planet needed saving." It provided him with the final reassurance he needed to go after his ambition of creating a piece of art that melded music and nature. 
Louis thoughtfully reflects on this experience: "People have lots of different beliefs, but for me, the connectivity to nature that I feel is the closest I come to faith. And I really feel like you can talk to nature – because aren't we nature as well?"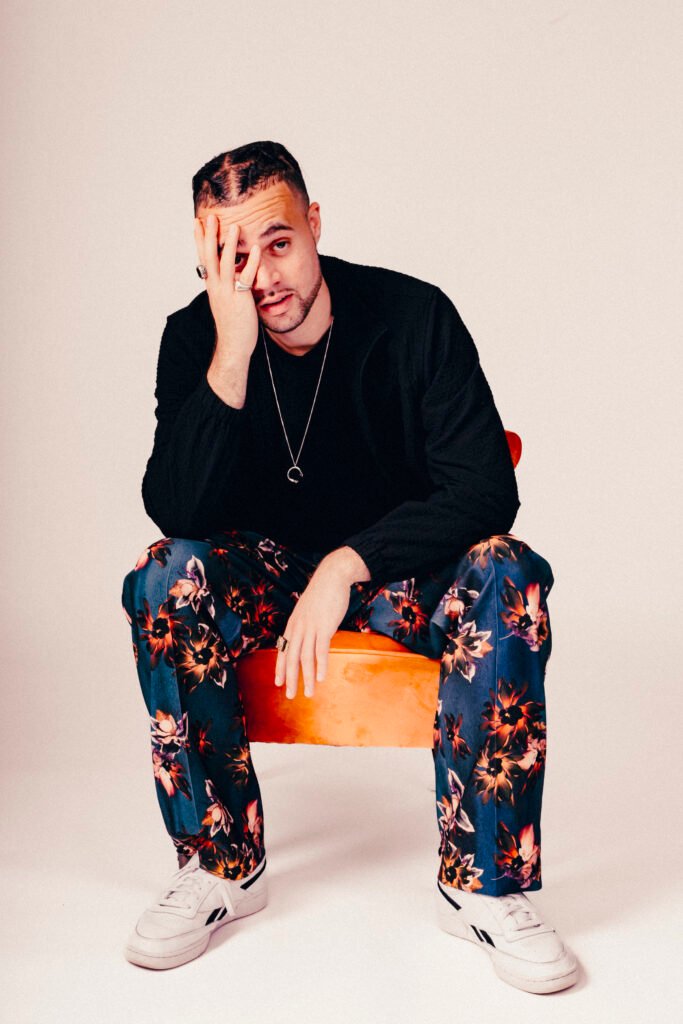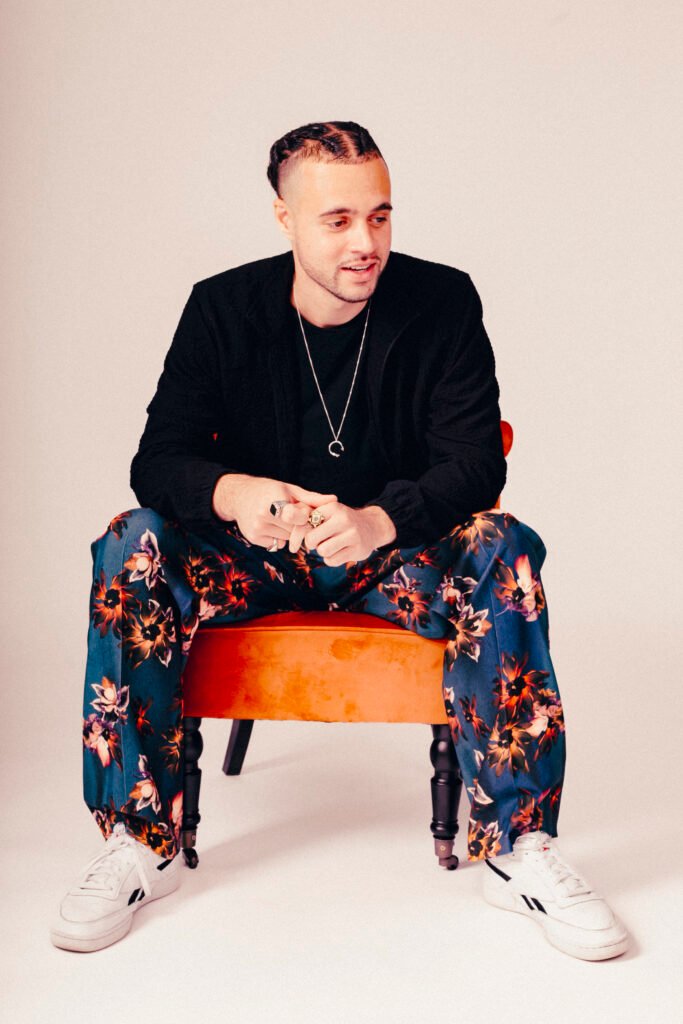 "Why have we still got a very, very long way to go?" he asks on NEEDLE IN THE OCEAN.
Wildfires, floods, droughts and other (un)natural disasters are plaguing the lands of the marginalised and racialised – and they are happening on more frequent and exacerbating basis. In 'ORANGE SKIES,' ft. Mick Jenkins, Louis expresses his frustration at how these harsh realities are constantly depicted on our digital screens, yet never with any proactive or people-centred action. He bemoans: "Politicians got me moving cutthroat/ Scapegoating migrants into sunk boats/ While they spend our taxes on some top coke/ Chopping down our forests till we cough smoke." 
"Ain't humans the puzzle to this piece?" he questions later in the song – and it's something that resonates with me. In the climate justice spaces I've been part of for years, we know that collective community-building is an essential requirement for creating impactful change for everyone. Climate justice moves us away from individualism and towards centring people. Part of that work is showing that every person, no matter their skillset, has a role to play – and EARTHLING exudes this spirit of collaboration, with further features from Lex Amor, Moses Boyd, Alex Cosmo Blake, Oscar Jerome, Bluestaeb, Aréna and Amahla.
I was curious about the process of creating music which centres nature with artists that may not focus on those themes in their own work. However, Louis assures me that from creating a place of trust through music, he was able to have more difficult conversations with his collaborators about the climate crisis. 
We discuss how, through the album, this process can be duplicated on a larger scale as music can invite people to discuss topics that seem intimidating and too complex to address. Music enables us to have low-ego conversations about the things that matter to us the most. 
But one of Louis's favourite collaborators wasn't with a musician – it was his Aunty Clara. His appreciation for a feminine influence is clear: "If maths is the universe, a woman is the whole equation," says Louis in GOD IS A LADY. This track is one of the periodic moments in the album where you hear the warm Dominican voice of Aunty Clara. Her voice provides the glue to the album, as she's documented sharing her wisdom with Louis. The choice to include her actual voice in the album was an easy one. "We need our elders to be in the conversation," he tells me, and I agree – because intergenerational and intersectional knowledge is key to understanding the climate crisis. The artist expresses how he admires the wisdom of women and he sees that wisdom mirrored by the endless gifts provided to us by Mother Nature, reminding listeners that there is no life without women.
As two climate activists of colour, Louis and I have both noticed that the climate space can often lack intercultural and intergenerational discussions. And this is an issue that goes further than representation politics, as it can actually make Black, brown and other racialised folks disconnected from the realities and therefore the solution-building of the climate crisis. By including these voices in his music, Louis hopes that he can not only bring the message of protecting the climate to a wider audience, but also expand who is spreading that message. 
I ask Louis why he believes music can be such a powerful conduit for messaging surrounding climate. "If you break matter down to its smallest parts, past the protons and neutrons and quarks, then all that's left is vibration. So everything is already sound."
He hopes that with this theory, that sounds underpin our natural world, he can help influence the wider music industry to allow artists to authentically platform social and environmental justice issues without restricting them. 
"Imagination is the super tool of it all," Louis tells me, explaining how he sees the future of battling the climate crisis. "We win this by a better way of living. And that's so much easier if you can see it and feel it and hear it – and I think that's what art will do. Whether that's films, TV, crazy immersive experiences, or music. It's all a vision for living in a more harmonious way with the planet." In his eyes, an ethical music industry looks like an industry that shifts the paradigm of success, where artists are not driven by streaming numbers or awards, but by the impact their songs can have on the natural world. 
Subscribe to shado's weekly newsletter
Exclusive event news, job and creative opportunities, first access to tickets and – just in case you missed them – our picks of the week, from inside shado and out.
Louis has poured his musical talents and global connections into EARTHLING, bringing the listener on a musical journey that intertwines with climate justice. In fact, he sees this as his role as a creative. "Artists need to come together to paint the future, that's how we win." 
What can you do?
In the midst of climate chaos, take a listen to Louis VI's album EARTHLING available on all streaming platforms and follow the legacy of Louis VI via his Instagram.
Collectives to follow that support community building and kinship through creative means:
Watch Summer of Soul (…Or, When the Revolution Could Not Be Televised), a documentary exploring the revolutionary impacts of the 1969 Harlem Cultural Festival 
Read more articles by Samia: