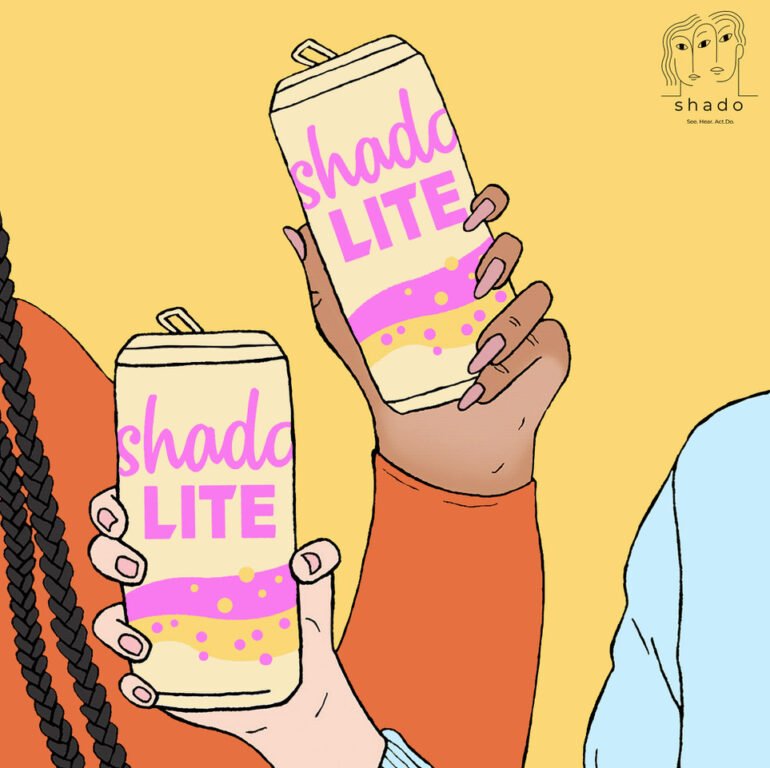 Join our hosts Larissa Kennedy (@larissakennedy) and Zoe Rasbash (@zorasbash), as they introduce themselves and the podcast. They will be using this podcast to navigate the big issues on your feed, moving from apathy and overwhelm to collective action and hopeful pathways forward.
We're not claiming to be experts in these issues – let's remove the dichotomy of student versus teacher – but instead we want to take listeners on a collective journey of learning. Give it a listen and share your thoughts!
Listen on Spotify or Apple Podcasts:
In this episode, contributing SHADO writers, Samara Almonte and Rachel Edwardson discuss the importance of indigenous storytelling in filmmaking as a tool for cultural preservation and revitalization.
Rachel Edwardson is an Iñupiaq/Norwegian/Sami social justice filmmaker and educator from Utqiagvik (Barrow), Alaska. She is a Producer and Impact Producer on the film In My Blood It Runs directed in collaboration by Maya Newell and produced with Sophie Hyde and Larissa Bahrendt. Alongside film making Rachel has been honored to work in education reform with communities across Alaska and Australia. She works closely with her husband and Human Rights lawyer/filmmaker and educator, David S Vadiveloo, across Australia and Alaska.
Samara Almonte is part of the Michoacán diaspora, raised between the lakes and tierra caliente regions of Michoacán, Mexico and occupied Coast Salish territory or the Pacific Northwest. She identifies as a P'urhepecha descendant on a journey of reconnecting with her ancestors. Samara is the director of Raíces Verdes (Green Roots), a multimedia platform dedicated to archiving and sharing the experiences of Black, Indigenous, People of Color across diasporic experiences reconnecting with their "green roots".
Resources:
In My Blood It Runs: a fight for the revitalisation of First Nation culture and histories
Why are you interviewing my Aapa: filmmaking and empowerment
In this episode, Samara Almonte, a contributing editor for SHADO, discusses the power of intergenerational healing and Indigenous stewardship with The Seed Keeper author, Diane Wilson. Diane Wilson is a Dakota writer and educator, who has published four award-winning books as well as essays in numerous publications. Wilson's novel, The Seed Keeper, received the 2022 Minnesota Book Award for Fiction. Wilson is the former Executive Director for Dream of Wild Health, an Indigenous non-profit farm, and the Native American Food Sovereignty Alliance, a national coalition of tribes and organizations working to create sovereign food systems for Native people. Wilson is a Mdewakanton descendant, enrolled on the Rosebud Reservation.
Samara Almonte is part of the Michoacán diaspora, raised between the lakes and tierra caliente regions of Michoacán, Mexico and occupied Coast Salish territory or the Pacific Northwest. She identifies as a P'urhepecha descendant on a journey of reconnecting with her ancestors. Samara is the director of Raíces Verdes (Green Roots), a multimedia platform dedicated to archiving and sharing the experiences of Black, Indigenous, People of Color across diasporic experiences reconnecting with their "green roots".
References:
https://www.dianewilsonwords.com/
https://dreamofwildhealth.org/
https://nativefoodalliance.org/
This season has discussed A LOT of stuff - from unpicking climate anxiety to the issues of carceral feminism. So Larissa and Zoe sit down to map out the connections between all of these issues. How are these systems connected and what might be the leverage points for change? When the scale of these issues can be super overwhelming, what are actions we can take to resist and rebuild?
References:
Free Black University - https://www.freeblackuni.com/
Black Earth: Resistance Anti Racism and the Environment - https://www.tiatafahodzi.com/black-earth
Warning: this is an unbelievably straight episode. This week the girls are tackling 'the apps': are they making love and dating harder, or are they simply reflecting already broken society? How far can we blame big tech for the state of dating right now? And can we even be bothered to resist it?
Zoe and Larissa talk dating horror stories, politics of desirability and why straight mens dating profiles really are just for other men. Tune in for two 5'11 queens who cannot make up their mind on how we might change modern dating to be less BLEUGHJ…
References:
Alfie Bown, Dream Lovers: The Gamification of relationships
Dr. Jacqueline Ristola || Queering the Metaverse
Zoe Rasbash, Love in the age of platform capitalism
Fope Ajanaku, Does radical vulnerability hinder us in the digital arena of love?
The Singles Reports
bell hooks, All About Love: New Visions
Shado Bookshelf: Love Beyond the Binary
Clotilde de Maricourt et al, #MeToo or #MenToo? Expressions of Backlash and Masculinity Politics in the #MeToo Era
Chris Haywood, Men, Masculinity and Contemporary Dating
We know that many feminisms do not truly resist oppression in all its forms [insert TERFs and boss babes here] Another group of feminists flopping on the 'radical reimagination' front are carceral feminists.
Our guest this time, abolitionist revolutionary, author and lecturer Dr Aviah Sarah Day, describes the term carceral feminism as "a critique about a particular branch of the feminist movement". With Aviah's knowledge and experience in the movement, we get into why investing in policing and punitive responses to gendered violence will not save us!
Somehow the tech failed us on the recording of this episode (boo, hiss!) so we lost the second half of our chat with Aviah. Co-hosts Zoe and Larissa have wrapped up the chat by reflecting on some of the parts of the conversation that we lost.
In the episode, we discuss some examples of gendered and sexual violence, including r*pe, so if you'd like to skip that part of the conversation, hit pause at 32:14 and resume at 32:44. Masses of love and solidarity to any survivors listening.
References:
Dr Aviah Sarah Day (2022) Why police will never be the answer to gendered violence
Aviah Sarah Day and Shanice Octavia McBean (2022) Abolition Revolution
Ruth Wilson Gilmore (2022) Abolition Geography: Essays Towards Liberation
Mariame Kaba (2022) We Do This 'Til We Free Us: Abolitionist Organizing and Transforming Justice
Oonagh Ryder and Mo Mansfield (2018) "Just Paint the Walls Pink": Gender, Prison and Carceral Feminism
Actions:
Find your local CopWatch group
Use Abolitionist Futures' Framework differentiating between reformist reforms and abolitionist steps in UK policing
FOIs conducted by the Runnymede Trust reveal that there are almost 1000 police officer operating in UK schools, and there are plans to hire more. Children and young people are being robbed of their childhoods through criminalisation and surveillance in schools.
Why do the police appoint "Safer Schools Officers" when we know that police make marginalised children unsafe? Why are surveillance technologies being rolled out in schools? Why is community concern about all of this ignored? Co-hosts, Zoe and Larissa, ask all these questions and more on this week's episode. Have a listen to learn more about the issues we're facing and the orgs on the ground that give us hope!
References:
The Runnymede Trust (2023) Over-policed and Under-protected Report
No More Exclusions (2021) School Exclusions During the Pandemic: Why we need a Moratorium
The 4 Front Project
Safeguarding, Surveillance and Control: School Policy and Practice Responses to the Prevent Duty and the 'war on terror' in the U.K. Necla Acik, Jo Deakin and Bob Hindle 2018
Curating Risk, Selling Safety? Fear of Crime, Responsibilisation and the Surveillance School Economy Emmeline Taylor
Surveillance Won't Protect Students with Chris Gilliard, Tech Won't save us Podcast
Articles to read:
If exclusion is retribution, abolition in education is freedom! - Shado Magazine
Obedience, Oppression and Capitalism: why we need to address the legacy of schools - Shado Magazine
Have you ever felt hopeless? Like everything is too complicated? Society is too hard to change?
Then maybe you need a bit of Solarpunk in your life, an art aesthetic / literary genre / political movement, proposing a radical different way of living and being.
In this episode, co-host Zoe fangirls over Andrew Sage, an artist, YouTuber and organiser on solarpunk and leftist politics. Andrew deftly diagnoses our inability to radically change society is rooted in that we don't know what alternative we are proposing. Solarpunk provides a vision for us to work towards, and values to build sustainable and successful movements for change.
In the words of Toni Cade Bambara, "the role of the artist is to make the revolution irresistible."
Check out Andrews YouTube here YouTube.com/Andrewism & Patreon here patreon.com/saintdrew
References:
SOLARPUNK 2021 - A Collaborative Art Project, Andrewism
The Hope of Solarpunk (2021) Andrew Sage and Sabrina Gaveard, Shado
What is Solarpunk (2023) Andrew Sage and Wei wu, Shado
Building Utopia Pt 3: Harmony Between Humanity, Technology, and Nature (2022) Jank
Tools for Conviviality (1973) Ivan Illich
Solaprpunk reading list:
Walk Away (2017) Cory Doctorow
The Dispossessed (1974) Ursula K. Le Guin
A Psalm for the Wild-Build (2021) Becky Chambers
Ecotopia (1975) Ernest Callenbach
Hello, we are scared of Big Tech and iPhones are cursed!
This ep the girls are getting into the dark side of Apple: how was it able grow so exponentially in the noughties?
We spin out into history of Chinese labour policy and emerging fin-tech in Africa, and the incredibly hard to pronounce 'algorithmic colonialism'. The girls struggle to get their head around these massive supply chains that produce the little computers we're all so addicted to. Tech girlies we need your advice, how do we bring down silicone valley? Or at least make them less evil??
References:
Proletarian China: A Century of Chinese Labour The Foxconn Suicide Express, (2022) Jenny Chan
Foxconned labour as the dark side of the information age: Working conditions at Apple's contract manufacturers in China. Communication, Capitalism & Critique, (2013) Sandoval, Marisol. (2013)
Tech firms failing to address forced labour in supply chains (2010) Sebastian Klovig Skelton, Computer Weekly
Apple supplier Lens Technology accused of using forced labour in China (2021) Reed Albergotti, Washington Post
USA: Apple agrees to human rights and labour policy audit following investor pressure (2023) Aislinn Murphy, Business and Human Rights Resource Centre
Tech giants' pivot out of China can usher in a human rights reset (2023) Michael Caster, Al Jazeera
Abeba Birhane ( Algorithmic Colonization of Africa by Abeba Birhane
Shakir Mohamed, Marie-Therese Png & William Isaac (2020) Decolonial AI: Decolonial Theory as Sociotechnical Foresight in Artificial Intelligence
Kai-Fu Lee (2017) The Real Threat of Artificial Intelligence
In this episode, we're joined by Justin Sardo, a member of the collective A Growing Culture to talk about the food sovereignty movement. 3 years on from the outbursts of solidarity we saw with the Indian Farmers' Movement, we need to sustain our solidarity with farmers, foresters, land-workers, peasant-led and indigenous-led land and food rights campaigns. The dominant food system separates us into food producers or consumers, and takes power away from us all.
Take a listen to hear all the mic drop moments from Justin, to hear us drag capitalism (again!) and to learn about movements on the ground in The Philippines, Brazil, the US, the UK and beyond.
References:
What you eat matters more than you think it does
"Africa is being recolonised": Seed sovereignty as a form of resistance
Farmerama Podcast (Spotify)
Of a survey of 10,000 children across 10 countries, 75% said they believe the future is frightening. Across the world, anxiety about the climate crisis is no longer a fringe issue. But historically, anxiety has served to alert humans to danger, to help us know when to act. Is eco-anxiety fuel for us to act on the climate crisis?
Co-host Zoe sits down with Tori Tsui, climate justice and mental health campaigner and author of new book It's Not Just You, to ask: is a bit of eco-anxiety is a good thing? Tori says: think bigger.
References:
Its Not Just You, Tori Tsui
Climate Anxiety: An Illness of the System, Ayisha Siddiqa
No Good Alone, Rayne Fisher Quann
Climate anxiety in children and young people and their beliefs about government responses to climate change: a global survey, Caroline Hickman et al.