shado and Counterpoints Arts have collaborated on a series of articles in celebration of Refugee Week 2022. They are written by artists, activists and journalists who are creating change in their communities and exposing first-hand the hostility of the UK's asylum system. In this piece, Kushinga, who came to the UK from Zimbabwe 23 years ago, details how the latest government legislation will impact specific minoritised groups.
As an advocate for refugees and someone who has been through the asylum system myself, I've watched in horror as the UK government's Nationality and Borders Bill – otherwise known as the 'anti-refugee' bill – recently became an act of law. 
I came to the UK in 1999, aged 14. Later, after making an application for asylum which was rejected, I was eventually granted Discretionary Leave. 
After nearly 20 years, I finally became a British citizen last year, but the trauma caused by this process will stay with me for a lifetime. 
Going through the asylum process nearly destroyed my already fragile mental health. Several times I ended up in A&E after desperate attempts to take my life. I was later diagnosed with Borderline Personality Disorder and PTSD. 
The asylum process is difficult enough. So, over the last year, alongside my fellow City of Sanctuary UK ambassadors and many others, I've worked tirelessly to prevent the abhorrent government plans which would make it even worse.
Tightening borders only increases the use of dangerous routes
Prior to the action laid out in the anti-refugee bill, the government's measures to stop migrants coming into the country via 'illegal routes' has not proved to be a deterrent. You can't apply for a 'refugee visa', so people have no choice but to use dangerous routes, and in doing so, risk their lives and the lives  of others.
What the government has overlooked, or perhaps chosen to ignore, is that as long as there is war, famine, climate crisis and global disasters, people will continue to use dangerous methods to get to safety.
In fact, an article published in the The Times  on 4 June indicates a large increase in the number of people crossing the channel. So while the government continues to pander to xenophobia through claims that the bill will decrease the number of people attempting to seek asylum, it has not been the case. It just makes the crossing more dangerous.
Dispelling Conservative myths of migration for economic opportunism, 98% of the people who risk their lives crossing the channel apply for asylum. This only proves that there is a great need to find safe and secure routes for those seeking sanctuary in the UK.
Yet under the latest inhumane legislation, even for those who do make it to shore, refugees are now at risk of being sent to Rwanda. And although the first flight due to leave for Rwanda was stopped due to public outcry, the fight is not over. The bill will continue to have adverse effects on anyone wanting to make a home in the UK, and this will disproportionately impact the LGBTQI+ community, women and children.​​
How the new regulations will affect queer communities
The Home Office themselves have acknowledged that LGBTQI+ refugees deported to Rwanda could be persecuted because of their sexual orientation or gender identity.
In fact, the department's equality impact assessment for the policy states that there are "concerns" over the treatment of some LGBTQI+ people in the country, and that investigations point to "ill treatment" being "more than a one-off".
Although homosexuality is not illegal in Rwanda, there have been reports of Rwandan authorities detaining gay and transgender people, with Rwanda's conservative leanings encouraging anti-queer sentiment throughout the country. This creates a ripple effect of prejudice which exists outside of policy making, with many LGBTQI+ people facing discrimination in both private and public spaces.
'Proof' and its limitations
Aside from threatening people seeking asylum with deportation to Rwanda, the new bill is also making it even more difficult to claim asylum on the grounds of your gender or sexual identity.
When making an application, applicants are required to 'prove' their sexual orientation. Put simply, you must demonstrate you are 'gay enough' to face persecution if sent back to your country of origin.
But as Aloysius Ssali, founder of the Say It Loud Club, explains: "How can you give evidence of your gender or sexual identity if it is something you have concealed for your whole life in order to stay safe?"
By increasing the standard of proof required, the new legislation will make this even more difficult, meaning the number of successful asylum applications will vastly decrease and thousands of people will be forced to live in unsafe conditions.
The increased threat to women
Many women who seek asylum are victims of gender-based violence, survivors of torture or victims of trafficking.
I have spoken to women who've fled their countries to escape violence at the hands of their partners, some who have sustained life changing injuries. By the time they get to the UK they are often traumatised, with their mental health greatly affected.
Subscribe to shado's weekly newsletter
Exclusive event news, job and creative opportunities, first access to tickets and – just in case you missed them – our picks of the week, from inside shado and out.
Once in the UK, they are then forced to face the exhausting asylum process, which I know from first-hand experience is extremely damaging. And now this process is set to become even harder.
The bill compounds the UK's culture of disbelief and will require applicants to submit supporting evidence at the port of arrival. This is a very daunting prospect, particularly for victims of trauma and violence, who might need time to mentally prepare themselves for the process.
Gathering evidence to submit as part of an asylum case can take months, or even years, and is usually done with the help of a solicitor. Prior to arrival, not everyone will have had access to a legal team; and language barriers and cultural differences will only make the process more challenging.
These issues are often exacerbated for women, who may not be accustomed to speaking to men outside their family. This, combined with the immediate nature of the new regulations, means women who may have experienced violence by male partners will now face the prospect of being interrogated by a male Home Office official.
The changing fate of children
The bill proposes the removal of family reunion rights, which will have a devastating impact on children and young people coming into the country via small boats across the Channel. It's worth noting that young Ukrainians are afforded a different treatment, and are more likely to be reunited with their families and loved ones – which, while welcomed, shines a light on the unfairness in the system for those who do not appear "white" and "European" enough.
The bill also includes the introduction of an in-house age assessment team. It references using "scientific" methods to look for visible signs of sexual maturity to determine the claimants age. This action is not only traumatic and borderline abusive, but also goes against the rights of children as stated in the European Convention on Human Rights (ECHR) and the United Nations Convention on the Rights of the Child (UNCRC).
These children will have been separated from their loved ones and spent months making the perilous journey to seek safety in the UK, only to be treated like animals or subjects of an experiment on arrival.
The thought of being apart from my son leaves me breathless. But if I had to be separated from him, for his safety and with the prospect of him having a better life, I would hope that wherever he ended up, not only would he be safe, but he would be treated with kindness and warmth.
Over the years, I've worked with young unaccompanied people seeking asylum and have witnessed the pain and suffering they have experienced. From two young South Sudanese men who spent over a year travelling to Calais and then spent months in a refugee camp before ending up in the UK, to a young man from Afghanistan who  spent years looking for his family with the help of the British Red Cross's family reunion service – the system is broken for young people.
More hostility in the hostile environment
The experiences for children like these, as well as for women and those belonging to the LGBTQI+ community is set to become more difficult under the new Bill. For those of us who have spent years campaigning for positive change, despite our efforts the opposite has been achieved.
When I first came to the UK, I was expecting to find one of the most tolerant countries in Europe. Even though I was going through the asylum system during the introduction of Theresa May's immigration policies and deliberate creation of the 'hostile environment', I still held onto that belief. But the introduction of the Nationality and Borders Bill and the difference I have witnessed in the treatment of Ukrainian refugees in comparison with refugees of colour has cemented my belief that this government is racist, and immigrants are no longer welcome here.
The UK government has blood on its hands.
What can you do?
Speak up for sanctuary seekers

Promote solidarity within your communities and

write to your local MP

The Refugee Council's

website

has information on how you can get involved in the fight against the bill, from donating to campaigning

Most importantly, educate yourself and those around you. Knowledge is power, the only way to fight injustice and prejudice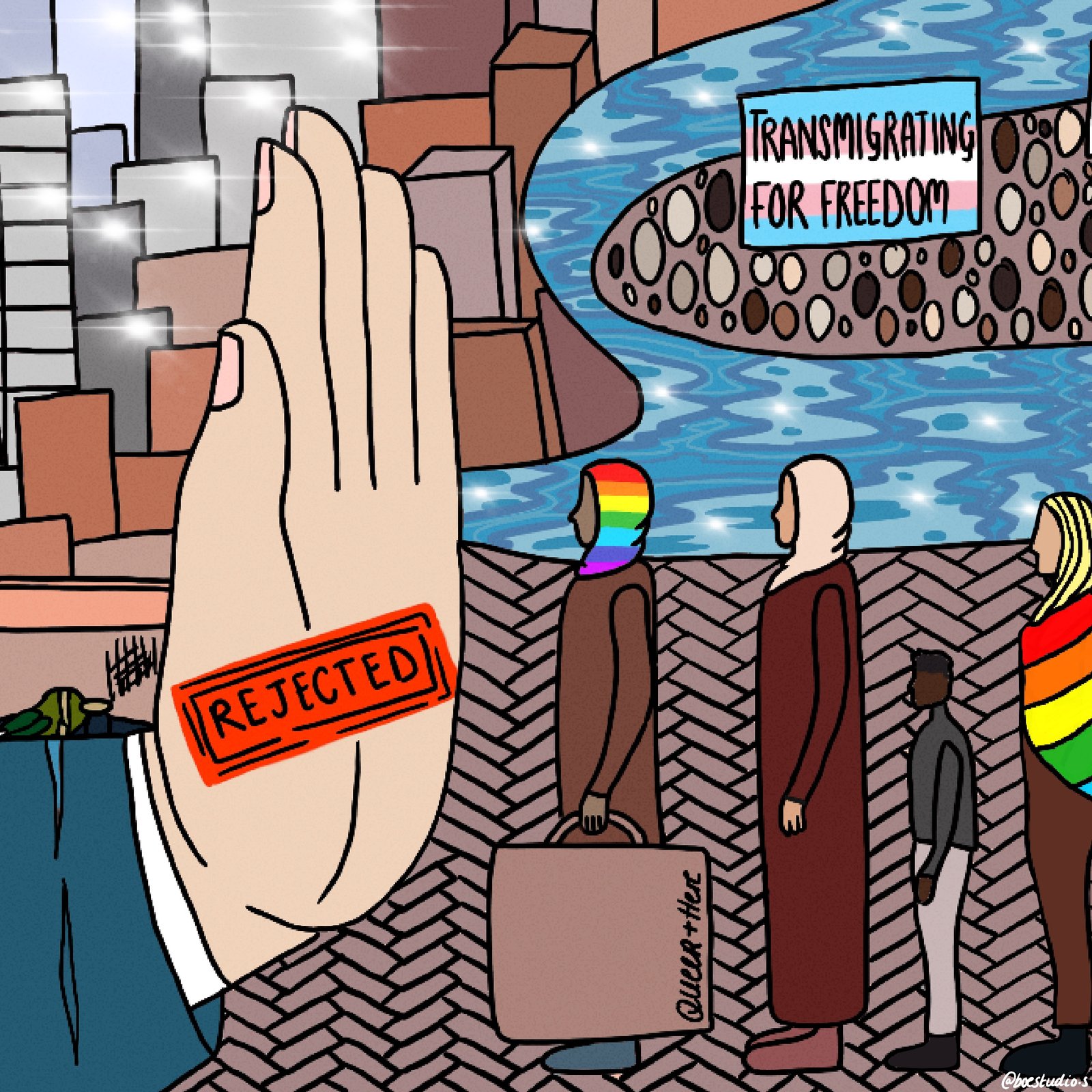 Illustration by Boe @boestudio.s who says: "The image is your typical suited and booted banker man denying the entry of women, children, and queer asylum seekers. This represents the Conservative government we're under and how the Nationality and Borders Bill will continue to affect people seeking asylum."