With the UK's death toll rapidly increasing and NHS healthcare workers speaking out against working conditions and the lack of PPE in hospitals over the UK, it is more important than ever to hear from those putting their lives on the line within the structure of a massively overstretched and underfunded NHS.
A Malaysian Critical Care doctor working in Liverpool shares his experience below, detailing the context within which he is dealing with COVID-19; the failures he has seen in the government's response so far; the intersections of the pandemic with immigration; and the challenges faced by him and those on the frontline.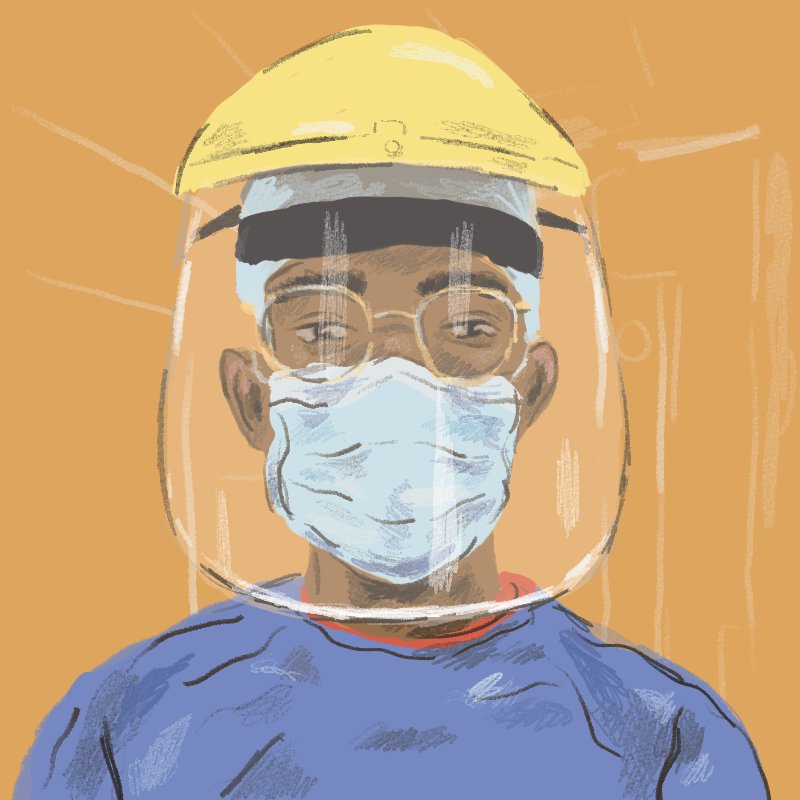 I'll start with the challenges of COVID-19. Professionally speaking, it's difficult that largely, once you get a patient on to the ventilator, they're not getting better quickly. It's a cup, rather than a sieve – at the moment, we're not getting patients out of the other end in a matter of days, it is taking weeks. These patients also require close supervision and lots of interventions while in full PPE which is exhausting.
There is also an increased mental pressure being placed on staff. New doctors and nurses in wards have to adjust to the fact that the threshold for sending people to ITU is a lot higher. Because the bar for intensive care has shifted, everything you've previously been taught, or believed, has to be adapted and updated. Your clinical compass has to shift in terms of your approach to patients, and having to accept that a lot of them can't be transferred to ITU. You have to be selective and for a lot of staff it can be increasingly difficult and anxiety-inducing dealing with and seeing sick people who you are unable to move to ITU and increase their level of care.
In terms of our contract, doctors in the NHS have significantly more relaxed protection around working hours and so are now working more intense hours in higher risk situations.This has affected our medical ward colleagues especially. There is also the obvious psychological trauma for a lot of staff, reconciling going home to families (including children and high risk family members) when they are at extremely high exposure. I'm seeing that put a lot of strain on people.
However, at the moment my biggest psychological stress is being caused by the increase in staff fatalities. There is no formal figure collection but at the moment, according to the Telegraph we stand over 100, but this is likely to increase every day. People who are the same as you; in age, in job role, in fitness levels – are dying. This can be incredibly hard when you have to continue day in, day out with the same level of exposure and with the same risks, all the while knowing this.
On top of this, immigrant doctors like myself face the added challenge of a hostile immigration policy which, in my opinion, is one of the tightest and worst immigration policies in the world. It is bloody appalling; I'm going to start there.
Rishi Sunak released a budget a few weeks ago, and he talked about having an indefinite amount of funds available for the NHS. Within the same budget, he also announced that he would increase immigration health surcharge from £450 to £624 per year. The IHS is a 'penalty' that you pay for coming to the UK, even if you're the very doctor, nurse or other healthcare worker trying to fill the 1 in 12 NHS vacancies around the UK.
It was invented on the basis of the messaging that "all immigrants are scroungers of the NHS" so this is how we will make them pay for it. Or as Rishi Sunak phrased in his budget speech "what people get out, they also put in." Together with the visa charges, it is genuinely financially crippling, especially for those with families and has served as a deterrent for specialists and nurses coming to work for the NHS. Some have even left as it wasn't financially viable.
It's very insulting and ironic that, within that same budget to support the NHS, there is also a clause to treat immigrant health workers very differently.
This is illustrated in no more of a dramatic way than the high level of staff fatalities, an overwhelming proportion of which have been people from BAME backgrounds. Around 70%, although this figure may change.
In this pandemic, immigrant healthcare workers are taking on as much risk as anyone else, visa or not. Dispensing financial penalties during this time is as much poor policy as it is distasteful.
Matt Hancock told Sky News: "The fact that such a high proportion are from people that moved to this country to work for the NHS is really heart-rending. To see people who have literally given their lives for the NHS who were moved here to give that service and I think we should pay tribute to them."
It is hard not to be cynical and to see these types of comments and "thanks" as convenient lip service for a government that treats its immigrant healthcare workers in the way that it does. It will be important for all of us to hold this government to account to ensure meaningful policy changes are made.
Priti Patel did a 1-year extension for people on a visa at the moment, which is the equivalent of Tesco doing a special reduced fee from £2.50 to £2.24.
Nothing is smaller or lower on the agenda than policy changes for immigrant healthcare workers, but it impacts such a large cohort of people. About 1/3 of all doctors and ⅕ of all nurses are non-British. They are more likely to be bullied as an ethnic doctor; are more likely to have a complaint taken to the GMC without support from their trust, and more likely to have a more severe penalty for a similar complaint that is taken against them than their non-immigrant counterparts. Some advocacy groups are collecting umpteen testimonies that BAME workers are feeling targeted to be bullied into working high risk areas without adequate PPE. These factors, compounded with the fears of losing your visa and financial stresses, often make ethnic healthcare workers scared of speaking up or reporting things – which is precisely why we need public support in creating policy changes.
When the more central issues of PPE shortages and staff protection are dealt with, I'd like to join our medical union and grassroot advocacy groups to urge the government to scrap the IHS completely for healthcare workers and review current restrictions around getting an Indefinite Leave to Remain (ILR). A good "tribute" as our Health Secretary put it, would be to afford us the flexibility and peace of mind that comes with an ILR, so that ambitious and diligent immigrant health workers can pursue their careers and contribute to the NHS.
There will undoubtedly be more immigrant HCW deaths by the end of this pandemic alone. There needs to be a serious conversation on taking further measures to de-weaponise immigration policy.
With regards to the prevalence of the disease and the huge death toll (now Europe's 2nd highest) , the root of a lot of the problems has been that the government's response has been extremely delayed; inadequate; and misinformed from the start. I particularly think that's something that's worth holding the government accountable for. You've got no shortage of world-leading experts on the topic in this country to inform sound decision making. We also had the foresight of time, as our neighbours Italy and Spain provided important lessons by taking the hit first – but we've just ignored that foresight. That really angers me.
There has also been a complete lack of candour and transparency within the government's response. To illustrate that, several weeks ago, Public Health England made the guidelines for adequate PPE to be: gloves, a plastic apron, wear your own clothes; and a simple surgical mask Which is grossly inadequate. This has been upgraded and downgraded a number of times depending on availability, however mouthpieced as formal clinically informed guidance. We would have much preferred it if we were told from the beginning that we didn't have the right amount of stuff, and that we'd have to divvy up the resources until the supply chain got moving. It is now widely known the government missed various critical opportunities to procure adequate PPE for us. There has been movement from the government to for any inquest into COVID-19 healthcare deaths to NOT look into PPE shortages. This is sinister. There needs to be an ongoing process of scrutiny and transparency with the government, to hold them accountable for their actions.
Subscribe to shado's weekly newsletter
Exclusive event news, job and creative opportunities, first access to tickets and – just in case you missed them – our picks of the week, from inside shado and out.
The government's angle right now is to objectively focus on Staying At Home. It's a really fantastic way to transfer blame for the massive peak that we're having here, rather than them delaying the lockdown and having inadequate PPE, I am really wary of the government guiding public persecution away from them and onto each other. When cases go up, and healthcare workers start to die, they can just shift the focus on how it's the public who are to blame; "the people aren't listening."
The support of clapping the NHS is also extremely patronising from the government – a cursory "well done, you're doing great", a grand public gesture of how the government "cares".
Branding us as "heroes" sanitises our deaths as "heroic" rather than a symptom of chronic system failure induced by bad government policy.
The whole thing glorifies the NHS as sacred, and demonises any scrutiny of it. The NHS and the healthcare policies and politicians that make it, need scrutiny and criticism to improve the system in the long term.
The public must not lose their appetite for long term change with the NHS, nor be convinced that the government has done their part with these gestures.
This satiety will be relied on by parties responsible for poor NHS' infrastructure and its hostile immigration stance to continue their ambitions unopposed.
My lovely octogenarian neighbour shouted to me through his kitchen and across my wall, "I hope the Queen puts all of you on her honour's list, NOT THE FOOTBALLERS or them pop stars!". It IS a thoughtful sentiment coming from a genuinely good place, but I urge people to also support us in pushing for meaningful change for the months and years from now. OBE's don't protect us from deportation or abuse. Trending hashtags shouldn't set the expiry date on this issue.
If you are going to clap for the NHS, also sign a petition. And at the end of this ask for an enquiry on what could have been done better and how this could have been avoided. Change your anti-immigration sentiment and be more discerning with those opinions.
And if one day, a cohort of healthcare workers get together and seek public support to push the government for better conditions, lend them your ear at least; and if you can, your voice.