Atlantis Gandhi is a young British singer/songwriter and producer whose music, which fuses influences from her mixed Indian, Jamaican, Bajan and Swiss heritage, is a mixture of Alternative R&B, Soul, Pop and Trap. shado had the pleasure of shooting Altantis with photographer Karis Beaumont.
Atlantis' energy is infectious; as soon as she bounced into the small Brixton studio, she brightened up the room. While only being in her second year at Goldsmiths, Atlantis had a lot to say about how she uses her music as a form of queer resistance; the influences that have shaped her sound and what lies in store in the coming months.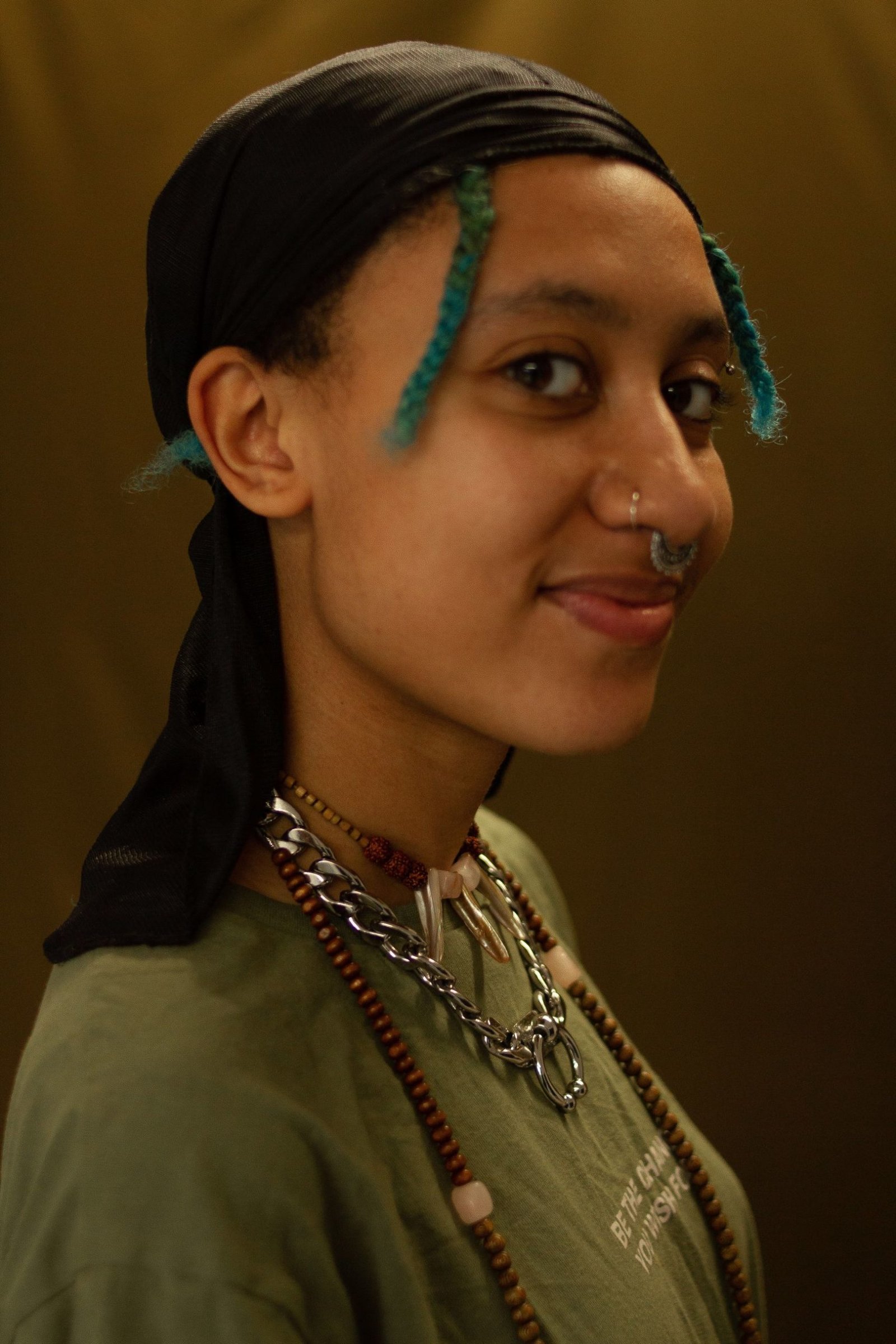 Can you tell us a bit more about your journey into music and to becoming an artist?
My musical journey has been shaped by having a diverse ethnic culture; being from India, Jamaica, Barbados and Switzerland and being born in the heart of London. I subconsciously add my musical elements from my countries into my music, which comes very naturally to me.
I've always had a passion for listening to music ever since I was little. My family are very musical, and also embrace in their country's traditional music. I was brought up hearing artists who have had a big effect on my work – and who still inspire me to this day – such as Ryan Leslie, Erykah Badu, Jill Scott and Bob Marley. I love using string sounds and flutes, which definitely comes from the culture of Bollywood films I watch. I feel like that's my producing trademark now.
I started performing when I was 15 – so for five years now. It's so crazy to look back and see how I have grown. When I was younger, I had stage fright and didn't know where I fit in – both musically and in general, as I had not come out. Sometimes I felt restricted on stage at the start, but now, I feel as if I am fully free and calm when performing. I'm staying true to myself.
How has the queer community and other queer artists shaped your music?
The queer community has shaped my music by giving me new experiences to speak about in my music. I am so grateful for openly queer artists for using the pronouns that apply to their love interest, such as Kehlani and Hayley Kiyoko. They helped me have the courage to do so myself. I remember when I released my first love song on Soundcloud back in 2017, called Blurred Clouds. I was super scared to release it, but when I look back, I am so glad I put the song out there with saying openly it was about a girl, because it allowed me to feel more comfortable in my own skin and accept myself more.
You've spoken before about queer resistance in the form of simply existing. Can you tell us a bit more about how you use music as a form of queer resistance – and, in particular, the importance of breaking barriers of same-gendered songs?
I feel as if I'm already using my music platform as a form of queer resistance as I am so open with it. My lyrics are very evident that I am referring to being queer by using 'she/her'. The importance of having same-gendered songs is to provide more light to people – especially to those who are in the closet; I want to remind them that it is okay to be yourself. I also want to provide knowledge to people who are not part of the LGBTQI+ community so that they can understand that queer relationships should be respected the same as heterosexual relationships. Some assume that wlw relationships are there for a man's pleasure – but me singing my experiences gives a clear insight that this is not the case. Women can just simply love women.
What do you think is the importance of representation when it comes to music and the queer community?
Representation is so important. If I was younger and saw someone like me in the music industry, I would have never even hesitated or doubted myself to start a life in music. Despite the fact I gigged from a young age, I still had doubts within myself, and unsure whether I'd ever be accepted as a queer artist singing about queer relationships. I have been blessed to find the queer community who have guided me to find LGBTQI+ based gigs and venues. I am eternally grateful for platforms like AZMag and many more.
Hopefully, I can be the person to make those who doubt themselves realise that they can do whatever they want to do in life when they believe in themselves. I am proud to represent the LGBTQ+ community in my music.
What was missing from the musical landscape when you were younger, and how do you see yourself contributing to change in the musical space you're occupying?
There's always been music in my household, which was very diverse. My influences have been inspired from many genres so I would not say I was missing anything from my musical landscape. Due to listening to various genres, I can see myself contributing to change the music around me. I do this by incorporating various elements from different genres and creating a fusion, without restricting myself to a certain label or category. I have the freedom to experiment with sounds and see what sounds good to me. In the past couple of years, I have realised that I do not need to conform by sounding like someone else to be a valid artist – and, in fact, I can change the musical space even more by just doing what I love.
A lot of your music is very personal. Are there any particular topics, or feelings you are currently exploring in your music?
Yes, my music is very personal. My music is my healing process – and I hope that, through my words, I can help someone else in theirs – so that they know they are not alone. Going through something traumatic can be so isolating and you question yourself – but hopefully hearing one of my songs can help someone lift that doubt off them and know that their feelings are valid. There are some topics I still haven't addressed in my music, but I am definitely willing to explore them too when I feel ready to share it with the world. Once I start the conversation about these experiences, it will be easier for me to talk about it in real life as music is the best way I can communicate and understand my feelings. When I released my debut EP Offender I was super nervous knowing that my whole story was going to be out in the open. I had the honour to be on BBC Radio's 'Sunny and Shay' show to explain my experience with being a queer mixed woman in today's society and police brutality. I had people, both friends and strangers who tuned in, telling me my songs had hit home to them and that they admired the EP because they'd been through similar experiences. That was really comforting to me.
How can music work to change mainstream narratives? What do you believe is the power of music in connecting to people?
There is so much power and meaning behind music – more than we realise.
For people who find it hard to communicate how they feel, when you hear someone voicing that experience, you feel a certain connection and almost shock of how someone can speak your experience word for word, without even knowing you.

Subscribe to shado's weekly newsletter

Exclusive event news, job and creative opportunities, first access to tickets and – just in case you missed them – our picks of the week, from inside shado and out.
This can inspire someone to write their experience and this can change the mainstream narrative – it's a snowball effect. One person addresses something and someone else will speak up so we can collectively work together to change this narrative.
As a young artist, what are your hopes for the next year in terms of development as an artist and your sound?
Next year, I would love to keep exploring and experiment with sounds outside of what I usually do. I tend to produce a beat nearly every day, and the more I hear other people's work, the more I get inspired. I would love to perform at a festival next year as I have been gigging in venues around London for a while and the experience of a festival looks amazing. As for developing my sound, it would be great to collaborate with other artists and, possibly in the near future, have an artist development deal or be signed to a record label. It would be good to have that security of people who believe in my craft, from my artistry to my producing. I have many big plans in the near future, as I am presently at Goldsmiths University studying Popular Music for my undergraduate. I'm in my second year, which is why I am pushing so that I can have certain goals set in place after I finish.
Find Atlantis on Soundcloud, Spotify, Instagram and Twitter.