The first time a friend invited me to try Acro-Yoga on the beach with Fitness Career, I was thrilled. My yoga practice had become more consistent since arriving in Lagos, and I was eager to join professionals and fellow enthusiasts in person instead of relying on online apps or enduring my family's watchful eyes.
The session was genuinely remarkable. Under their guidance, I achieved my first wall-free headstand. However, what truly resonated with me was discovering that Fitness Career was not just about yoga. They were also actively involved in social initiatives, such as Naija Girls Surf, a surf camp for young girls at Tarkwa Bay (a tourist spot and community off the shores of Lagos), and serve as an NGO representative for Black Girls Surf.
A serial entrepreneur
During one of Fitness Career's Beach Yoga and Camping weekends, I had the pleasure of speaking with co-founder Rachel Omolola White. 
Rachel began her journey as a yoga instructor in 2016, and has accumulated five years of certified teaching experience. Her dedication to surfing led her to become a certified surf coach and the visionary behind Naija Girls Surf.
Rachel's enthusiasm for surfing is evident as she proudly recounts her feature on BBC Africa, where she declared her aspiration to become the foremost professional female surfer. She chuckles at the memory, reminiscing, "I was so tiny then. I was learning how to surf, and I was so excited." Even as we speak, Rachel's passion for surfing remains unwavering.
This BBC feature is what kickstarted Rachel's connection with Black Girls Surf. The US-based organisation extends vital support by providing surfboards and assistance for shelter, education, and logistical needs for the girls involved in Rachel's initiative. "They needed someone here that surfs and can organise surf camps locally," she explains – and thus, Naija Girls Surf was born.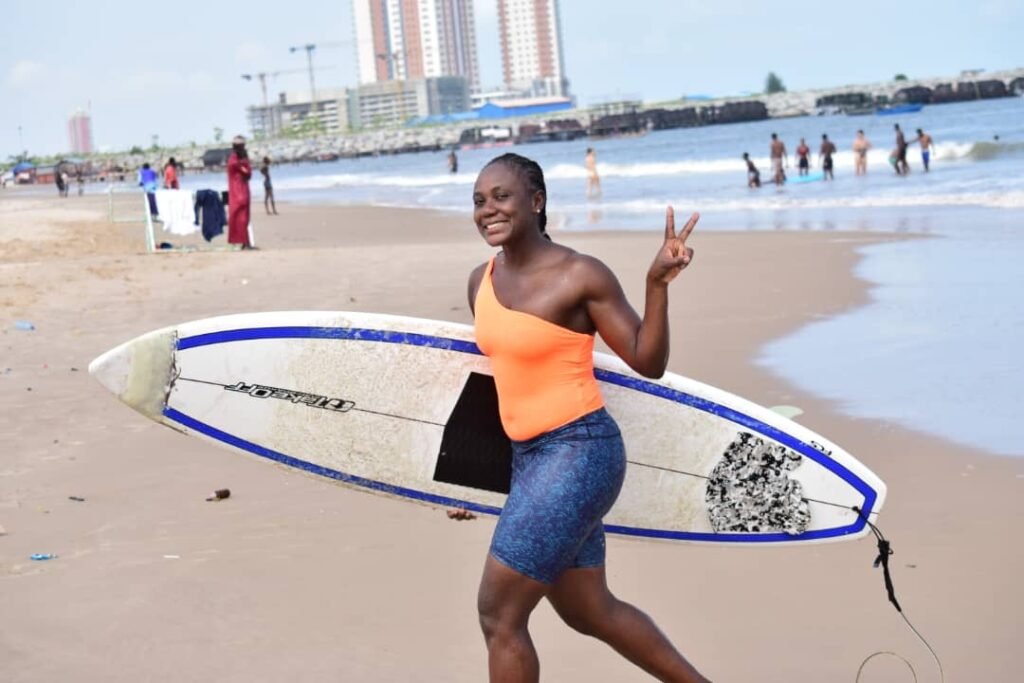 Naija Girls Surf at Tarkwa Bay
"Naija Girls Surf is a social enterprise and community empowerment programme," Rachel says. "I spend a lot of time here and I feel like I have a social responsibility to support the girls with their confidence and to empower them to know that they can be more."
Tarkwa Bay is a picturesque location in Lagos, and has long been a symbol of serene beauty marred by socio-economic challenges. This idyllic spot, accessible only by boat, has grappled with issues ranging from environmental degradation to inadequate infrastructure and the displacement of its vibrant local community due to urban development pressures. 
While its natural allure remains undeniable, the struggles faced by Tarkwa Bay highlight the broader complexities of rapid urbanisation in a bustling African city. The area grapples with inadequate infrastructure, limited access to quality education, and healthcare services. 
The women of Tarkwa Bay are also affected by these challenges, including the erasure of their unique struggles. They must balance domestic responsibilities, immaterial labour, and the need to earn a living for survival. Additionally, their vital contributions to Tarkwa Bay's way of life often go unnoticed.
As such, Rachel's presence and work in this space may seem complex, but as our conversation progresses, her perspective on empowerment, particularly for women, becomes clear. For Rachel, empowerment goes beyond simply offering financial assistance or trickle-down economics. She's deeply embedded in the girls' context in Tarkwa, and genuinely invested in their well-being. She explains, "I want to provide an exciting and different experience where you can be yourself and learn valuable lessons. My own is to create a space for you to achieve those goals; I'm not here as a saviour."
Development practice and female empowerment in Nigeria
While women's empowerment in development practice has advanced thanks to non-Western critical analysis, it often falls short due to a one-size-fits-all approach, neglecting the diverse contexts in which women live.
Focusing solely on economic empowerment can reinforce existing power structures, perpetuating tokenism. Furthermore, Western frameworks and indicators sometimes dominate, driven by stringent quantitative requirements from funding bodies.
Naija Girls Surf camp meets four times weekly, incorporating workouts, cardio, running, yoga, and public speaking exercises. Emphasising public speaking helps train girls as surf coaches while allowing them to communicate effectively in their preferred language, such as Pidgin English, which is often stigmatised within Lagos' respectability culture. 
This approach preserves local knowledge, and does not get in the way of seamless interactions with tourists, who Rachel insists often integrate into the community's culture while bonding in the water. Thus, the girls speaking in a way that is comfortable for them becomes inconsequential to their ability to communicate with the tourists or surf students.
Rachel's approach addresses economic disparities by providing the girls with long-term sources of income through training them to be accredited surf coaches with the International Surfing Association – enabling them to coach surfing anywhere in the world. However, by giving girls the freedom to engage with the sport in their own way, being themselves and speaking how they would want to speak, it also challenges deeply ingrained social norms and respectability politics.
Rachel also employs a flexible stance on age requirements. While the typical age range is 8-18 years, many participants continue in the programme as young adults. It is more important for Rachel that the group's needs are met, and that they're all afforded with a space for self-expression and freedom. 
This flexibility acknowledges the girls' individual needs, but also recognises that sometimes, the girls could take this for granted by arriving late or not taking their training seriously. Rachel strikes a balance by offering guided mentorship that holds them accountable to encourage their personal growth without stifling their independence.
Mainstream feminism in Nigeria
I was curious about how Rachel saw her work within feminist practice. Questioning the connection between Rachel's work and feminism emerges from her involvement in a girls' club and my encounters with people conflating women's empowerment and feminism.
When I ask about her involvement with the feminist movement in Nigeria, interestingly, Rachel makes it clear that she does not identify as a feminist. "I'm not a feminist. I am so lazy, and I love that I can rely on the men in my life," she says. Rachel often leans on men like her business partner, Akinjide Olowookere Michael, a yoga and movement teacher at Fitness Career.
Subscribe to shado's weekly newsletter
Exclusive event news, job and creative opportunities, first access to tickets and – just in case you missed them – our picks of the week, from inside shado and out.
Rachel clarifies that while Naija Girls Surf aims to empower girls, it doesn't intend to imply that the problems at Tarkwa Bay are always gender specific, or suggest these opportunities should be limited to girls alone, given the complex context of Tarkwa Bay's issues. She explains that her desire to work with girls in Tarkwa Bay is driven by her own experiences growing up and to do work she is passionate about, rather than the desire to practice mainstream feminism. Her choice to focus on girls in the community aligns with her comfort zone, what she knows, and her lived and personal experiences driving her work.
From her point, I quickly understood her choice not to label herself or her work as a feminist to reflect her perspective on feminism, particularly as practised in mainstream Nigerian feminist spaces.
There are various feminist thoughts coming out of Nigeria; however, my experience with mainstream feminism in Nigeria (and perhaps globally) often oversimplifies gender and power dynamics by framing it as a binary struggle, where men hold power and women seek to attain it. This approach neglects the complexity of gender and power dynamics, the Western obfuscation of African understandings of gender and sex, and how power itself is not fixed in a place where one group has it, and another doesn't, but is quite circulatory and dynamic depending on space, time and complex identity markers we cling onto so dear.
Angela Davis critiques mainstream feminism's reliance on categorical representation and its alignment with essentialist notions of womanhood. She emphasises the need to recognise the intricate diversity of women's experiences within different social and political contexts.
This mainstream feminist ideology is frequently championed by the bourgeoisie, often excluding women who don't conform to the rigid criteria of middle to upper-class Western ideals of womanhood.
So, while Rachel saying she was not a feminist was not a response I expected, it was one I understood.
Women's empowerment ≠ Feminism
In Carol Ehrlich's The Unhappy Marriage of Marxism and Feminism: Can It Be Saved?, the author warns that feminism has adopted a nonrevolutionary stance, yielding to bourgeois feminism.
Ehrlich highlights how feminism isn't about climbing the corporate ladder or pursuing political office. It isn't about enjoying a comfortable lifestyle, luxurious vacations, or living a soft life enabled by underpaid domestic workers – a common claim to feminism by Nigerian feminists. Nor is feminism about superficial empowerment workshops or pursuing careers in law enforcement or the military.
Essentially, women's empowerment does not equal feminism.
Admittedly, my inquiry about linking feminism and empowerment in Rachel's work raises questions about my perspective on feminist practice. By posing this question, I imply an inherent connection or reveal my familiarity with the prevalent conflation of the two in mainstream feminist discourse.
These distorted notions of feminism stem partly from our failure to provide clear alternative analyses that resonate with people's lives. In Feminist Theory: From Margin to Center, bell hooks envisions feminism not solely as pursuing gender equality within a single class but as a broader movement dedicated to eradicating sexist oppression and exploitation. This approach also addresses interconnected forms of oppression like racism, classism, and imperialism, recognising their interdependence within complex webs of oppression.
My research on queer activism and feminism in Nigeria highlights the risks of conflating women's empowerment with feminism. This issue becomes especially evident in women's involvement in Nigerian politics. Some feminists who initially challenged the Nigerian state's treatment of women and marginalised groups have transitioned into politics under the banner of women's empowerment and participation. In doing so, they've often had to compromise their feminist principles to navigate Nigeria's sexist and exclusive political landscape.
Unfortunately, their presence in these spaces often fails to represent those who don't fit within the normative frameworks of the political landscape. Women have introduced various bills for women's rights, but these bills often neglect the diverse experiences of women, as they make concessions to try to ensure their bills pass, further marginalising certain identities. 
For example, despite widespread discrimination against queer women in Nigeria, the Gender and Equal Opportunities Bill fails to attempt to protect their rights. This omission is unsurprising given the political landscape. Despite the exclusion of queer people in the bill, l it still faces resistance in the Nigerian senate, with opponents citing it as conflicting with the country's religious and cultural values.
This omission also underscores the fundamental erasure of queer African women when drafting pivotal women's rights mechanisms such as CEDAW (The Convention on the Elimination of All Forms of Discrimination Against Women) and the Maputo Protocol (African Union's Charter of Human and People's Rights on the Rights of Women) — which are critiqued for their Eurocentric (CEDAW) and heteronormative (Maputo) foci. It's evident that neither of these frameworks have recognised queer African women's rights in any enforceable or tangible ways.
While these mechanisms have their uses for women's empowerment, none has fully addressed the scope of women's oppression because they operate within frameworks that fail to incorporate feminist politics capable of effectively confronting women's sources of oppression.
So, should we all be feminists?
Rachel has clearly stated what Naija Girls Surf is, "an empowerment programme," and has also said she is not a feminist. I think there's something to be said about Rachel's honesty about this, and the fact that she's not trying to be a feminist.
In Rachel's case, her approach goes beyond merely providing girls with equal opportunities as boys. She engages in mentoring and addressing their unique contexts, steering them away from the pitfalls of conformity and upward mobility as the sole solution. Rachel acknowledges the importance of flexibility in considering age and prioritises the creation of safe social spaces for these girls. There is an acknowledgement of the complexities of these girls' lives.
Whether Rachel labels her work as feminist or not may not be the central issue. What's important is that her approach does not seem antithetical to feminism as articulated by some of my favourite thinkers like bell hooks, Audre Lorde and Sylvia Tamale. Rachel's focus on creating accessible and active groups that address these girls' issues reflects this alignment. While her work may not adhere to every facet of feminist practice, it certainly doesn't contradict it.
I am not saying Rachel's work is now feminist because some parts unintentionally align with feminist thinkers, but it begs the question: Does Rachel even need to label here work as feminist at all? This raises a broader query about the impulse to categorise our actions, identities, and bodies within specific paradigms and boundaries, potentially limiting our capacity to effect change and achieve goals.
Rachel's choice to abstain from labelling her work as feminist seems to provide her with a unique sense of freedom in managing her social enterprise. This approach liberates her from adhering to traditional Nigerian feminist politics, allowing her social enterprise to evolve independently, albeit not without imperfections. Her reluctance to embrace her understanding of (mainstream) feminism prevents the replication of some of the issues she seeks to address.
So how do we define a space that doesn't label itself as feminist or explicitly political? A space that doesn't aim to be any of these things; it simply exists. Whether Rachel acknowledges her work as feminist is not a major concern; what I gather from our conversation is her commitment to learning, growing, and staying curious, even through failures and trial and error. This openness has unintentionally transformed her personal work into a political endeavour, possibly reflecting the power of action over labels.