London based artist Simone, sat down with shado to discuss her upcoming solo show, 'Woman Enough', that opens on the 19th September. Simone talks through her own development as an artist as well as her aims and motivations for the upcoming exhibition; most importantly the importance of 'showing up'.
Can you tell us a bit more about the exhibition and in particular the concept behind the title of the exhibition, 'Woman Enough', which plays on the phrase "are you man enough"?
My first solo exhibition, Woman Enough, will be held at the Loft, Croydon Arts Store, upstairs in the Whitgift Centre on the 19th-21st September (5pm-8pm on Thursday and 11am-5pm on Friday and 11am – 4pm on Saturday). It's such a great exhibtiion space and I can't wait to see the pieces displayed together there. Tickets are free and available through Eventbrite here.
My vision for the exhibition is to inspire self-love and empowerment. Though the message is relevant for everyone, Woman Enough hones in on the female experience, with a play on the phrase 'Are you man enough?' reframed as a statement of "enoughness" with no question, for anyone who identifies as a woman. It started with a series of really simple but dominant and vibrant portraits that I fell in love with, but I wondered if they were 'enough' for an exhibition. They became the inspiration behind the Woman Enough concept – which essentially means rejecting the need to complicate or do more to be enough.
The message is that we're always enough as we are and it's ok, in fact, it's essential that we show up, as we are.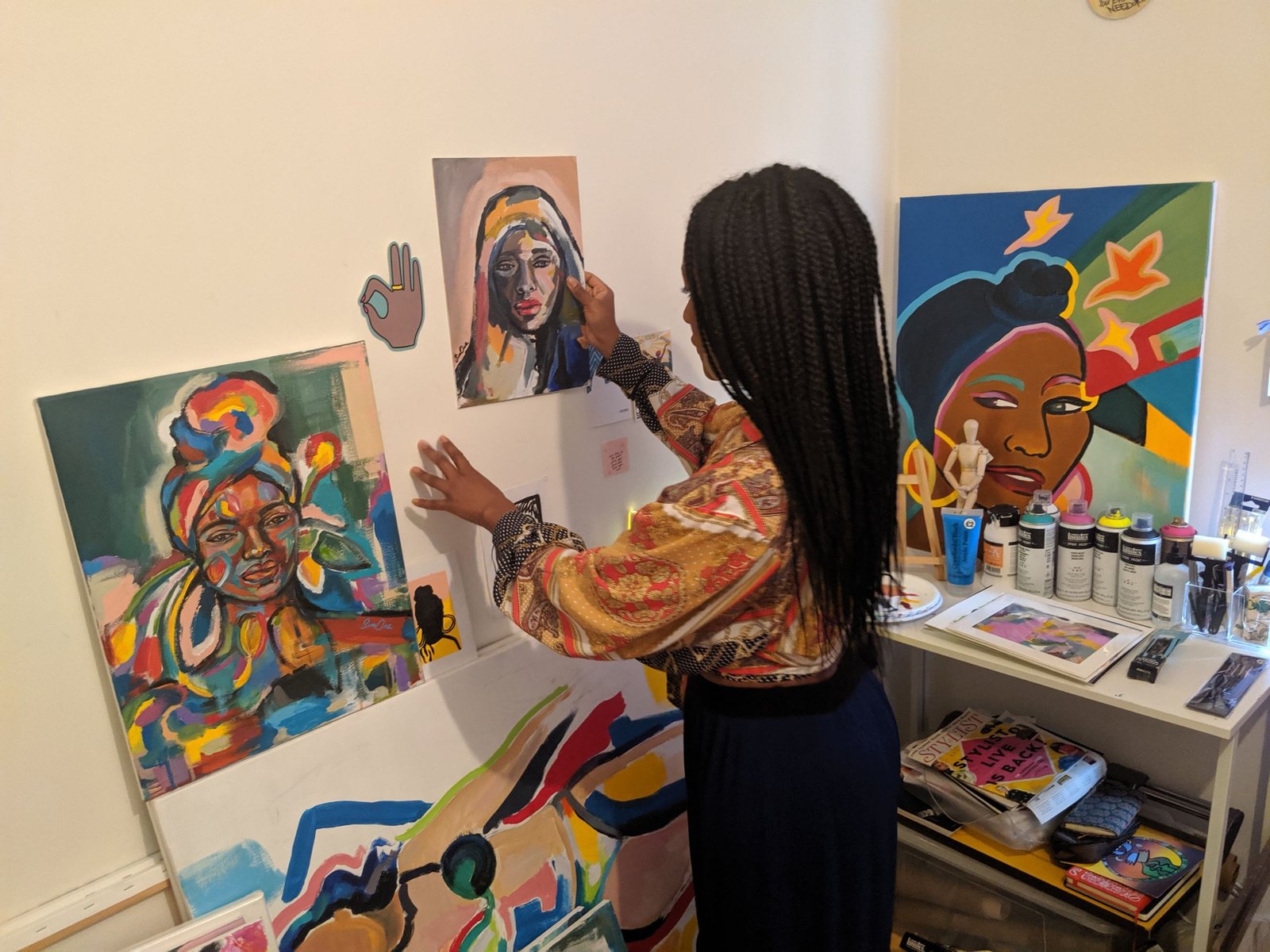 How has your practice developed in the last few years, and how has this led to this exhibition and your first solo show?
I studied art up to A-Level and after that I stopped creating for several years, apart from the odd bit of drawing and doodling – my notebooks are always filled with doodles! I started doing a bit of drawing on my tablet which I enjoyed but it made me really want to create something tangible. I didn't think I could paint though. After a short painting course I started to experiment – firstly with abstracts and after a trip to Brazil I became obsessed with colour. I painted for 40 days straight when I got back! I began with no prompts and just painted intuitively – no rules, no right or wrong, just paint on paper or canvas. It was the start of what became a massive love affair with colour which influences all of my work.
These days, though I create more portraits than abstracts, my style definitely blends both disciplines. I try to work in series' and will often create a few pieces around a style I like. I also do commissions, which I find incredibly rewarding. It's important for me to really connect with the subject and capture both their likeness and energy. It has really honed my ability to see and interpret what's in front of me.
When I started it was always a passion of mine to exhibit my work. I've since done a number of pop ups across London including the Palms in Peckham, White City House for art therapy series, Our Naked Truths and at Google UK's head office for their Pride celebrations. Most recently I exhibited with the women's art collective Riot Soup in a week long residency called 'Unseen, Unspoken' at the HARTslane gallery in New Cross. Now I'm just weeks away from my own show. The artist in me who didn't think she could paint is super proud 😊
Could you tell us a bit more about the idea behind the mirror installation in your exhibition?
The exhibition will include an interactive mirror installation that visitors can co-create by writing empowering 'notes to self'.
I wanted to include something that people could get involved in, something that embodied the theme and created a whole new piece of art that emphasises the Woman Enough concept – enoughness, self love and empowerment. The mirror is where we go to see ourselves and represents self image, yet it's often where we engage in the most negative self talk. I wanted to flip that on its head and create a space where people can enjoy positive self talk and reflection.
What do you hope your paintings add to the conversation around what it means to be a woman today?
I hope they add to the narrative that being a woman should be anything and everything you want it to be.
Public conversation and images of self acceptance help to promote self-validation. I've tried to do this through my paintings.
The more simple portraits in the exhibition are all a bit asymmetrical and in some ways, odd looking. I love that about them. They're beautifully themselves without conforming to expectations. It's a subtle nuance but one that is relevant in life too. The imperfection, the slightly off-centre, the things we think shouldn't be there are hugely important.
Other than a focus on women and the importance of celebrating and empowering women in their wholeness, are there any other issues or subjects you are currently exploring in your work?
Identity, self-expression and evolution are all subjects that I'm currently exploring in my work.
How have your own lived experiences as a woman influenced your work and your aims for this exhibition?
In so many ways. There's very little separation between my art and my experiences. Certainly the exhibition reflects my recent focus on 'showing up' – pushing past fear, observing inner criticisms and conflicts with compassion and trying to respond courageously. At the same time, recognising that we so often want to be perfect but never will be – and that we don't need to be.
Subscribe to shado's weekly newsletter
Exclusive event news, job and creative opportunities, first access to tickets and – just in case you missed them – our picks of the week, from inside shado and out.
I have the same fears as everyone – fear of failure, criticism, imposter syndrome!.. what if it's not successful..? But I know the most essential ingredient for success is showing up in the first place. And that's what this is all about.
I hope that everyone who sees the exhibition will enjoy my art, recognise how wonderfully enough they are and come away with a little inspiration to 'show up' in all the ways that matter to them.