COVID-19 is not concerned with lines – of race, of class, of poverty, or those on a map. Its symptomatic and asymptomatic spread threatens us all, and as countries across the globe effectively shut down, for most of us the brief is pretty straightforward. Stay home, wash your hands and when you do have to go out, stay away from people.
While the effects of COVID-19 are being felt globally it will disproportionately impact those most vulnerable, including refugees and displaced people.
For these populations, faced with overcrowding, poor sanitation and skeletal support, the simple brief above becomes next to impossible.
FRANCE
In Northern France, there are currently around 1000 displaced people in Calais and double that number spread out across Dunkirk and the coastal area. The organisation Help Refugees report that in one informal encampment in Calais, 800 people are stuck in tents in an area less than 1km squared with one tap and no provided soap.
The impact of the virus has been huge on the ground. For Clare Moseley, the director of Care4Calais, the most challenging aspect has been the fall-out from other NGOs who have been forced to halt their aid operations.
Food, for example, has become a major worry. Food provision from the state has already been cut in half. Where they do provide, it is insufficient for a day's eating and wholly unsuitable for a majority Muslim population: an apple, yoghurt and a cheese and ham sandwich…
Added to this, Refugee Community Kitchen have had to suspend their services in the area due to the risk of spreading the virus. They're a massive distributor. Since December 2015, they've served over 2.6 million meals working on the ground every day. With RCK's withdrawal, displaced people have effectively lost their main food provider.
This has created a massive amount of insecurity Clare explains. "People literally don't know where their next meal is coming from." As a result, they "are genuinely more concerned about how they are going to eat than about catching the virus."
Trying to fill a bit of this enormous gap in food output to local populations, Care4Calais at the end of March distributed 250 food packs in Calais and that week delivered another 50 big family food packs in Dunkirk. But without access to a kitchen this is expensive work that the organisation cannot sustain.
GREECE
This situation is compounded in Greece. With the country in lockdown, 40,000 people are effectively trapped in camps on Greek islands, unable to leave even to get supplies. Moria camp on Lesvos has received coverage for its especially appalling conditions, in which 20,000 share a space designed for 3,000. Such a population density precludes the privilege of being able to self-isolate in any manner.
In this same camp, 1300 individuals share one tap.
Thankfully, NGOs are still on the ground, providing essential services where the state has failed to deliver any effective protections for the people living there. Where NGO operations have had to be curtailed, organisations are still advocating for immediate action from EU bodies and states themselves. In this open letter, 120 NGOs request, among other things, the immediate transfer of asylum seekers to the mainland, with priority to be given to the most vulnerable.
In support of this call, the organisation Sea-Watch are calling for decommissioned cruise ships, currently immobilised in European ports, to be used to help evacuate camps in Greece.
The rescue charity point out that "due to their local isolation and mobility, the cruise ships are ideally suited to quickly relieve regions such as Lesbos, Chios, Samos, Leros or Kos in the short time window that remains, before a catastrophic outbreak of COVID-19 can no longer be contained." The ships could provide safe accommodation for several thousand people and, crucially, they also come with ready equipped medical stations. For now in Moria camp, NGOs and refugee volunteers are managing to maintain their work through this unprecedented situation.
Salam Aldeen, founder of and co-ordinator in Greece for Team Humanity, has started a project making masks for the camps inhabitants. To date, the team have made 30,000 of these masks, which are reusable by simply boiling in water. Every single person in the camp has received one, along with two bars of soap and a flyer on sanitation. The fact that Aldeen's team is mostly refugee volunteers has meant this work has continued without the drop in numbers of volunteers experienced by other organisations. This week they'll be distributing a further 10,000 masks to villages near to Moria camp in an effort to further limit the spread of COVID-19.
Salam explains that the Greek government has to understand the gravity of such an outbreak in Moria; with extremely limited hygiene and water facilities, no medicine available for the camp's population and an overall lack of doctors, that situation could produce "a national disaster."
LEBANON
Across borders, refugee camps share the same issues at this time: issues which deplorably seem to characterise what should be places of safety.
Camps in Lebanon have seen less coverage, despite being a country where 1 in 4 people are refugees.
Subscribe to shado's weekly newsletter
Exclusive event news, job and creative opportunities, first access to tickets and – just in case you missed them – our picks of the week, from inside shado and out.
The UN Palestinian refugee agency UNRWA has said that "the Palestine refugee community can be among the most affected due to living in over populated areas." Take the Shatila camp just south of the capital Beirut, where the demographic of Palestinian and Syrian refugees, of whom there are estimated to be between 20,000 to 25,000, live in a half a square kilometre area.
In a recent update on their work in northern Lebanon the organisation Anera, who also work with refugees across Gaza, the West Bank and Jordan, underline the strength of community solidarity and mutual aid.
"Youths are organizing distributions of bread and food parcels. They pool money to buy the food to give away." In Nahr El Bared camp, they take these parcels to households who have offered to make the food in bulk, which then is distributed to the most vulnerable.
For many, lockdown in a Lebanese camp means being without any source of income, so community food initiatives like this are no less than critical.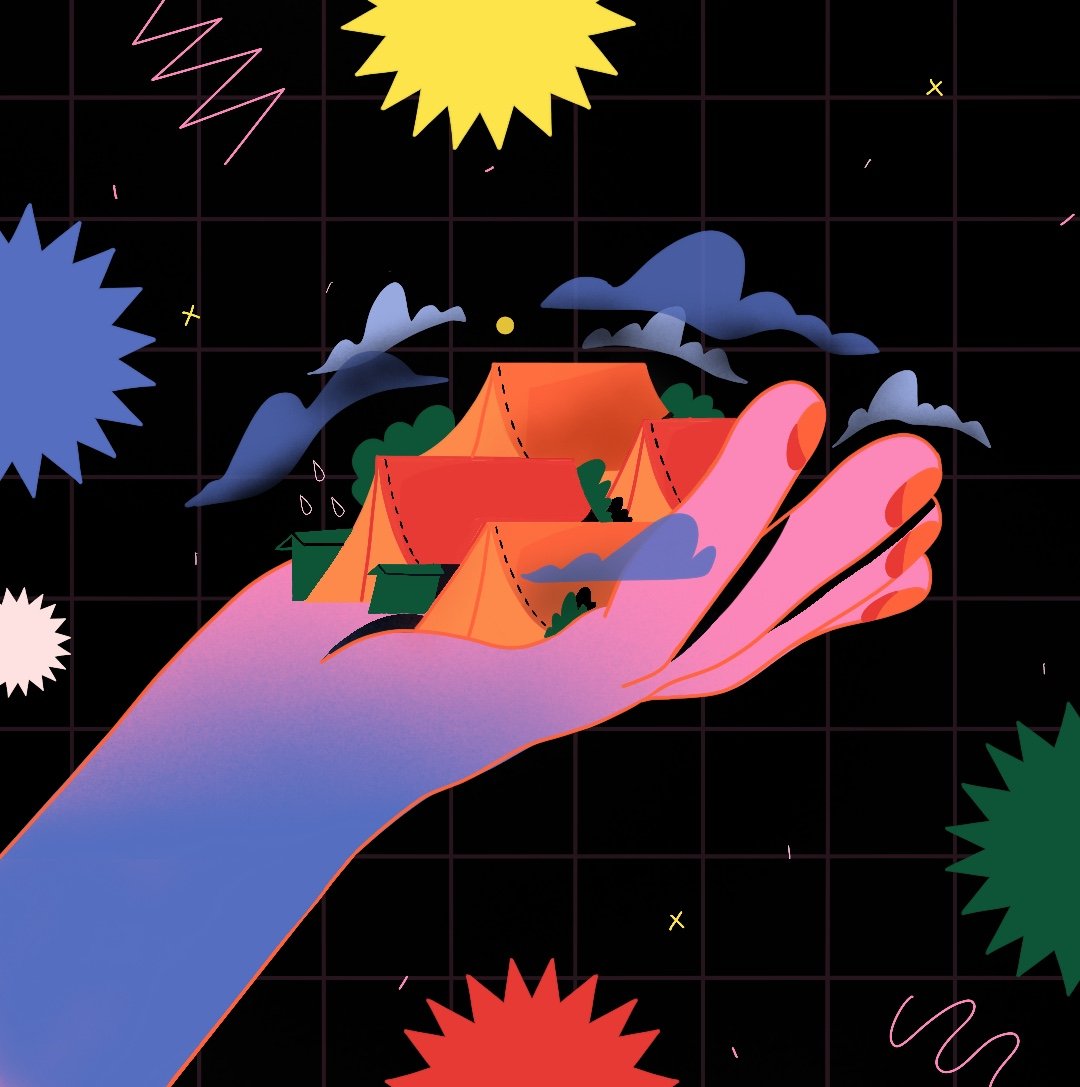 SOCIAL DISTANCE SOLIDARITY
Put simply, an outbreak in any of these areas would be devastating.
Last week, two cases were confirmed in Calais. One NGO estimates that in 4 weeks there could be as many as 300 cases if the state fails to introduce any proper isolation solutions for the displaced community.
At the beginning of this month, cases were also confirmed in Ritsona camp outside of Athens, and in March another on the island of Lesvos, although the virus has yet to reach Moria camp –something which the founder of Team Humanity describes as "a miracle". Further, responding to the joint open letter, the EU Commissioner for Home Affairs has said that 1,600 unaccompanied refugee children are to be relocated from Greek camps to eight EU countries. The first children could be moved to safety this week.
NGOs are still working on the ground, adapting their work in this unprecedented time and operating with plummeting numbers of volunteers, but they, and the communities they serve, need all the help they can get.
With the UK government preparing people for a 'significant period' of lockdown, what can we do from our homes? Care4Calais called on their Facebook for us to donate the price of a cup of coffee to help support their work.
When I spoke with Clare Moseley, it was heart-warming to hear her talk so genuinely and passionately about the volunteers who are in Calais with her at the moment, who she told me had made the tough decision to leave their families and give their time to the on-the-ground relief effort.
It is still possible to volunteer on the ground. Care4Calais have legal clearance for volunteers as frontline aid workers and all the necessary hygiene protocols in place. Where governments are failing to confront the realities and dangers of overcrowded camps, here is an opportunity to help those who will be hit hardest by the pandemic.