Creative DNA x Fashion Scout have come together to create present WAUZINE – a digital showcase including three limited edition digital publications, featuring 11 emerging Kenyan designers, and bringing together cross-cultural collaborations between writers, illustrators and creative teams in both London and Nairobi.
Immersed in a 12-month incubator programme between February 2020 and February 2021, these designers have taken part in a business bootcamp, personalised mentoring, competitive seed funding and will be showcasing a fashion film on Fashion Scout's digital schedule during London Fashion Week this February '21.
We caught up with two of the incredible designers involved, Lynda Nanu Ng'eno and Navalayo Osembo to discuss the fashion industry in Kenya, the importance of sustainable development and their exciting plans for the future.  
Lynda Nanu Ng'eno
Favoloso by Nanu is a Kenyan womenswear brand offering confident styles in a wide range of sizes. Founder Lynda Nanu Ng'eno is committed to creating expressive fashion for all. Although the growth of Kenya's clothing industry has been slow, she's excited by Nairobi's emerging creative scene and the increased interest Favoloso is now receiving. Selected for the 2017 Tony Elumelu Entrepreneur Programme, the brand remains authentically local and uncompromisingly individual while still stepping onto the global stage. We caught up with Lynda to learn more about her core ethos of inclusivity.
Can you tell us how Favoloso came about? 
Lynda: When I started the brand four years ago, the experience of most older women would be to go to shops and not be able to find clothes that fitted or suited them. That was certainly my own experience, and I was getting increasingly frustrated by the lack of options, so this was where the idea for Favoloso came from. We have a very wide size range as well as offering bold, bright colours that most people can feel empowered in. 
Inclusivity is clearly important to you.
Lynda: Yes. I created Favoloso for women who usually don't get considered by the fashion industry. My brand doesn't leave anybody behind. I want to create timeless pieces that allow women to express their identity. I want those who wear Favoloso to feel safe and to feel a part of something. I want them to feel comfortable in themselves, in the clothes they are wearing and also in their bodies.
I want those who wear Favoloso to feel safe and to feel a part of something"
How do you find your clientele?
Lynda: Many of them come through referrals, it's quite organic. CDNA has helped me think about how to branch out my customer base but prior to that, it was just women I met here through my network. In this way, my brand is like a family, a sisterhood. 
So, community plays a really important role in your brand?
Lynda: Community is a huge part of our ethos and commitment. When we started out, we trained women with sewing skills to become seamstresses so that they become part of the story. In our part of the world, most designers would prefer to have male tailors because men's time is never interrupted, whereas most of our women are housekeepers and have a lot of demands on their time, including childcare. Therefore, I have tried to create a flexible working environment. It needs to be a full circle. The women who are buying our clothes have been empowered by something so we need to be the force that is in turn empowering the women making the clothes. Many brands put out products that aren't having a positive impact, whereas we want to take care of everyone along the way.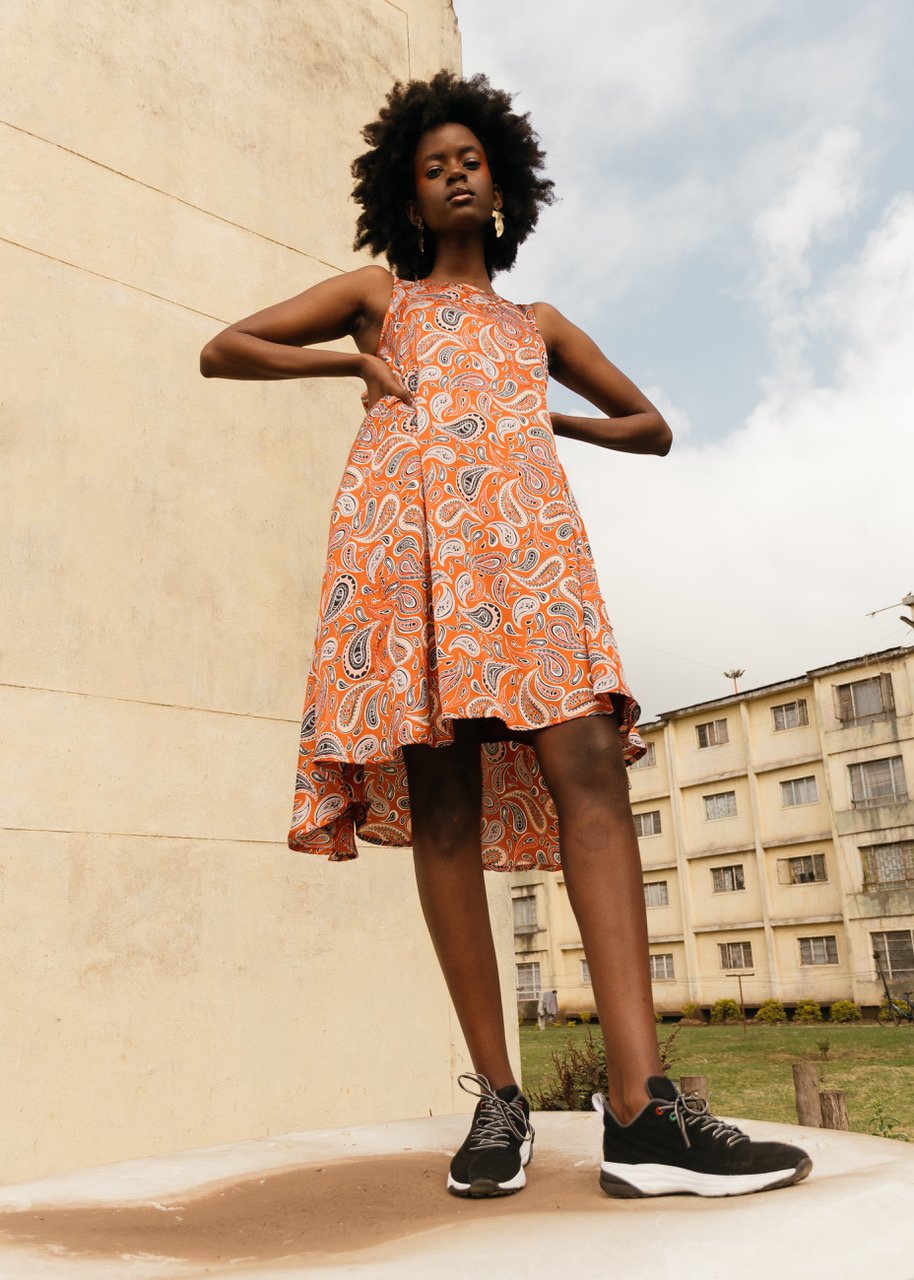 Navalayo Osembo
Enda was born from a desire to share Kenyan running culture with the world. Inspired by the concept of community running that thrives in Kenya's North Rift Valley, which has birthed generations of the greatest long-distance runners, Navalayo Osembo set out to make the first homegrown running shoe. Started in 2016 through a global kickstarter campaign, today, her brand is empowering people all over the globe to run like a Kenyan. Now, it's set to go even further, the collaboration with CDNA is launching them from the performance-driven sportswear arena into the fashion realm. We spoke to Navalayo about how cross-collaboration is helping boost the Kenyan creative scene.
Can you tell us a bit about the initial inspiration behind Enda?
Subscribe to shado's weekly newsletter
Exclusive event news, job and creative opportunities, first access to tickets and – just in case you missed them – our picks of the week, from inside shado and out.
Navalayo: A lot of inspiration was drawn from where I live. I am from Iten, 'the city of champions', an area in Kenya where a lot of the top athletes come from. Enda is actually the Kiswahili word for 'go'. You hear it a lot during athletics and sports where everyone will shout: "Enda, Enda Enda" – so for us this name was perfect. 
This also seems to be a big part of your business ethos – you never stop developing! What would you like the legacy of the brand to be?
Navalayo: Much of African history isn't written down, instead it's passed down through word of mouth. I want my designs to be a part of that storytelling. People can look for clues in our products and the shoes themselves can tell a story

We love that idea. Do you run yourself? 
Navalayo: Yes, I really enjoy running and have a Strava group with my friends which has been great at keeping our community going through Covid-19. Even though we aren't always able to physically run together, it has been great to motivate each other and keep that sense of community through our leadership board on the app.
What music is on your running playlist?
Navalayo: Some of my favourite Kenyan musicians who I listen to while I'm running are Nyashinski, King Kaka and the amazing feminist singer Muthoni the Drummer Queen. She's a runner herself, and I see my designs as influenced by her.
Enda is B Corp certified. Can you tell us about what sustainability looks like to you?
Navalayo: It all started with asking the question: what is sustainability? It's important to note that this has a very different notion outside of Africa and means different things in different contexts. In Kenya sustainability is about job creation and livelihoods, it's about creating agency through income provision, and for us this comes down to the importance of a stable supply chain. 
"In Kenya sustainability is about job creation and livelihoods: it's about creating agency through income provision"
Our products are carbon neutral and our ethos is rooted in a commitment to people and the environment. We want to promote an alternative way of doing business from a local perspective and are witnessing changes in the mindset of local communities. Consumers are moving away from the question: How much does it cost? to the more important questions: Where is it made? Who made it? This puts the necessary pressure on companies to source and create sustainably. 
A big change we made has been to remove the use of shoeboxes and packaging. I stood there one day looking at a pile of empty shoeboxes and just thought, there has to be a better way. So, we no longer package our shoes in shoeboxes and we also only use recycled newspaper as the stuffing in the shoes.
We also know that due to CDNA you are now merging into fashion, can you tell us a bit more about this transition?
Navalayo: Yes, so it has been really exciting. I have started a fashion line with Sevaria where we have started to create items of clothing that people can run in and feel comfortable in.
This sounds so exciting and leads us nicely on to our final question, what is next for Enda, where do you see the brand in 5 years time?
Navalayo: My vision is to share Kenya's running culture with the world. I'm incredibly excited by the unknown in terms of the future potential for Enda and the Kenyan creative community that is building around us.

Learn more about Enda HERE.

Previously printed in partnership with Fashion Scout.