When standing up for what you believe in starts to threaten your life, should you stay, or should you go? We spoke to two Ugandan LGBTQI+ activists who are making waves in their home country from thousands of miles away.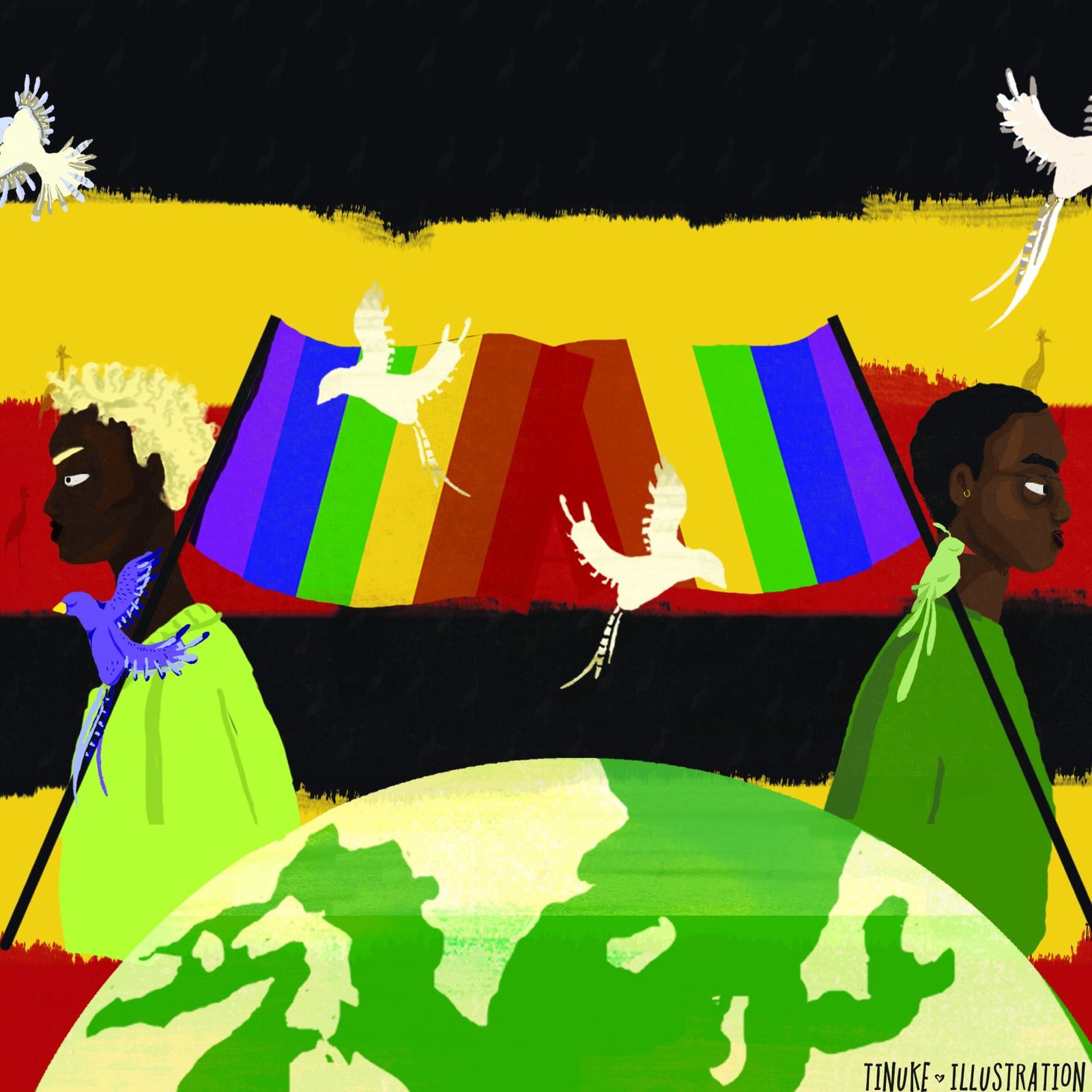 It isn't safe to be openly gay in Uganda. This has been the case since homosexual activity was outlawed in the 1950's, and a feeling circulated since the colonial period. However, while reports of anti-gay or anti-trans violence were relatively frequent, since the proposal and subsequent signing of the Anti-Homosexuality Act in 2014, this became more widespread. Despite the bill's annulation a few months later, the threat of violence and harassment is still widespread today, leaving activists with the choice of fleeing or facing potential persecution and even death.
The Act proposed to build on anti-sodomy laws, increasing the sentences for those found to be engaging in homosexual activity and also the vaguely worded, 'promotion of homosexuality', meaning anyone who was found guilty of supporting or hiding LGBTQ+ people or communities could also be persecuted. It also supported extradition back to Uganda of any citizen found engaging in homosexuality abroad to face the same charges.
The bill received a lot of support both in parliament and in the wider community, with 30,000 Ugandans gathering in Kampala to praise President Museveni for signing the bill into law. This newfound legislation ratified the anti-homophobic feeling already rife within Uganda, with tabloids such as The Red Pepper and The Rolling Stone printing photos of 'known homosexuals' which in turn encouraged witch hunts and mob violence. During this period many people lost their homes, fled the country, were beaten and in the case of
David Kato the 'founder of LGBTQ+ in Uganda' lost their lives.
Additionally, the bill threatens to be re-instated as law, with each reference stirring up a new wave of attacks, like those which were implicated in the death of LGBTQ+ activist Brian Wasswa
last year. With increasing restrictions on freedom of expression, Uganda is still an extremely difficult place to live as anyone who is part of, or supports, the LGBTQI+ community.
Edward Mutebi is someone who knows this reality all too well. The founder of Let's Walk Uganda, a group dedicated to improving the standards of living for Lesbian, Gay, Bisexual and Trans youths in Uganda, he is currently residing in Germany due to the continued persecution he faced as an activist in Uganda. "You can expect to be arrested any time, any day, anywhere," he explains. "This may happen with no charges brought against you, with the sole purpose being intimidation. You can expect rights to be abused, to be detained for lengths of time far beyond what is constitutional, refused access to legal representation and when unlucky enough, undergo torture." Edward continues, reaffirming reports of anti-LGBTQ+ mob mentality. "And this is just from the police. From the wider community continuous attacks on your home are common. Expect to receive death threats, be beholden to mob justice, and called names."
The decision to leave was difficult for Edward for multiple reasons, he speaks openly about the pressure he felt from other activists to stay in the country: "many in Uganda expected me to endure all of this and, if the situation called for it, put my life on the line." He elaborates on the pressure he felt to be self-sacrificing as an activist, "some people imagine that having the strength to stand up for others imbues you with an immunity to feeling insults yourself. I know that this isn't the case. Nor should this idea be circulated; I believe that just like any other humans activists have feelings and deserve to live as freely and without judgement as those they advocate for."
For Aloysious Ssali, founder of Say It Loud Club, a charity which supports LGBTQI+ migrants in the UK, Edwards story reads like a personal history. Forced to leave Uganda in the 90's due to sexual persecution, he explains that this kind of pressure wasn't present when he first started to become an activist in the 80's. "There was no social media … things couldn't go everywhere as it is nowadays". He started an LGBTQI+ community as a college movement and as it grew it attracted more attention from authorities. "We lost people, some of the young guys who started the movement with me, they disappeared, I've never seen them again, it's now been 25 years."
When discussing the pressure Edward felt from his fellow activists Aloysious was quick to defend his position, "first of all, you always want to influence change in your home country, but sometimes you are not able to do so." He elaborates, stating that while you may be able to guarantee your own personal safety this may not be true for the people who follow you. "With the current environment in the country, I think it's still very risky to be active in Uganda."
However, both men have not allowed their relocation to dampen their efforts concerning fighting for the cause. Aloysious's tireless work with Say It Loud Club has transformed the lives of the club's 200+ members. As one of the first people to seek refugee status on the grounds of his sexuality in the UK, his story stands as proof that the disheartening system can be worked with. This was recently best evidenced by a LGBTQ+ history month campaign in which Say It Loud members were asked to name their hero, nearly all said Aloysious. One member Kazi Rahman states "my inspiration is our chairman Mr. Aloysious. Before joining the Say It Loud Club I was like a boat without any destination. Now I know how to motivate people from depression … he is my mentor, the way he guides us is incredible". Furthermore, Aloysious offers practical aid, both offering advice on navigating an extremely complicated asylum system and supporting member's claims in court, offering the kind of invaluable tangible evidence that comes with club membership when someone asks you to prove your sexuality.
For Edward, activism in Germany is "all about visibility and recognition". In response to the hostile reactions refugees, especially LGBTQI+ refugees, have faced since their arrival he's been involved in multiple projects to raise visibility and awareness. Chief among these is the Rainbow Refugees Project, a magazine dedicated to providing a space in a community in which LGBTQI+ refugee voices are rarely heard. Specifically Edward has been involved in campaigning for refugee housing, stating that: "landlords deliberately deny to offer housing to refugees and even those who manage to get a flat are often exploited due to ignorance of the law." To combat this, Edward featured in a campaign, which was posted all around Munich, urging landlords to offer housing to those recently awarded sexual and/or gender asylum.
Aloysious still actively supports LGBTQI+ groups which operate within Uganda and has collaborated with organisations like SMUG, Sexual Minorities Uganda, however, due to government pressure, is limited in what they can achieve.
Aloysious explains that while this is frustrating, campaigns launched from the UK can have a further reach. "We would love to connect more, but the campaigns we are creating here are very powerful. I believe they are even more powerful than what's being said on the ground. I can go on the television; I can speak to the press. These things carry a lot of weight." Aloysious is also aware of changing the minds of young Ugandan's through non-government controlled social media, "the people who are coming up in Uganda and Africa in general, these are the people that are going to become MPs and political leaders. I believe that when they read of what we are doing here, and they do, their attitudes will be different to that of the old regimes."
Both men are now adopting a global outlook and reflect on the power of their position to advocate for global change. Edward states that his approach to activism has changed since his move. "To me, it feels as though I am now courageous in a different way. I am courageous as my spirit keeps burning to stand for other people who live in a country whose needs are different to mine in my home country."

To find out more about Say It loud Club head to their wesbsite sayitloudclub.org
See more of Tinuke's work on her instagram @tinuke.illustration