The Tiananmen Square vigil and Extradition protests these past few days have brought a strong sense of community, pain and loss to Hong Kong. Both events saw the city flood with people from very different backgrounds, coming together to defend their freedoms and democratic values while drawing a tangible line between Hong Kong and China's past, present and future under the CCP's rule. A march for freedom that quickly turned sour, as rubber bullets and teargas filled Hong Kong with dread: for young protester's safety and for the future of the city.
Hongkongers' recent rise against Carrie Lam and her proposed Extradition bill, is far from surprising. On the contrary, anyone following the 2014 Umbrella movement – or Occupy – and their incessant fight for freedom, would have seen it coming. At the time, student-organised and led protests sought to secure Hong Kong's autonomy by opposing the NPCSC interference with the Hong Kong electoral system. The protesters believed that their proposed amendments, if approved, would pose a threat to Hong Kong's democratic principle of 'one person, one vote'. The decision, sugar-coated as an 'institutional safeguard' to ensure the election of a chief who 'loves the country and loves Hong Kong', only maintained a superficial notion of universal suffrage. It would allow Beijing authorities to control the course of elections by pre-emptively screening candidates deemed unsuitable. To counter the looming threat of China, students in 2014 exercised their right to protest and resorted to civil disobedience.
For them, 'Hong Kong is not China' was more than a mere slogan, as it hadn't been for the better part of a Century (since becoming a British colony in 1842). With these words,
the protesters' message was made clear: they had survived their rendition to China in 1997, but had also developed a unique sense of self. One that valued democracy, freedom of expression and assembly.
To better explain Hongkongers' sentiments towards China and Britain, Frances Hui wrote a University paper that began with, "I am from a city owned by a country I don't belong to." She attracted considerable criticism from China, but successfully explained why Hongkongers were – and still are – sensitive to external interference. They saw China as a threat to their independence and stability under the 'one country, two systems' policy. A Sino-British agreement that allowed Hong Kong to have an independent judiciary body, political system, capitalist economy and more rights and freedoms than in mainland.
Christopher Patten, the last British governor, referred to Hong Kong's unique situation as 'liberty without democracy'. His famous words have been since used to explain Hong Kong's history of protesting. Writing for the Guardian, Emma Graham-Harrison and Lily Kuo explained that people in Hong Kong have the freedoms of democracy, but not the right to choose their leaders. "That has made protests particularly important as a political tool and an expression of Hong Kong identity" they went on to add. "For more than half a century, the people of Hong Kong have been taking to the streets to force distant authorities – first in Britain and later in Beijing – to reconsider how they govern the city." It was with this same spirit that Hong Kong's citizens set out to challenge the Extradition bill and China's increasingly oppressive power.
Protests: as they happened
Sunday 9th June 2019 – Over one million white t-shirts and downcast expressions crowded the streets on Sunday morning – 'a white ray of hope', as organisers called it. People from all walks of life holding bright red banners and chanting: 'Carrie Lam Resign', 'No extradition to China', 'Scrap the Evil Law' and 'Open the Roads, Open the Gates'. A peaceful demonstration and sight for sore eyes: seniors, businessmen, families with children, students, shopkeepers standing side by side in the scorching sun. Images that echo the 1989 Tiananmen Square protests and the 2014 Occupy movement, whose supporters have in fact returned. Amid demonstrators, pro-democratic lawmaker Claudia Cho cheered: "at the end of the umbrella movement, didn't we say we'd be back? And now, we are back." Back to contest Beijing's latest interference, one in a long list. Disguised as Chief Executive Carrie Lam's proposed Extradition bill, which would allow criminals to be sent to mainland China for trial.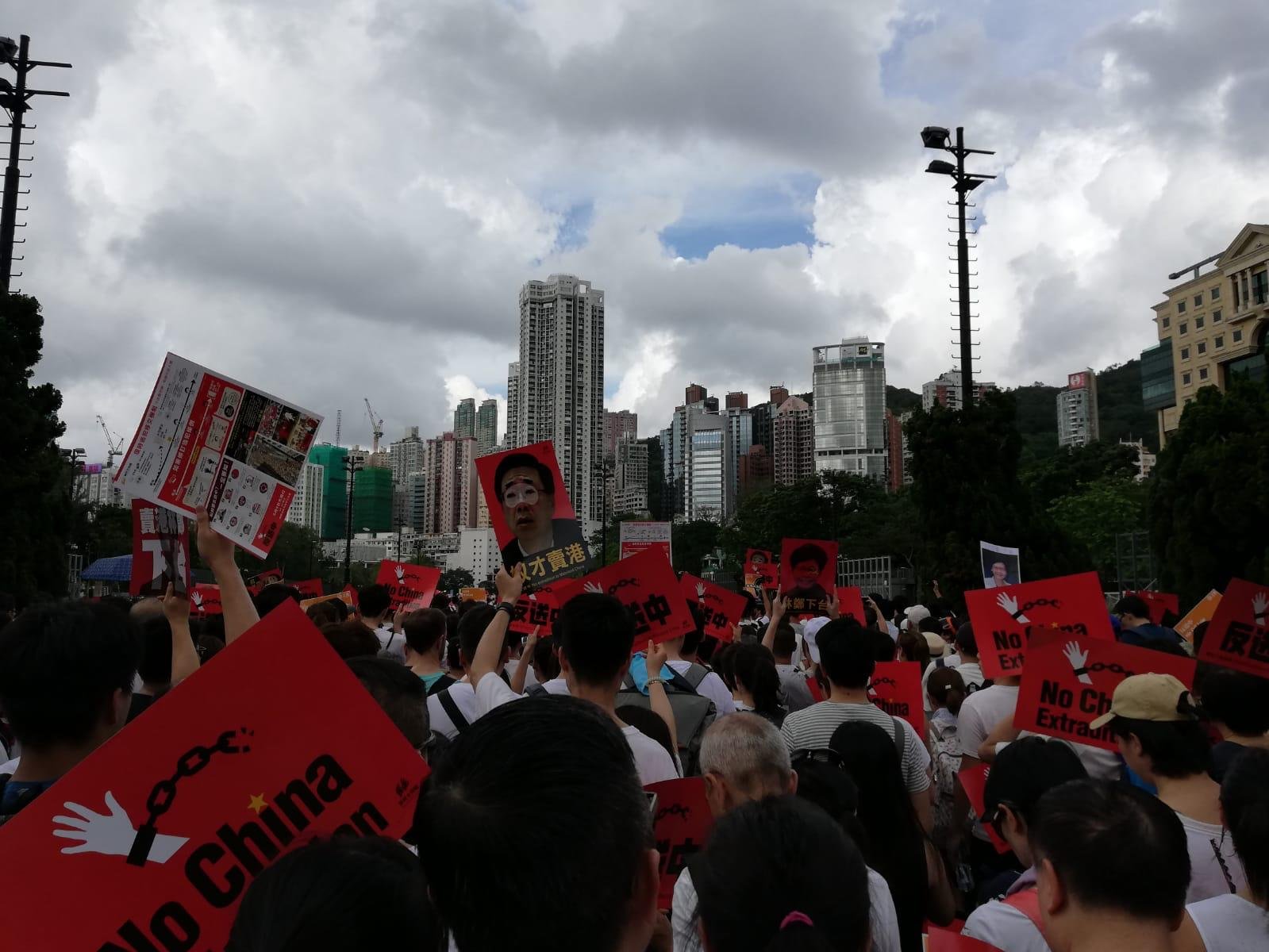 Carrie Lam had first suggested the amendment after Chan Tong-kai returned to Hong Kong from holidaying in Taiwan, where he had murdered his 20-year-old girlfriend. Unable to persecute him or send him back to Taiwan to attend trial, Lam had begun pushing for a bill that would fix this 'loophole'. The bill, however, attracted criticism and resistance as it would allow Hong Kong's courts to extradite criminals to countries with which it didn't have prior agreements. This would also include China – infamous for Human Rights issues and for of disposing individuals it considered a threat to its communist regime. Hongkongers were understandably alarmed. Fresh in their minds were the five booksellers that had disappeared in 2015, to then resurface in mainland China. One example among many others, since President Xi Jinping came to power in 2012. His personal political agenda and ruthless crushing of opposition brought Hongkongers together in their rejection of Lam's Extradition bill on Sunday.
Despite police forces saying that only 240.000 participants had taken part- and propagandist newspaper China Daily reporting that 800.000 marchers were saying yes to the bill – aerial shots painted a clear picture. Of a community coming together under a red and white banner, in defence of its core rights and values. Starting from Victoria Park, white-clad protesters marched towards the Central Government Complex, while drones captured their slow descent for the world to witness. In shouting "hoi lo" (開路), however, Hong Kong's demonstrators were also referring to Victoria Park's gates. Closed by the police to control the incredible flow of people, while inside the park thousands of protestors suffered in the stifling heat (32 degrees Celsius) for over two hours. Relentless, the police held the gates shut and guarded the perimeter, while mounting discontent lead to shouts of protest. One woman screamed, "Can you not see there are children, youngsters and elderly here? What are you doing to them? Open the gates!" Police officers shuffled, explaining that the roads were now full. From outside the gates, came denials and more 'hoi lo'. On the forefront, one student making way for a couple of senior protestors, was wrestled to the ground – more screams.
Seven people were arrested on Sunday – one for assault and six for criminal destruction – while the police remained on guard with pepper spray.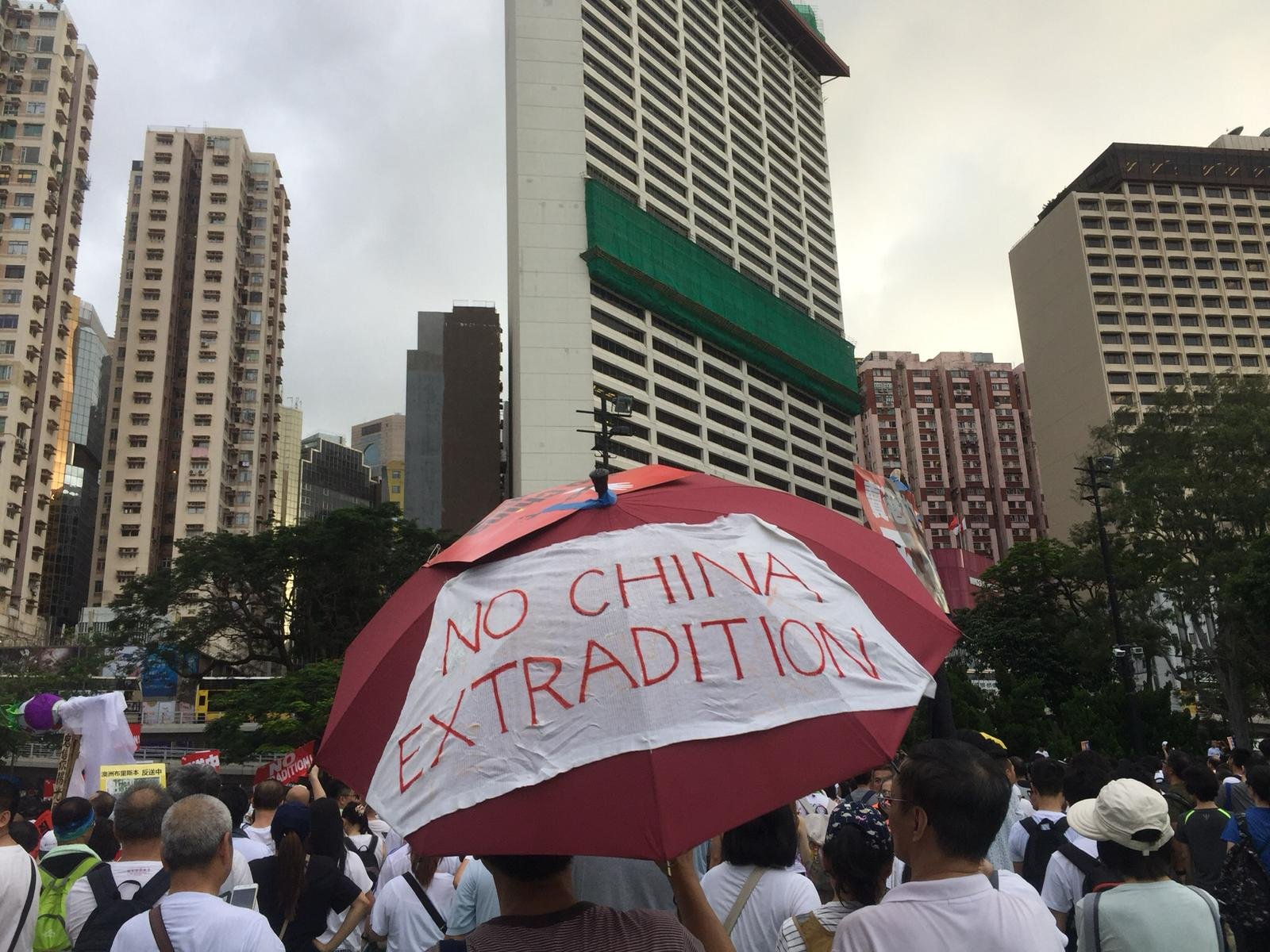 Wednesday 12th June – In the early hours of Wednesday morning, Hong Kong awaited – suspended. Resentment and dread marked the start of this decisive day. Chief Executive Carrie Lam was clear on Monday: she would not resign and would push forward with the legislation. In response, Tuesday night saw people flocking to the streets to protest the second reading of the Extradition bill. On their way to the legislature, they were met by armed police officers carrying out searches. Students were then asked to line up against the wall, patted down and stripped of their bags. Most of them were teenagers. On the streets, the same went for cars: opened and searched. While their behaviour might have been justified in other circumstances, their intrusive and intimidatory demeanour lead to an outcry. People outside Admiralty MTR station criticised their abuse of power and begun chanting 'apologise, apologise'. Also present at the station, Civic Party Lawmaker Alvin Yeung Ngok-kiu reprimanded the officers and said there was no need for six of them to search one passer-by, while Icarus Wong from the Civil Rights Observer suggested they may be breaking protocol by searching without cause.
Despite their interference, people continued gathering in Tamar Park until the early hours of Wednesday morning – tens of thousands. Students on site begun delivering raincoats, masks and water, but stressed they had done so of their own initiative. Outside the government headquarters, Reverend Yuen Tin-yau lead about 1.000 people in prayer. Around 9am, protesters begun barricading lanes around Legco, to stop Lawmakers from reaching the building. They did so by moving metal barricades, digging up bricks and gluing them together in makeshift barriers. Others began asking their peers to donate helmets, clingfilm, umbrellas and masks; one protester shouted for asthma medication and the crowd cheered as others came to help. Opposition lawmaker Eddie Chu Hoi-dick appeared in the crowd to support protesters: he urged Lam to stop the 11am reading and to withdraw the bill. At around 10:30am, government headquarters called for a lockdown as protesters continued to arrive. At about 3pm, tired of waiting and fearing a repeat of 2014 occupy, demonstrators attempted to enter the Legislative Council building. The police charged back with pepper spray and tear gas, but protesters continued into the lobby, where they were met with batons and more pepper spray.
According to newsnet Reuters, this first clash marked the beginning of Wednesday's battles. At 4pm, Police Commissioner Stephen Lo Wai-chung declared the protest a riot: anyone involved and arrested could now face up to 10 years in prison. Outside, police charged at protesters and the Citic Tower lobby – opposite the Legco complex – became a retreat for injured protesters. More first-aid and supplied stations popped up, while other important buildings became shelter for retreating protesters. As clashes became increasingly violent, seven former political appointees urged Carrie Lam to withdraw the extradition bill. At 6pm, the secretariat for the Legislative Council announced the meeting had been called off and shortly after, Carrie Lam's TVB interview was aired. "I have never thought about [resigning]. I have done nothing against my conscience" she explained, "I am doing the right thing. I grew up with all Hong Kong people and my love for this place has prompted me to make many personal sacrifices." Her words echoed across Hong Kong, while its youth run from the police to avoid more arrests and beatings.
As protesters began to disperse on Wednesday evening, Taiwan's president Tsai Ing-wen issued an important statement. "I am extremely shocked by the Hong Kong government's decision to fire rubber bullets at peaceful protesters," he said. "It is an extreme irony that it comes on the same day the Chinese government claimed the implementation of 'one country, two systems' in Hong Kong had achieved a level of success that caught the world's eyes. While Hong Kong people's freedom is being eroded in China's trap of 'one country, two systems', we should defend Taiwan's freedom and democracy with greater resolution. A free Taiwan supports a free Hong Kong."
Subscribe to shado's weekly newsletter
Exclusive event news, job and creative opportunities, first access to tickets and – just in case you missed them – our picks of the week, from inside shado and out.
Thursday 13th June – Thursday morning in Hong Kong was relatively quiet, as people digested Wednesday's shockingly violent battles with the police. Evidence of these still littered Hong Kong's streets. Umbrellas, masks and water bottles were discarded in protesters' run for safety, as the police advanced with pepper spray, batons, teargas and rubber bullets. The second reading, scheduled to take place that morning, was postponed. A few protesters interfered with public transport, while others gathered on a bridge. But most remained indoors to rest and wait. Messages of solidarity spread through social media, alongside blood-chilling reports of Hong Kong's police-protester collisions.
A general feeling of impotent restlessness spread through the chatrooms – but not discouragement. Fear and resentment, yes. But also hope, as the rest of the world tuned in to watch.
Videos of brutal beatings had begun to emerge: photographs of severely injured civilians and havoc. Videos of police officers barricading roads and stopping ambulances from reaching civilians. Teargas thrown into MTR stations and leaking into malls, as exhausted protestors sought shelter. Journalists dodging rubber bullets and others being shot in the face. Protesters pushed back with water bottles, umbrellas and masks, while building makeshift barriers with bricks and crates. They set up supply stations and looked out for one another, sharing safe locations and asking for help via special chat rooms. One particular video, showing the true spirit of these 2019 protests, captured the attention of many onlookers. Ramy Inocencio, a news correspondent from CBS NEWS, was one many journalists covering Wednesday's events. As he filmed, police fired tear gas and a group of protesters came to hand Ignocencio an umbrella and helmet. That same day, Randy Schmidt captured more protesters splashing Inocendio's eyes with water after another round of tear gas. Inocendio then took to Facebook and Twitter, sharing stills from both moments and thanking 'these strangers' for their kindness. A stark contrast with previous images of police brutality.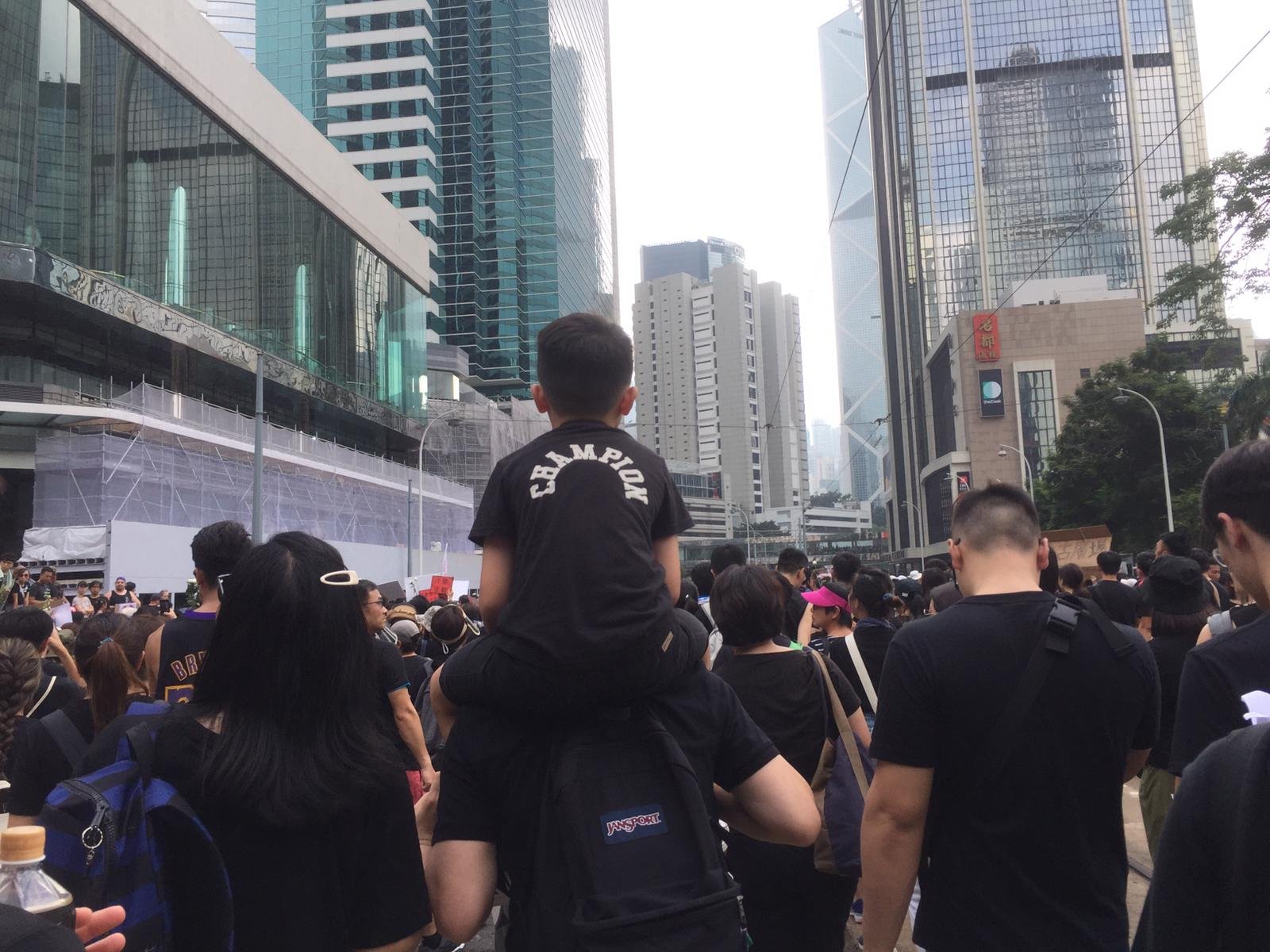 On Thursday morning, reports of Wednesday's casualties came in: 11 arrests and over 80 injured. The youngest protester to be hospitalised, a 15year old student. To Hongkongers' horror, photographs of their injuries were shared on social media: a contract driver of RTHK (a public broadcast) whose heart stopped and a secondary teacher who suffered a gash over his right eye. The teacher, Raymond Yeung, was recovered and later picked up from the hospital by policemen, who arrested him on site. He was not alone. Two students being treated after sustaining injuries in the protest, were charged for rioting during the police's visit to Queen Mary Hospital. Lawyer Melody Chan took to social media to explain that: "Because the wound was unusual, the nurse somehow notified a police officer stationed at the hospital. The officer asked [where the protester] came from – he said 'Admiralty' and was arrested." Condemning the arrests, Alfred Wong explained on Facebook that hospital staff does not need to know the reason behind an injury, where it was acquired or the patient's identity. Wong, a Tuen Mun Hospital doctor, was not alone in voicing his concerns over this breach of patient confidentiality.
Answering to claims of police wrongdoing and brutality, Hong Kong's Police Commissioner Stephen Lo released a statement. Despite their inadequate gear and mostly peaceful demeanour, he maintained that officers' use of force was necessary to stop 'rioters' from hurting innocent people. He also claimed that police officers had used 'low fatality weapons', adding that 150 tear gas canisters had been used, 20 beanbag shots and several rounds of rubber bullets were fired. A startling amount, considering only 87 rounds of tear gas canister had been used during the 2014 Umbrella Movement protests. When asked about police officers aiming at protesters' heads, he was 'unable to answer' as he 'did not have enough information'. Responding to hospital arrests, he answered: "Think about this – would we not arrest some triad members if they were at hospital?". Journalists that attended the press conference wore full protective gear: helmets, vests and masks. They did so to condemn police officers mistreating journalist during the protests. In a video gone viral, a photojournalist (who remains anonymous) was seen shouting at police for shooting at the Press. The Hong Kong Journalist Association collected a total of 17 cases of abuse of power, announcing they would file an official complaint.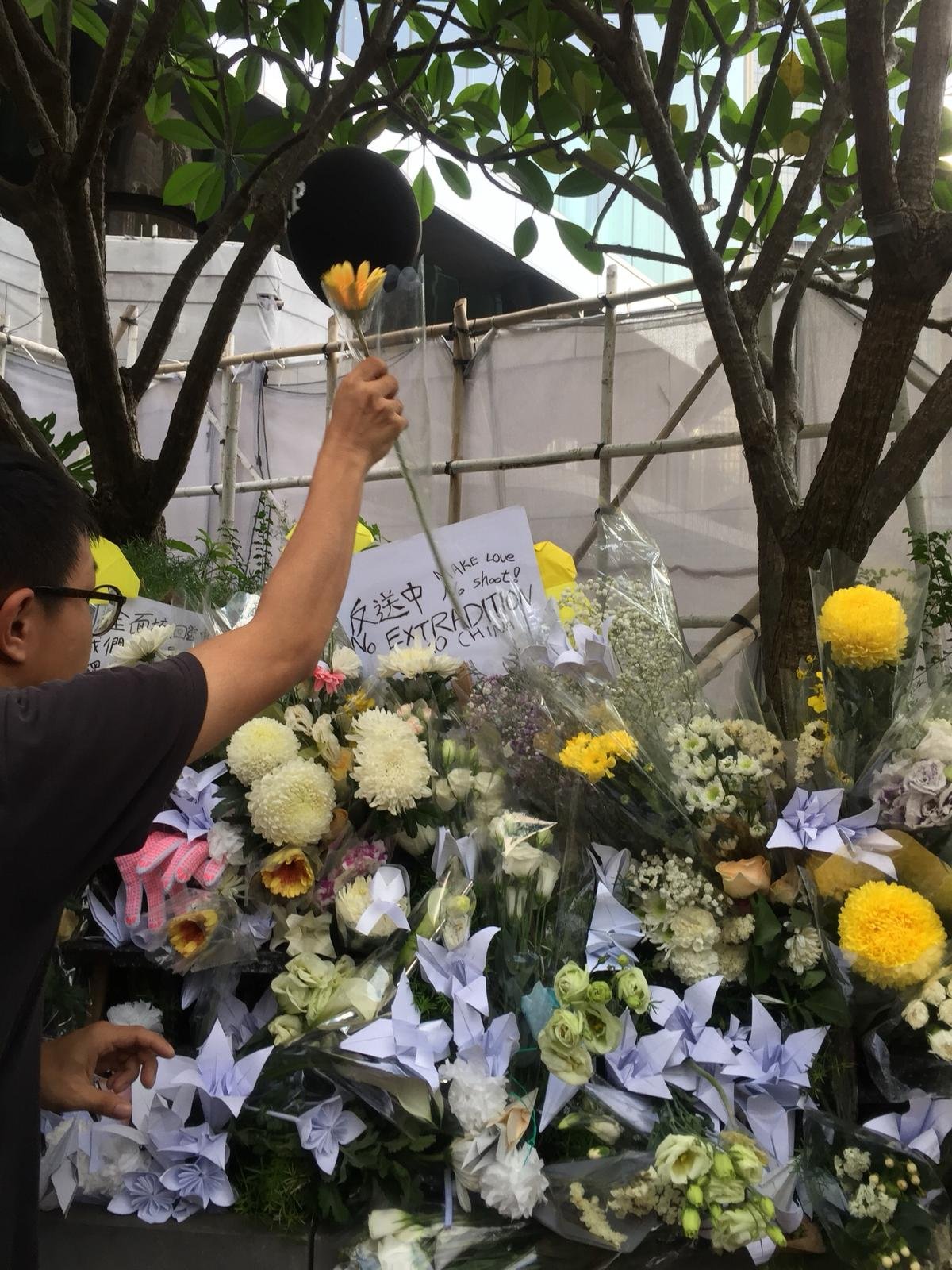 In an interview aired by the government news service, Carrie Lam came to the police's defence by arguing that demonstrators had used arson, bricks and sharpened iron bars to attack officers. She went on saying that, "Clearly, this was no longer a peaceful assembly, but a blatantly organised instigation of a riot." She then urged people to remain calm, as these acts of violence could only escalate. "To use a metaphor" Lam continued, "I'm a mother too; I have two sons. If I let him have his way every time my son acted like that, such as when he didn't want to study, things might be OK between us in the short term. But if I indulge his wayward behaviour, he might regret it when he grows up." Her tearful interview was not, however, well received. Hongkongers were not impressed by her metaphorical explanations of the violent clashes, nor by her dismissal of protesters' concerns. Youngsters were involved in Wednesday's protest, but were not alone in their fight against the Extradition bill. They were also not responsible for the violent acts that had ensued.
Weighing in on this, Man-kei Tam – Director of Amnesty International Hong Kong – urged the police to stop their abuse of peaceful protesters, explaining that: "the police have taken advantage of the violent acts of a small minority as a pretext to use excessive force against the vast majority of peaceful protesters." Man-kei Tam was not alone in defending Hong Kong's young protesters, as many others have since stepped up. Lawmaker Charles Mok was filmed arguing with a police officer for 'beating up Hongkongers', while other pro-democratic lawmakers joined the protests to show their discontent. Messages from abroad mirrored their feelings, as more and more people began discussing Hong Kong's protests. An encouraging prospect, for Hong Kong's protesters – suffering the aftermath of their so-public dissent.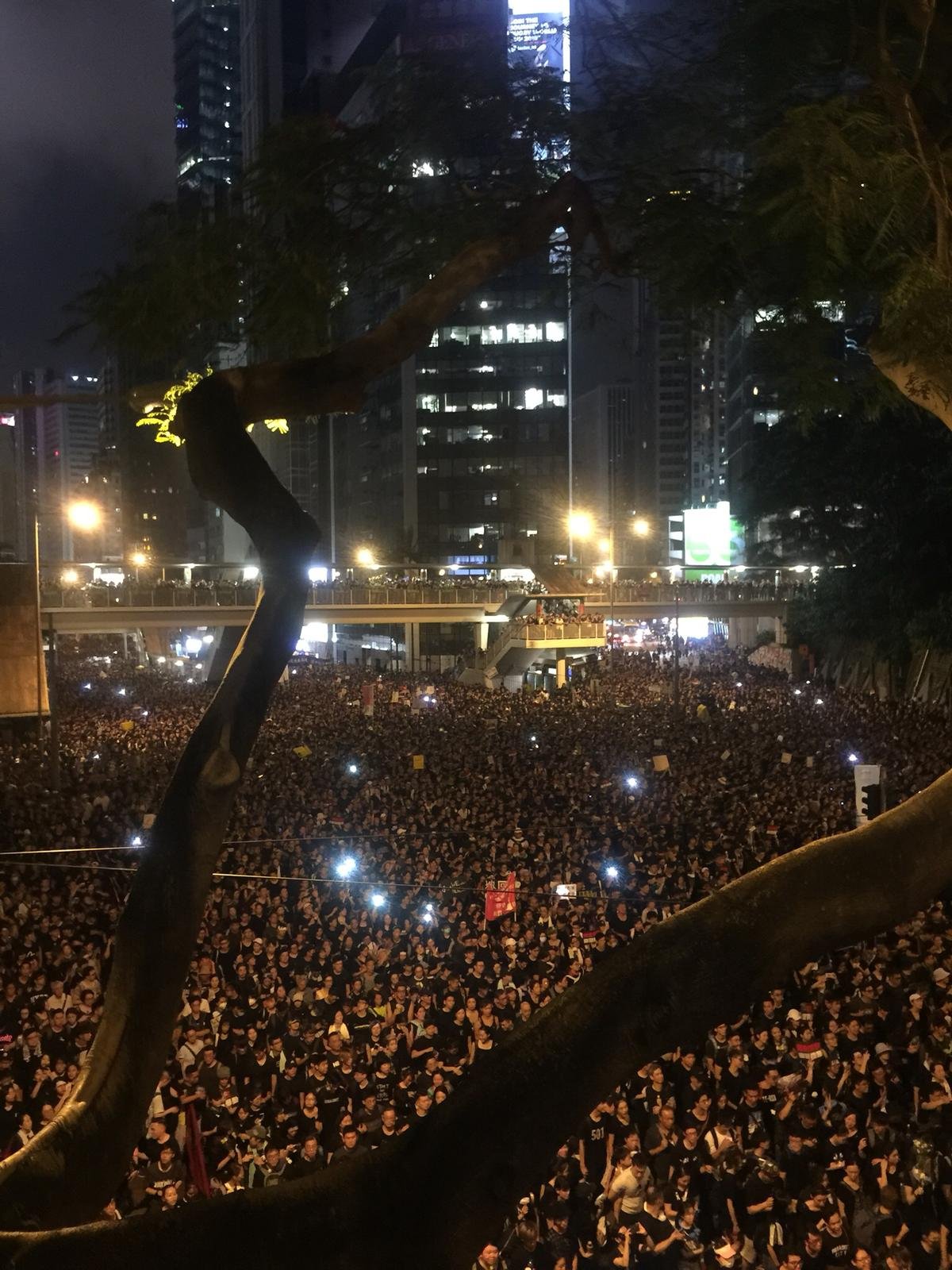 Friday 14th June – On Friday morning, Hong Kong was dressed in black in an ominous show of solidarity. The MTR trains filled with morning commuters, their sentiments made clear through their choice of attire: they may have not been present, but they too had suffered injuries. More protesters gathered in Charter Garden.
At least 6,000 people – most of whom were mothers, organisers said.
They held carnations and sang hymns, with signs that read: 'do not shoot our children'. They were not fooled by Carrie Lam's interview and the Police Commissioner's statement. Hong Kong's youth was dealt a massive blow. Speaking on behalf of many others there, barrister Linda Wong addressed Lam's criticism of young protesters: "The real, loving mothers are ones like us who really look out for our own children, who are willing to listen, communicate and protect the younger generation."
Yet, Carrie Lam and the Police force did not seem to listen. On the contrary, they attracted more criticism when a video of Tina Luk Kam-shing pleading with the police, went viral. "I am unarmed" she said, "I have been hit by your teargas." She had then asked officers to think of their own children and stop shooting. Her concerns as a mother were met with more gratuitous violence, as moments later she was hit with pepper spray. Oblivious to Hong Kong's – and now global – scrutiny, police officers carried out more searches on campus accommodation, with official warrants. They looked for proof of rioting. What this may entail, was up for debate. Helmets, umbrellas and water bottles were used in Wednesday's clashes. Legal teams came to students' rescue, having already spoken out against the Extradition bill and shown their support. More than 3,000 lawyers had taken part in a rare protest march on Thursday 6th. Judges, too, had voiced their concern over the Extradition bill alongside University professors and teachers.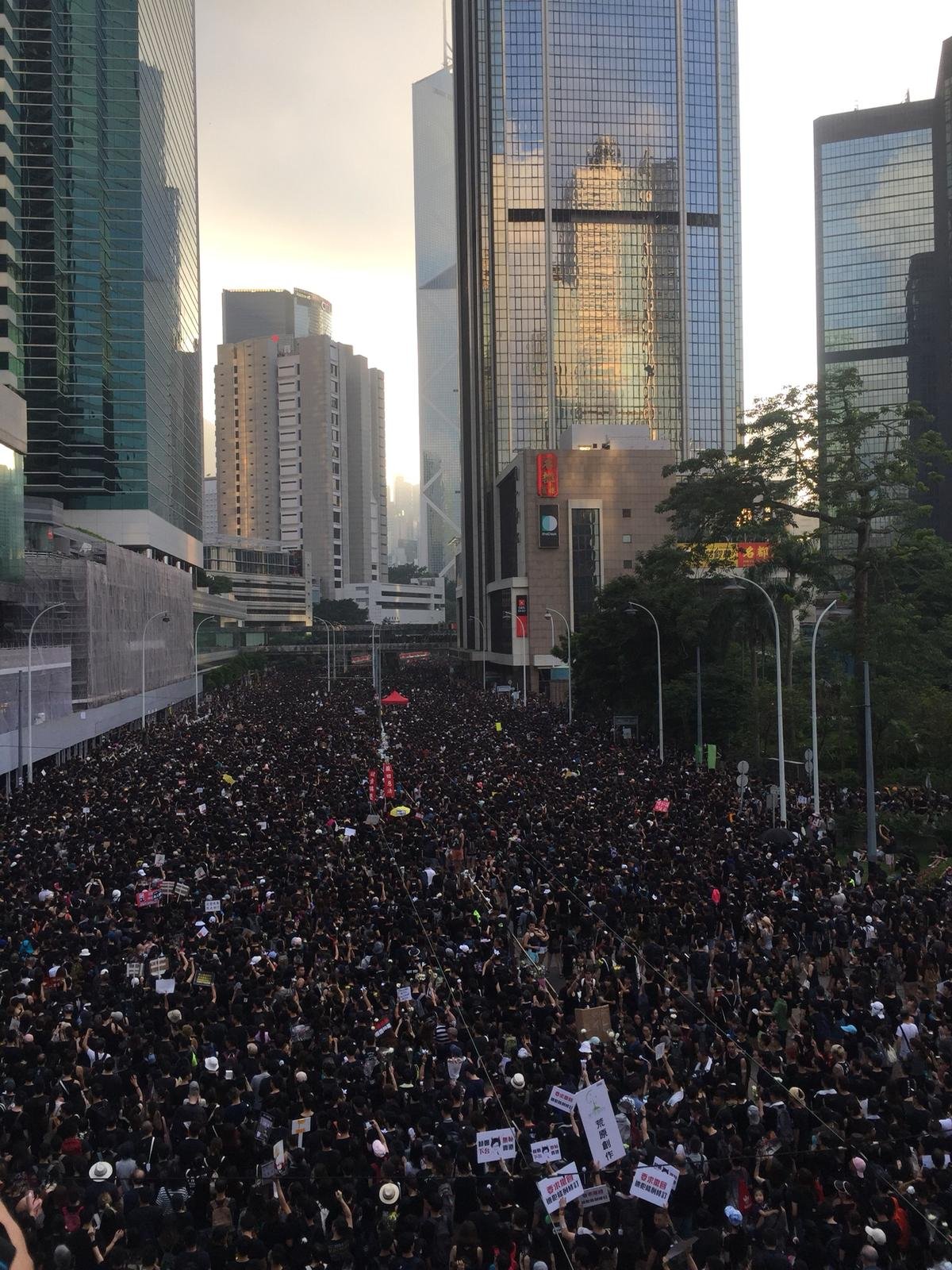 Adding to these building tensions, from the other side of the border China hacked Telegram, an encrypted service that protesters used to communicate. Beijing denied its involvement, but its creator Pavel Durov confirmed allegations: the cyberattack was executed from IP addresses in China. Telegraph's groups, that had tens of thousands of members, were used on Wednesday to coordinate actions, supplies and first aid when Police attacks became more violent. It was instrumental in organising their rally, as protesters feared similar retributions to 2014's arrests. Telegram has been now used to prove students' involvement in the protests. Ivan Ip, administrator of a Telegram group with 10 to 30.000 members, was arrested for 'conspiracy' and 'public nuisance'. A daunting prospect making the Extradition bill all-the-more dangerous.
Saturday 15th June – Days after clashes broke out, 27 former Hong Kong politicians and government officials appealed to the government to withdraw their Extradition Law amendments. On the other hand, pro-establishment lawmakers had also urged Chief Executive Carrie Lam to slow down and listen to Hong Kong's citizens. Talking to journalists at the Legislative Council, Michael Tien had expressed bafflement over Carrie Lam's decision to continue with the bill. He was also worried that her behaviour would reflect poorly on the pro-establishment camp in the 2020 Legislative Council elections. Bernand Chan and Ronny Tong, members of the Executive Council, advised the government to review their tactics and suggested it should consider all options – including 'not immediately passing' the bill.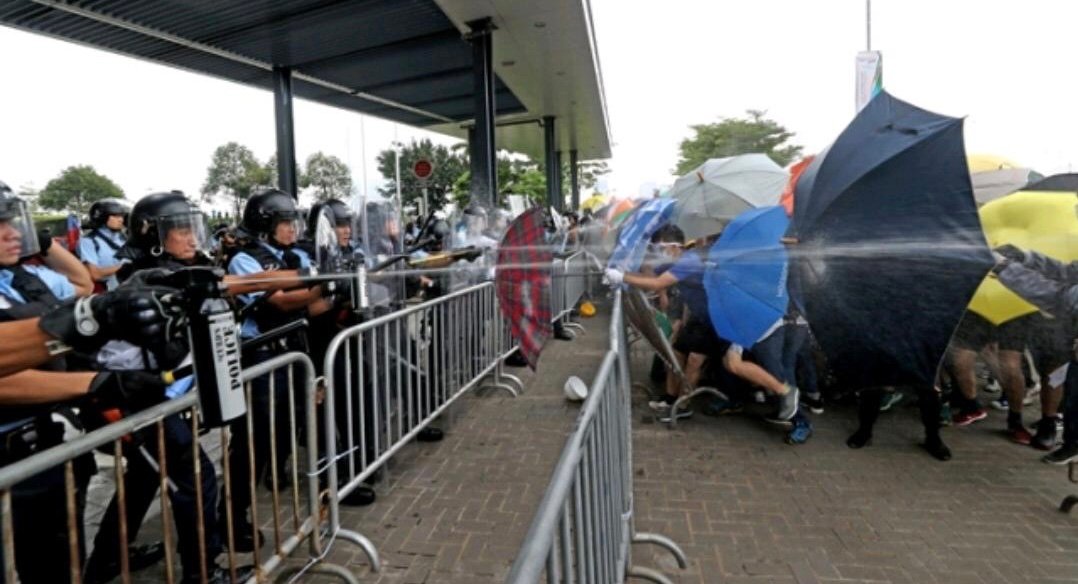 Heeding their warnings, Carrie Lam gave a statement later that day to express her deep sorrow for the 'substantial controversies' the Extradition bill has stirred. At 3pm, she appeared in front of reporters to announce that: "the urgency of passing the bill within this term has maybe disappeared (…) we should pause and think instead of assuming the second reading of the bill in the Legislative Council as scheduled." People were not satisfied, however, as their intent was to cancel the bill and not delay it. Her words brought more doubts, given the amount of force that was used on Wednesday and recent cyber-attacks. People feared Lam was trying to divert attention and was not truly concerned with citizens' wishes. For this reason, protests scheduled Sunday the 16th of June would go on as scheduled.
Moments after Carrie Lam gave her speech, an anti-extradition bill protester fell to his death outside Hong Kong's Pacific Place Mall. The same shopping centre that had seen protesters run from the police on Wednesday. He had climbed to unfurl a banner, which read: "No extradition to China, total withdrawal of the extradition bill, we are not rioters, release the students and injured, Carrie Lam step down, help Hong Kong." He wore a yellow raincoat with the words 'Black Cops' – a common insult since Wednesday's protest. Fire fighters tried to pull the man from the scaffolding, unsuccessfully as the man fell to the road below.
News of his death left Hong Kong in tears as people prepared for Sunday's protest: his banner was removed, but his message would live on.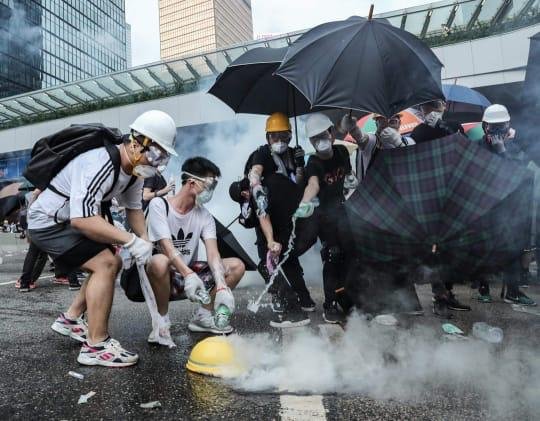 Sunday 16th June – What this day would bring, none quite knew. Grief, sadness and resentment; but also hope and respect for the bill's first victim. The dress code would no longer be white, but black in support of those who had been injured and arrested. While retail workers offered their employee discount in shops – to buy black clothing – florists handed out flowers to commemorate the previous night's death. People had already started queuing outside the Pacific Place Mall and would continue to do so for the remainder of the day. Other protesters sat in the streets making paper origami, white bows, stickers and self-help leaflets for others to take. They were not only protesting against Carrie Lam and her proposed Extradition bill. They were taking to the streets to demand an apology from the police. Comparisons between photographs of police brutality on Wednesday and Nazi officers, had been shared on social media the night before. The public was clear: officers had used excessive force, while protesters had not been rioting and should be released.
On Sunday afternoon at about 2:30pm, Hongkongers peaceful protesters set out from Victoria Park and made their way to Admiralty. Families, elderly, wheelchair users, businessmen, public workers, foreigners, students, children, government workers and teachers: smiling, chanting, marching side by side. Dressed in black and holding signs that read: 'do not shoot our children', 'Carrie Lam is not our mother', 'stop killing us' and 'no extradition to China'. A good momentum, as more and more people joined to the sound of 'Do You Hear the People Sing?' A strong sense of community. While police forces estimated 338.000 people, organisers said nearly two million people had taken part in the protest.
Two million people plus one, looking down from above in his yellow raincoat.
Six hours after the march had begun, the government released a statement. A spokesperson for Carrie Lam wrote that, "the chief executive admitted that the deficiencies in the government's work had led to substantial controversies and disputes in society, causing disappointment and grief among the people. She apologised to the people of Hong Kong for this and pledged to adopt a most sincere and humble attitude to accept criticism and make improvements in serving the public." An apology that people felt was too little, too late. As Saturday night's banner read, people need more: 'No extradition to China, total withdrawal of the extradition bill, we are not rioters, release the students and injured, Carrie Lam step down, help Hong Kong'.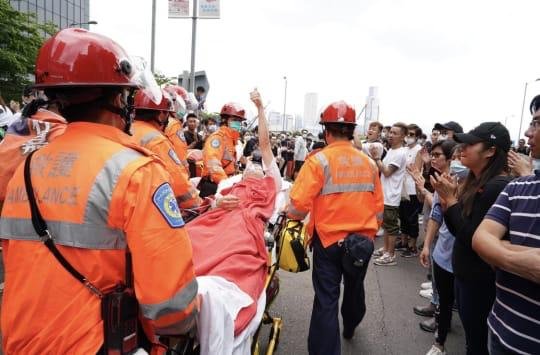 What now?
Not unlike previous generations, protesters today have many things to consider: how to deal with police brutality, how to prevent the bill from passing and how to get the world to listen. Covering their arms with clingfilm to protect themselves from pepper spray, wearing helmets and masks: youngsters protesting the Extradition bill may be more prepared than previous generations, but they are nonetheless vulnerable. The Extradition protesters are in need of understanding and solidarity, as Wednesday's events have so clearly shown. They were mostly students, facing angry and armed policemen with courage and determination. They did so for the vast majority: for those who protested both Sundays, and those that could not. They took care of their own, when the government would not. Their fight is not over, as they continue to march. And will continue to do so, whatever may be thrown their way. If Hong Kong can teach us anything, it's that we should not lose faith and let the inevitable happen. We may be one in a million, but one in seven people showed up to protest on June the 8th: a total of one million people – if not more, while almost one billion people filled the streets on June 16th. Hongkongers know the Chinese Communist Party and Hong Kong's own government are unshakable. And yet, they try. They fight back and demand to be heard: so please, listen and learn.