I think when they're done right, illustrations can make something that feels too complicated and impenetrable all of a sudden seem close to home and easy to understand." – Mona Chalabi
The International Rescue Committee (IRC) responds to the world's worst humanitarian crises and helps people whose lives and livelihoods are shattered by conflict and disaster to survive, recover, and gain control of their future. With COVID-19 spreading globally, and now confirmed in crisis-affected countries with International Rescue Committee (IRC) operations, like Afghanistan, Iraq, Burkina Faso and Venezuela, the IRC is ramping up its response to the outbreak with a focus on crisis zones with especially weak health systems.
The IRC have teamed up with brilliant data journalist Mona Chalabi to illustrate the impact of COVID-19 on people whose lives have been affected by global conflict. shado sat down with the team to find out a bit more about the work being done by IRC and the unique double-challenge faced by those left most vulnerable to COVID-19, as illustrated by Mona.
What are the biggest challenges being faced on the ground?
Refugees, families displaced from their homes, and those living in crisis will be hit the hardest by this pandemic. COVID-19 will thrive in active war zones like Yemen and Syria, putting the lives of thousands of civilians in even more danger, and is another reason for ceasefires to be implemented.
COVID-19 continues to spread globally and has reached countries with weak health systems which are less prepared to combat the disease as there is a lack of staff, beds, oxygen and other equipment. 80% of people in need of humanitarian aid live in countries with large population displacement and overcrowding, and poor water and sanitation, making it difficult to protect themselves. Displaced and vulnerable families are often confined to overcrowded camps or cities where a disease like this can spread rapidly through the close-knit population. In addition, people have many other underlying illnesses or conditions that could exacerbate COVID-19.
The COVID-19 pandemic is a powerful reminder of the world's inequalities, and how we are only as strong as our weakest health system. People living in crisis and conflict do not have access to strong health systems and are more vulnerable and at risk to this disease as a result. War and armed conflict devastate countries and their health care systems. In Yemen, more than half the country's health facilities are closed and 80 percent of the Yemeni population is in need of humanitarian assistance.
In countries experiencing active conflict like Yemen, Syria, eastern Democratic Republic of the Congo, northeast Nigeria and Burkina Faso, it will be much more difficult to mitigate the spread of COVID-19, putting the lives of thousands of civilians at increased risk.
Why is a visual campaign so important in raising awareness around this?
People are being bombarded with information about COVID-19 – it's the main story on every news outlet and dominates everyones social media newsfeeds – so we need to make sure our content is presented in an innovative and engaging way to stand out from the crowd. It's easy to be sensationalist around this topic, but that's not our style, so it means we need to be even more creative to get people's attention. When you're looking at pure data, it's difficult to quickly comprehend the profound impact of those figures. By visualising what those numbers mean, you are able to understand the potential impact this virus can have in a crowded place like a refugee camp.
Do you have updated figures of how quickly COVID-19 seems to be spreading through camps?
As it stands, governments around the world are unable to meet the demand for coronavirus testing, and this extends to places where the IRC work. It is impossible to say how quickly the virus will spread, but from our analysis about the population densities of some of the most overcrowded camps in the world we can predict that once it reaches them it will spread rapidly.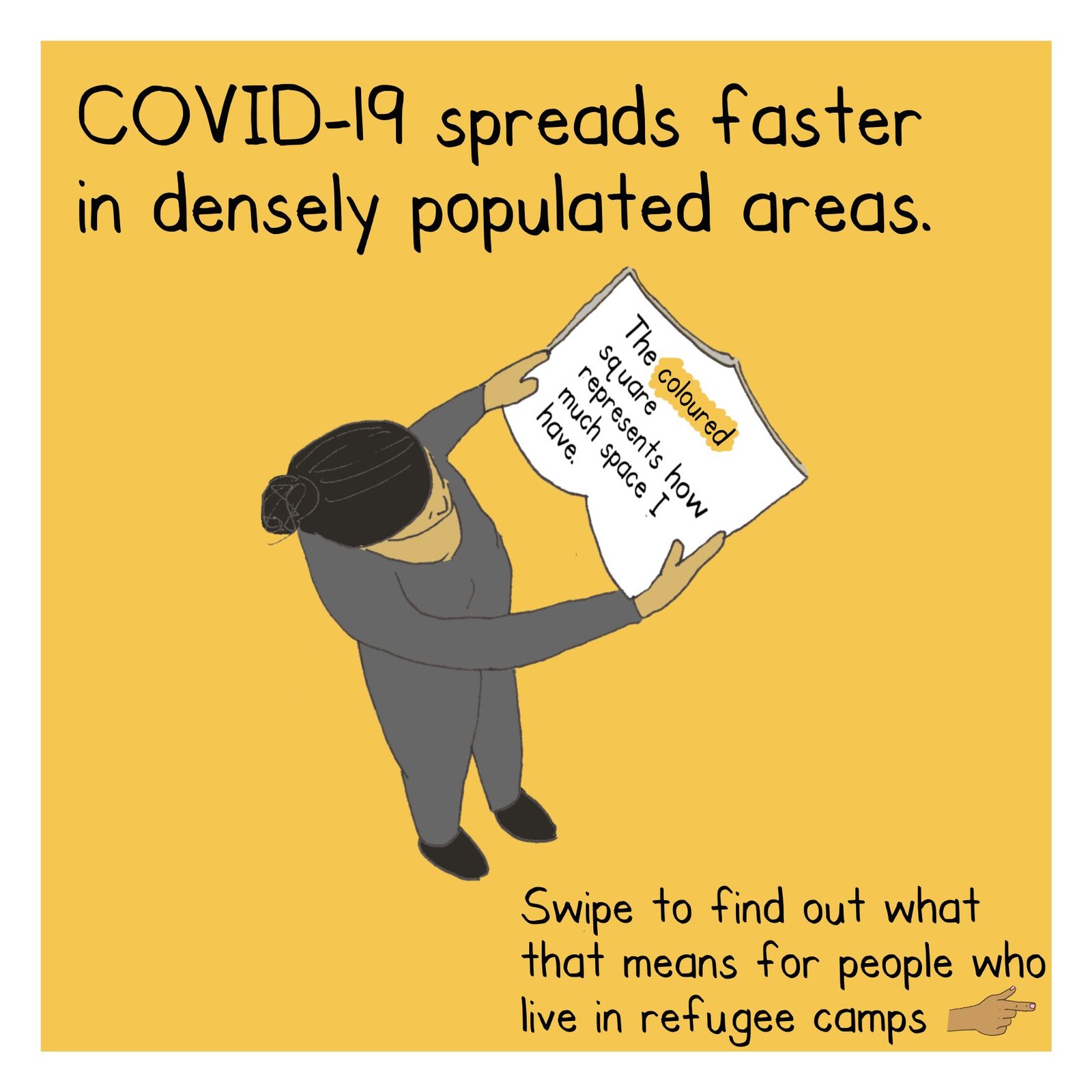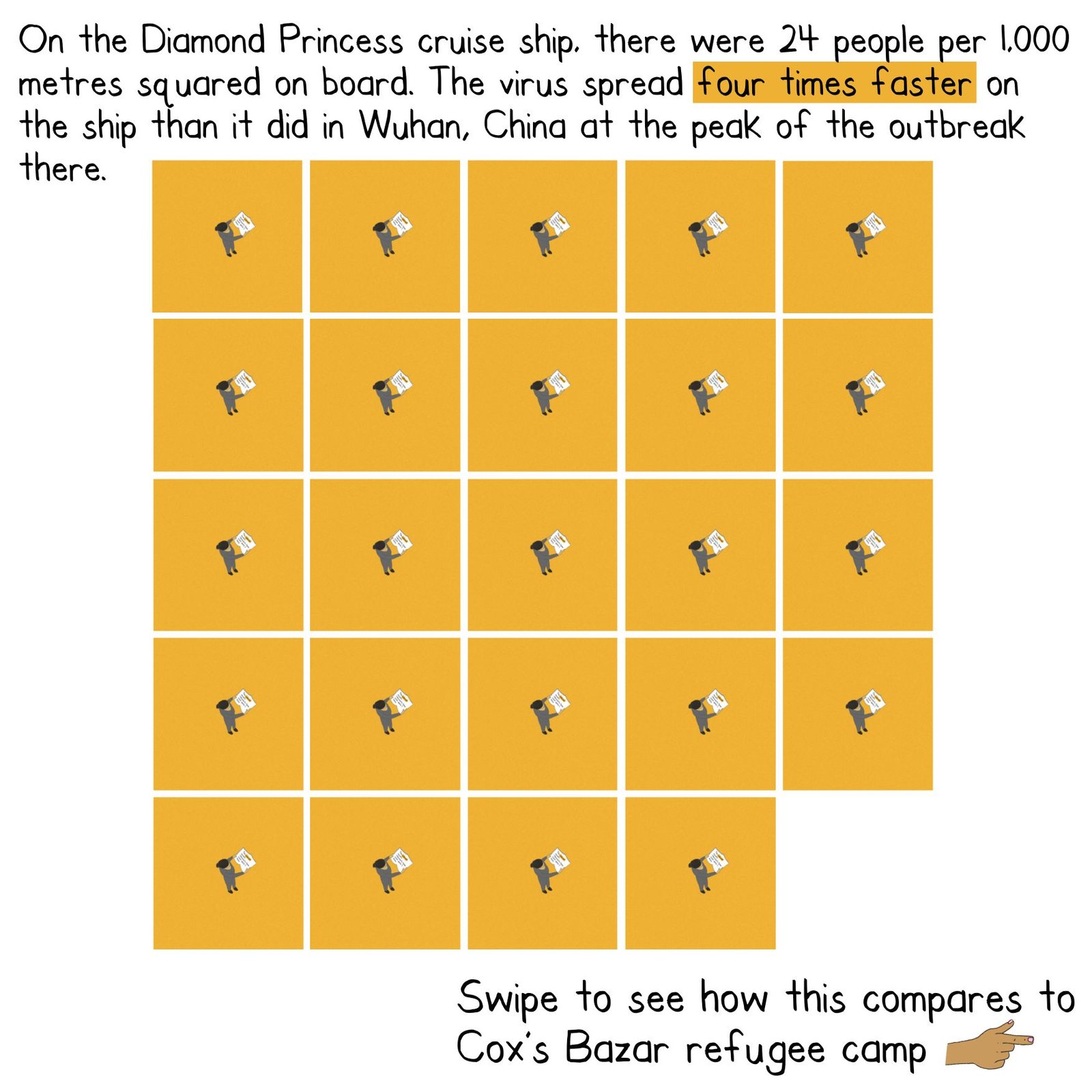 The IRC is providing life-saving programs in countries threatened by the disease. They are working across three key areas: to mitigate and respond to the spread of COVID-19 within vulnerable communities; protect IRC staff; and ensure the continuation of their life-saving programming as much as possible across more than 40 countries worldwide.