Grandmothers, mothers and children are gathered, shovel in hand, digging up a patch of soil. They are planting a small flower bed, with roses and orange cempasúchil flowers. Behind them, written on a wall, are the words: 'ni las mujeres, ni la tierra somos territorio de conquista': neither women nor the Earth are territories of conquest. Murals cover many of the walls here now, at what once was one of the main water bottling plants owned by the extractivist transnational company Bonafont. Since 8th August, it has been occupied by local Indigenous communities and renamed Altepelmecalli: the House of the People.
Just over seven months ago, when Altepelmecalli looked vastly different, 20 Nahua Indigenous communities from the volcanic region in Puebla, Mexico, came together in response to the depletion of water in their wells, rivers and streams, united in defence of water and life. Together they formed Pueblos Unidos (the United Peoples) to resist the colonisation and depletion of their waters by Bonafont.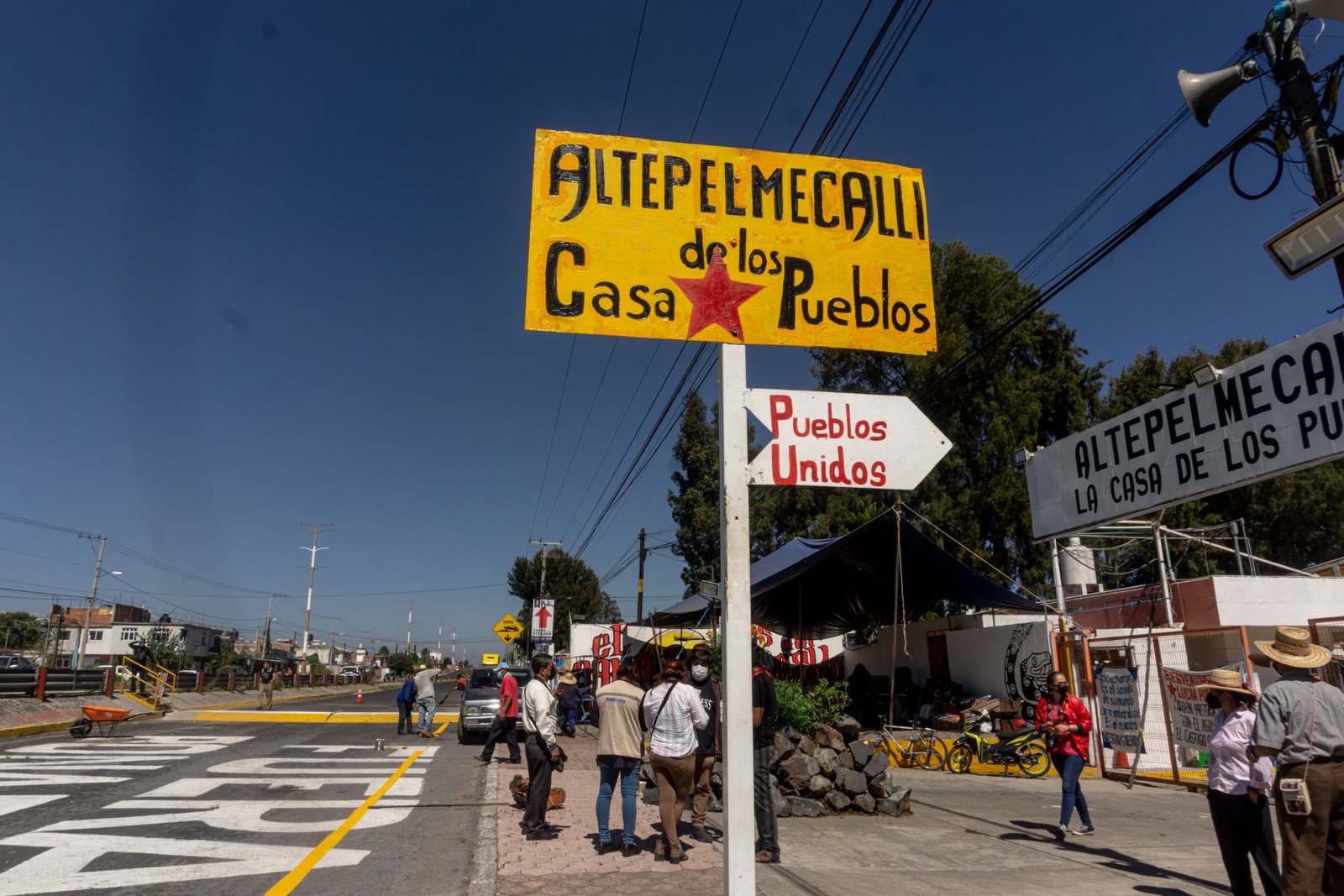 Bonafont, which forms part of the Danone group, is the leading water bottling company in Mexico. In the Juan C. Bonilla municipality of Puebla, alone, they extracted 1,641,000 litres of water – approximately two-thirds of an Olympic sized swimming pool a day for 29 years – before its closure on the 22nd March by Pueblos Unidos. 
A key researcher from the National Autonomous University of Mexico recently exposed that in the last five years, the flow of surface currents in rivers and streams has decreased by 40% in the volcanic region where the Bonafont plant operated. It also exposed the exploitation of water resources by bottling plants as one of the main causes. The study proved that if bottling plants continue to carry on as they are now, there will be no water in the region by 2040. 
Local communities became increasingly frustrated as they witnessed their own wells running dry whilst truckloads of water were leaving the bottling plant to be sold. 
Doña Chayo*, a member of Pueblos Unidos, explained:
Our artisanal wells are very important in our communities. They are part of our Indigenous traditions and ways of life, as the way in which we administer our water. We take from the Earth but we always make sure that we are not being excessive, that we respect her. For us, water is the essence of life; she is like a sister to us. 

I am an old woman now, and in my whole life I had never heard of or experienced water running out until Bonafont and other industries came to our territories. We have our ancestral ways of preserving life that our grandparents taught us. They have worked for our communities for generations. These companies just think about extracting our water so they can make money; and yet our communities pay the price. 

It became essential for us to organise ourselves. We have a long history of resistance in these lands precisely because so many companies come here to take our water, so we knew that our strength was in our unity. We went from community to community, and found those far away that were also living the same problem. Through assemblies we decided collectively to close down the Bonafont plant, which is what we did on 22nd March this year. Since then water has started returning to our wells. It can be said that our mother Earth is healing herself." 
On 22nd March, on World Water Day, tents were set up outside the plant and large rocks were placed alongside the road so that distribution vans could not leave the site. Communities had successfully halted the company's production, but felt that this was not enough. 
Again, Pueblos Unidos began to visit communities and collect signatures. 6,000 families signed the petition, unanimously in favour of removing Bonafont definitively from their territories. They too were experiencing water shortages, and had seen that the groundwater in the region was being affected.
"We held many assemblies to think about what to do next. Assemblies allow us to hear the voices of everyone in our community, so that no one is prioritised. We listened, debated, and put our heads together until we came to an agreement. Collectively we decided that we would put Bonafont and the three levels of Government (the National Commission of Water, the Environmental Secretary, and the National Institute of Indigenous Peoples), on trial in our courts for their complicity in the destruction of our lands and waters. Here the Law of the People is respected, we build our own justice, we do not demand it." Explained Ofelia, a member of Pueblos Unidos.
On 8th August, on the anniversary of Mexican revolutionary Emiliano Zapata, Pueblos Unidos held the trial. 20 communities came to give their testimonies. They spoke of the neglect, persecution and criminalisation that they have and continue to experience in their communities. Some cried about the death that they have borne witness to in their lands and waters. Some discussed the contamination of their rivers and streams, the formation of a massive sinkhole due to excessive water extraction and the violation of their territorial limits. And some denounced the manipulation that had been used to give concessions to industries like Bonafont, and the negative health impacts these industries and development projects were having on their lives. 
Members of Pueblos Unidos stood at the stand, dressed in black, wearing balaclavas and red bandanas. Once each community had said their piece, a verdict was read. 
"Before the facts stated, the bloodshed, the imprisonment and the destruction of our mother Earth, how are the accused declared?"
With left fists punching the air, everyone shouted "CULPABLES!", Guilty!
"Those of us who hold this trial, based on the principles of autonomy, self-determination and the preservation of our mother earth, decree: the territory that the Bonafont company seized over 29 years ago from our communities must be reappropriated, and that the facilities and all the goods found therein will be used to build Altepelmecalli, The House of the People. This space will be for the integral reconstruction of our peoples: for health, education, food, shelter, land, work, independence, information, equality, freedom, democracy, justice and peace."
The gate that barred the plant was forced open, communities entered and the industrial well was destroyed. 
A member of Pueblos Unidos explained; "We wanted to make sure that never again would anyone steal another drop of water from our lands. We didn't want to take over the modes of production; we wanted to destroy them. For us, extraction only means death. Here we fight for life."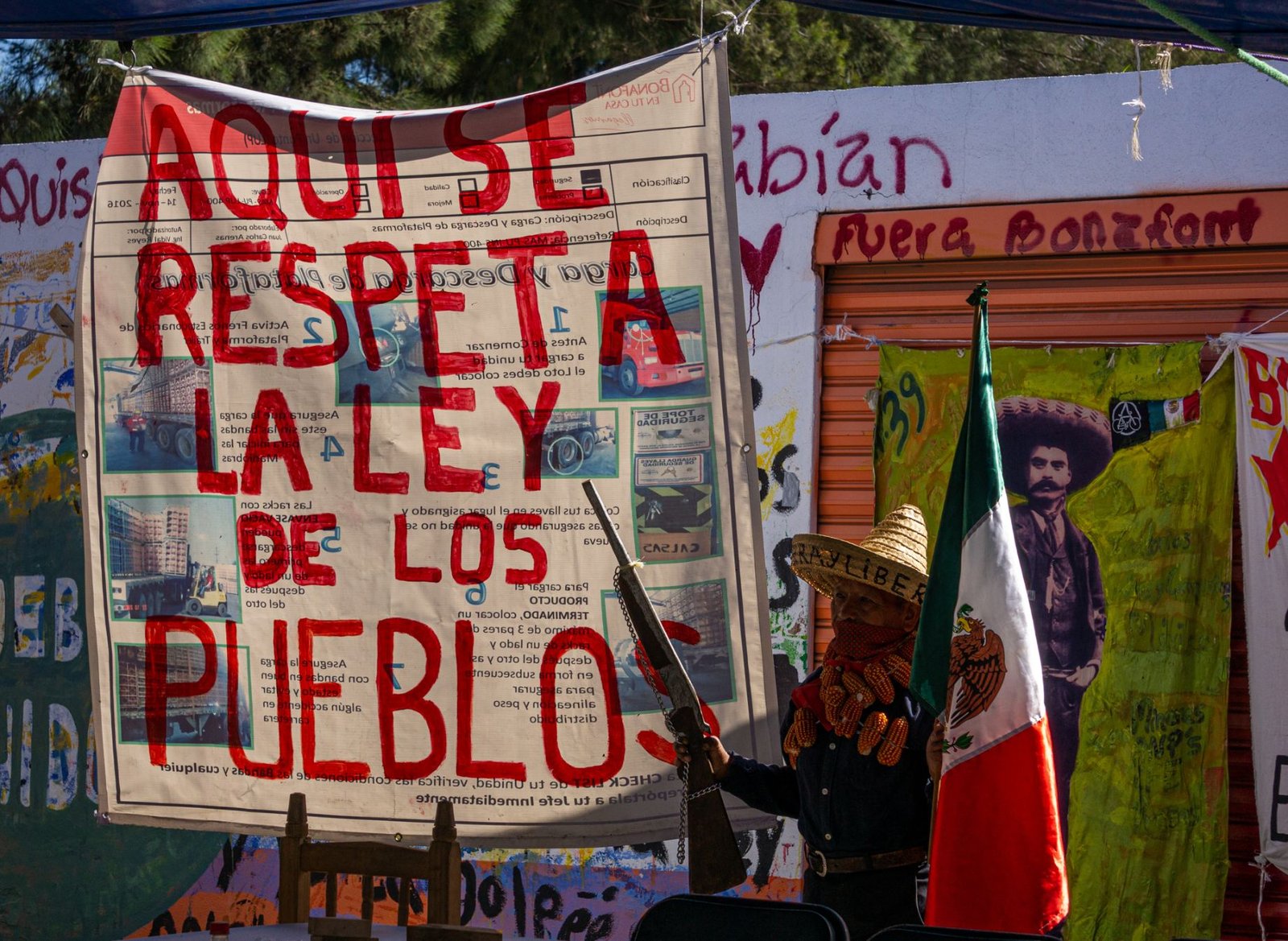 Subscribe to shado's weekly newsletter
Exclusive event news, job and creative opportunities, first access to tickets and – just in case you missed them – our picks of the week, from inside shado and out.
It's been three months now since the Altepelmecalli was won. A library, a small autonomous school, a health facility with both traditional and 'conventional' forms of medicine, a garden of herbal medicines and a women's centre have been set up. At the back end of the space there are now sheep and rabbits grazing. There are rumours that soon the concrete will be lifted to start planting maize and other crops to ensure the community keeps building autonomy. 
"It's been beautiful to see life spring on the ruins of death," remarks Rosa, an elderly woman from within the compound "All generations are here, putting in effort to build this space, especially women. Us women are linked to our mother earth, the earth gives life, it is the uterus that births our maize, we as women also give life. It's beautiful. Here we plant, paint, eat, sing, dance, party, listen and learn together. We know that repression can come at any minute; we have lived it before in our fight in defence of the Metlapanapa river. We have heard that Bonafont and the local government are already trying to criminalise us. But for now with our land and water we are happy and we will keep building autonomy and fighting in defence of our water, come what may."
The salmon pink colour of the Danone brand is slowly being covered up, and the brutal metal structure that once extracted water from these lands now looks more and more like a community centre as flowers begin to bloom. 
*All names have been changed in this piece to protect their identity