Refugee Community Kitchen serves nourishing food to displaced people in the UK and northern France. Entirely volunteer-run and donation-based, they are committed to serving wholesome food with dignity and respect to people in need.
Food is a human right.
Not only does Refugee Community Kitchen keep people highly nourished but they are also providing a moment in the day where people can gather and connect. Their food distributions recreate a sense of community and provide a safe space for medical and legal services, safeguarding groups and other support. Below is one of their brilliant recipes, cooked with care for their distributions. Enjoy!
Ingredients:
Oil for deep-frying
225g/8oz chickpea flour
Pinch of salt
1 tsp ground cumin
1 tsp fennel seeds
1 tsp finely chopped red chilli
1 medium-sized cauliflower (approx 450g/1lb) broken into florets and roughly chopped
350ml/12fl oz almond milk
10g/1/3oz piece fresh Turmeric
2 x 400ml tins coconut milk
50ml/2fl oz vegetable stock
To serve:
Dash chilli oil
Dash coriander oil
1 red chilli, finely sliced
2 tbsp roughly chopped coriander
Preheat a deep-fat fryer to 180C. (CAUTION: hot oil can be dangerous. Do not leave unattended).
Mix together the flour, salt, cumin, fennel seeds, chilli, cauliflower and almond milk in a bowl. Set aside for 15 minutes to allow the flavours to infuse.
When the oil is hot, carefully lower tablespoons of the batter mixture in batches into the oil and fry for 5–6 minutes, or until the pakoras are crisp and golden-brown and the vegetables have cooked through. (You should get 12 pakoras from the mixture).
Put the coconut milk and stock into a large pan and grate in the Turmeric. Heat gently until small bubbles start to appear on the surface.
To serve, ladle the coconut milk into four serving bowls and drop three pakoras into each. Drizzle with the chilli and coriander oils, top with the chilli and coriander and serve immediately.
SERVES 4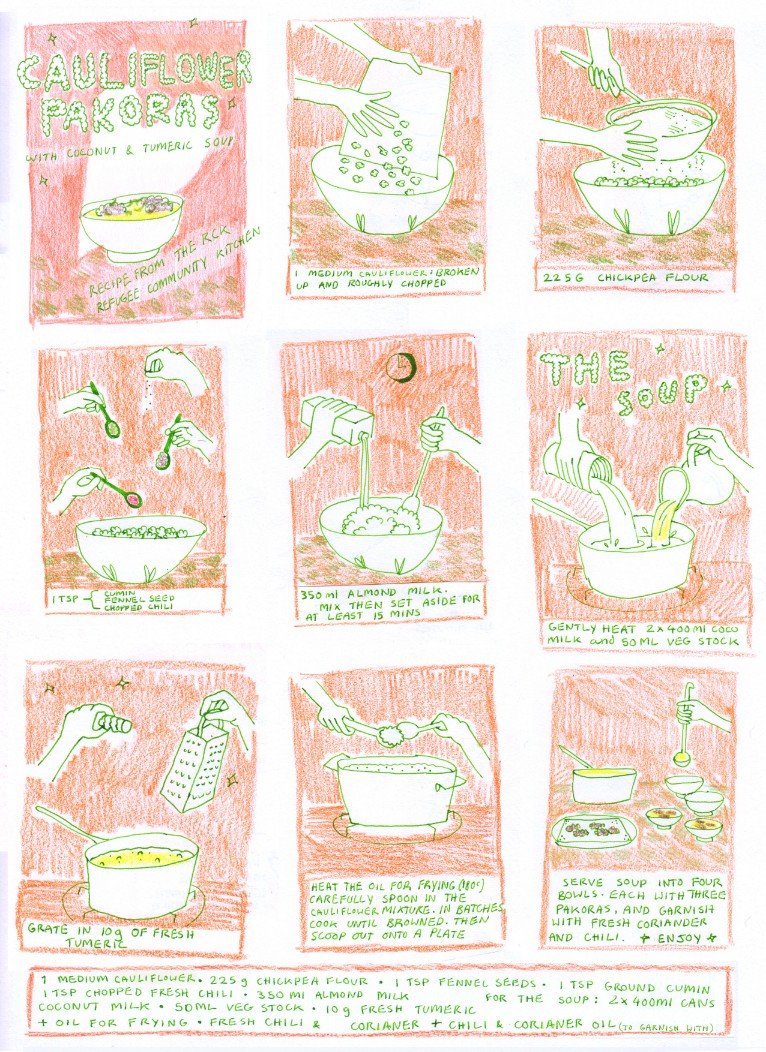 Refugee Community Kitchen (RCK) started up in 2015, in response to the refugee "crisis" in northern France. Now into their fourth year, they have provided over 2.5 million meals in France, and since 2017 have set up street 'outreaches' in three London locations, serving refugees, homeless, rough sleepers, and those in food poverty.
Learn more about Refugee Community Kitchen in our conversation here.
RCK is built on humanity, trust, and kindness, and ordinary people doing extraordinary things. If you want to join them in sharing the love, please do! Volunteer or donate at refugeecommunitykitchen.com, or email refugeecommunitykitchen@gmail.com.
Also donate at :http://bit.ly/rckdonate