I grew up in Hulme, Manchester in the 1990s, an inner city area woven out of industrial working-class heritage and Afro Caribbean culture. Both of my parents were first-generation immigrants from India and Mauritius, with my mother being the eldest of a large Gujrati family. My mother's relationship with her family broke down throughout this early period of my life, leaving her and my father isolated. Throughout my childhood, she struggled with a severe undiagnosed bipolar disorder which manifested itself into psychotic episodes, and in turn my siblings and I suffered physical and emotional abuse.
After leaving home at the age of 17 and moving into a young women's hostel, I was struggling with what was later diagnosed as severe C-PTSD. My wellbeing severely declined due to the trauma, however I had a strong interest in arts, creativity and culture through studying A Level Photography and was supported by my key worker Jackie. I began watching arthouse films at the local Cornerhouse cinema and applied to the BA Film Studies course at The University of Hull and was accepted, graduating with a solid 2:1.
In 2018, I moved back to Manchester to pursue a creative career and joined Islington Mill Art Academy, a free peer-led art school based in Salford. I attended a  series of sessions which included practical workshops, art crits, and lectures from local and global artists followed by a communal potluck. Whereas my university education offered a traditional foundation in visual culture, Islington Mill offered me a safe place to realise my potential as a D.I.Y artist within the creative world. I flourished in an environment that offered me both emotional and physical support. 
I went on to participate in a year-long intensive residency with 12 other artists, some of whom became my long-term collaborators and close friends. Islington Mill directors provided a wealth of amazing resources including access to a free studio, offering mentorship sessions with themselves and other artists. During our residency, we became a self-led group, experimenting in different aspects of artistic practice, creativity and organisation. Through this experience, I was given the opportunity to explore topics related to my own heritage including colonialism through performance art and illustration. This allowed me to dissect and understand the wider context behind my mother's poor wellbeing, including the domestic and patriarchal spheres that so many women from my mother's generation found themselves within.
I explored the distinctive discord between the repressive environment that I was raised within, with its expectations of domesticity and patriarchal dominance through a lens which included performance art and acrylic painting. I was able to process some of my distinctive trauma through my multi-disciplinary art practice, through works such as 'A Performance of Violence' (2018) and 'Welcome to the Dream Factory' (2019-2020). Through my practice, I work to create landscapes rooted within the context of the subconscious, exploring topics including mental health, body politics, and sexuality.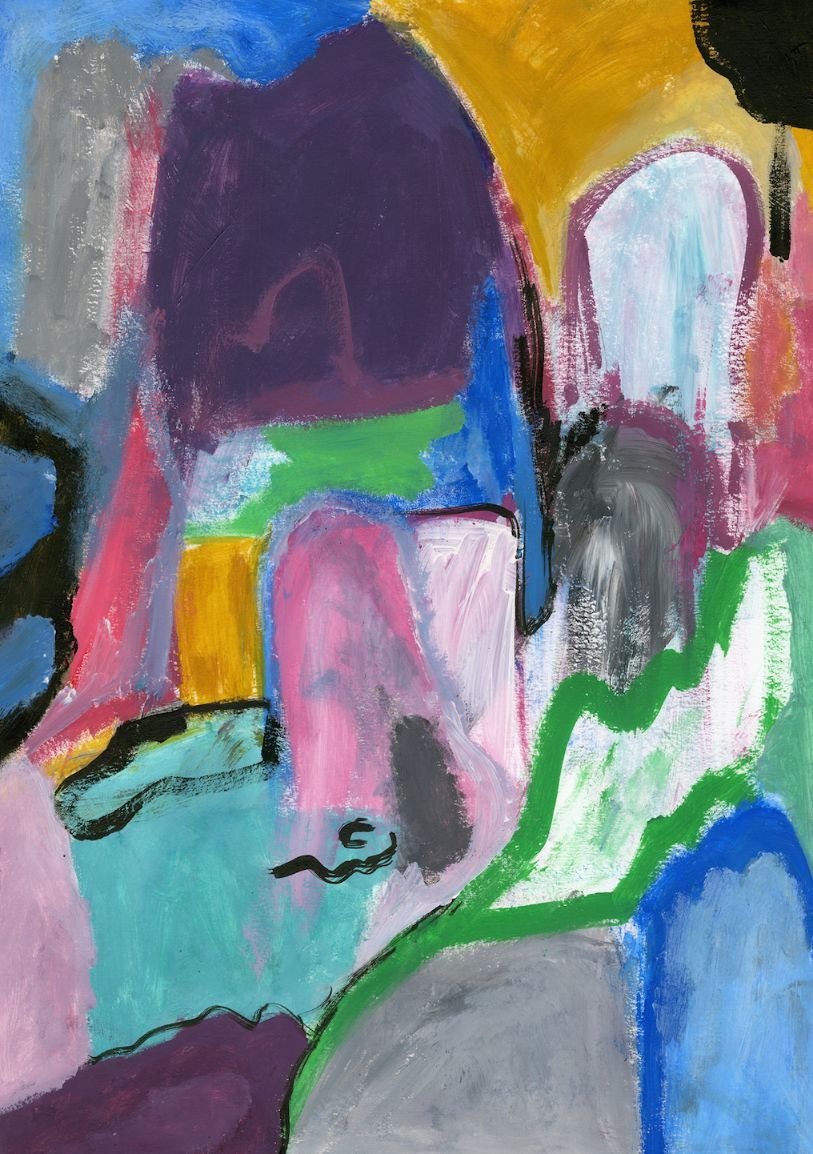 The ongoing support from the artistic community has reminded me of how vital nourishing creativity is, especially at a time when social and political spheres are becoming increasingly volatile. Creativity provided a mirror to see myself reflected within the world, one that as a child I had felt so isolated from. It nourished all the different parts of me, offering a way to explore my trauma and emotional feelings in a safe environment that was separated from the pressures of capitalist society. Audre Lorde states that: "caring for myself is not self-indulgence, it is self-preservation, and that is an act of political warfare." 
This environment enabled me to connect with a diverse range of people with different lived experiences, and in turn with the most authentic parts of myself. Growing up, I had felt disconnected from my identity, which was already a complicated discourse within the differential spheres that I occupy as a woman with Indian and Mauritian heritage, but compounded with the absence of a female role model.
Current government funding cuts have resulted in longer waiting lists for those seeking mental health support, making it extremely stressful to access any kind of aid. From my personal experience, I know that creativity and wellbeing needs to be prioritised. If this is undertaken I believe that another world is possible: one where we can heal through creativity, and where this pursuit is valued and not undermined by preconceived notions conceptions of self-worth, value, and productivity.
My relentlessness with my creative pursuits may have been formed from my early childhood experiences, but I also recognise my work is not merely about creating a new landscape and fabric to live within. It embodies the social and political struggles that have always existed for those of us forced to live in boxes provided by others when we are trying to create new identities and ways of being. I hope to raise awareness as an advocate for PTSD creating a mirror for those who would like there to be new ways of being and existing within the world.
See more of the artist's work on Instagram