The pervasive fear surrounding COVID-19, stemming not only from the potential of contracting it, but from the countless economic and social fallouts, is exacerbating the already existing tendency of some to scapegoat refugees and migrants in an effort to avoid facing up to the failings of the UK government.
In recent weeks, we have witnessed yet another surge of heightened hostility and xenophobia from politicians and members of the British public advocating for stricter border enforcements and the deportation of people seeking asylum on British shores, fleeing the multiple injustices of persecution, war and the impacts of the climate crisis.
Officials from the UK's Immigration Enforcement Secretariat have stated that the government is planning to deport 1,000 people to mainland Europe as they are "frustrated by the severity of the situation." Whilst there has been a rise in the numbers of people making the dangerous  Channel crossing to the UK, this must be put into context.
In the now famed words of British poet Warsan Shire, who was born to Somali parents in Kenya and grew up in London,"no one would leave home/unless home chased you to the shore." These journeys are usually the sole remaining viable option and, given that in many cases Britain is historically implicated or in some way entangled in the reasons for people fleeing their country of origin, along with the legal bindings for those seeking asylum, the British government holds a responsibility to provide safety to these people.
Globally, there were an estimated 79.5 million displaced people at the end of 2019; 25 million of whom were classified as refugees and 4.2 million as people seeking asylum. The UK hosts fewer than 1% of the global refugee population whilst lower and middle-income countries such as Turkey, Jordan, Colombia, Pakistan, Lebanon, Uganda, Sudan, Iran and Bangladesh host 85% of the world's refugees. In Lebanon – a country currently embroiled in the devastating aftermath of two mass explosions, political turmoil, economic collapse, as well as a medical sector overwhelmed by the pandemic – one-in-four people is a refugee.
Whilst facts and figures such as these attempt to expose the severity of the situation and the hypocrisies and injustices of the UK and EU immigration policies, there is also a risk that they reduce individuals to statistics.
It is for this reason that the humanising narratives being sculpted by creatives in the art and film industries are so crucial in efforts towards seeking solutions, justice and dignity. Every now and then we stumble across efforts which seek to highlight individual plights that appeal to a common humanity but often these ignore historical and contextual frameworks in doing so.
On the 2nd September, the first COVID-19 case was reported in Moria, Europe's largest refugee camp on the Greek island of Lesvos, which in recent times has, along with the surrounding olive groves, been sheltering up to seven times its capacity of 2800. A couple of years ago, the mayor of Lesvos described Moria as "the Dachau of modern times." Within a week of this first case, a fire had rampaged through the camp, decimating it and the COVID-19 isolation unit, leaving charred structural remains enmeshed with barbed wire and scorched olive tree trunks as well as around 13,000 people stranded and homeless. 10 European countries have offered to provide safety for unaccompanied children from the camp but the UK has not been one of these.
In the wake of these events, I began an email exchange with Mariam El Marakeshy, an Egyptian international multiple award-winning filmmaker, storyteller and investigative journalist. In 2018, two years after the EU Turkey deal was made, Mariam produced a ground-breaking documentary film called TRANSIT, which reveals the powerful and intimate stories of young refugees who risked their lives crossing the Aegean Sea to Europe: the supposed 'beacon of democracy.' Lesvos was intended to be a 'transit' point; but for many, Moria camp became a prison where people have become trapped indefinitely.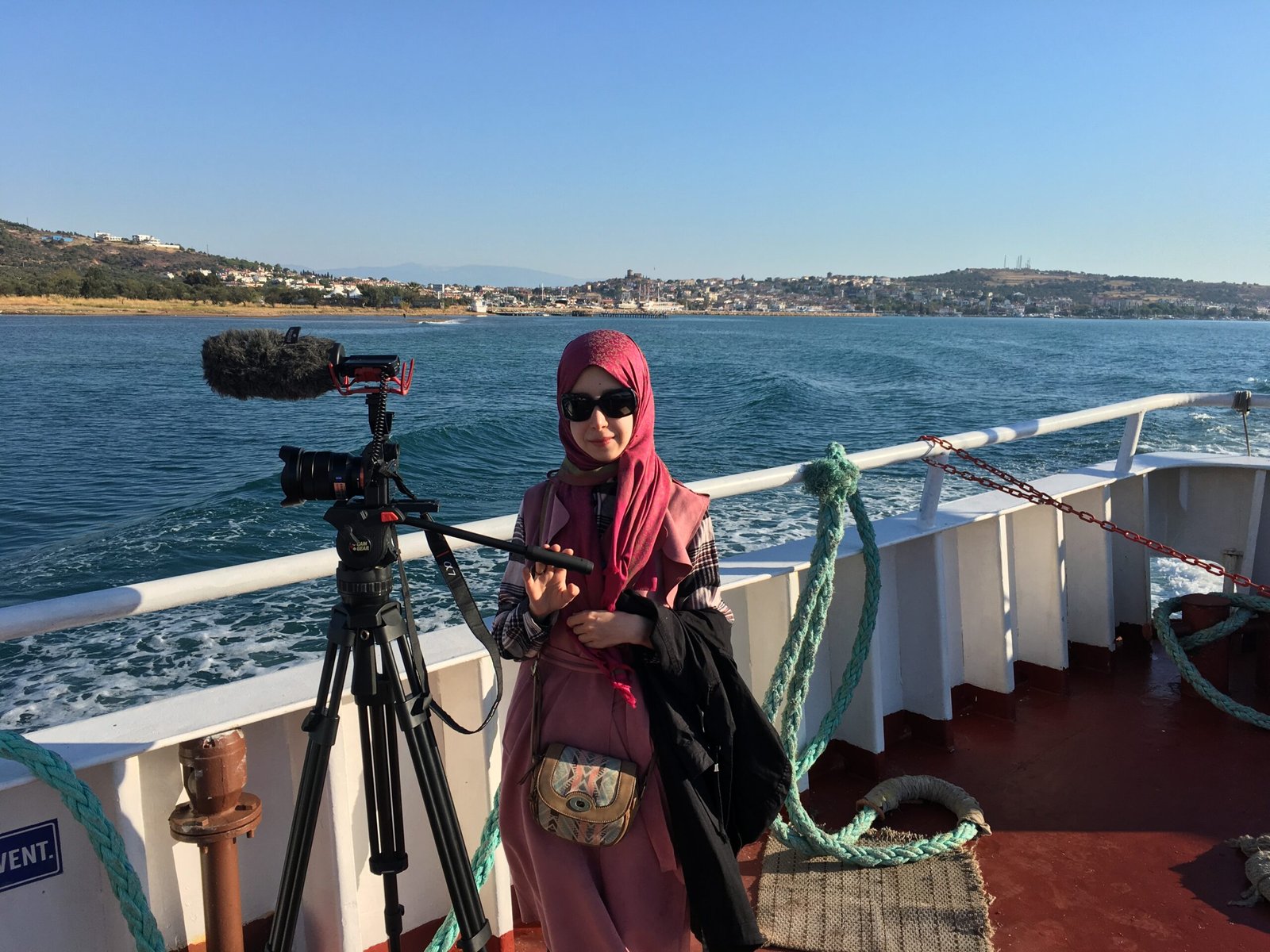 I began by asking Mariam to share her thoughts on the recent events on Lesvos.
MM: About the first case of COVID-19 in Moria. I was anticipating chaos to happen, I made many calls and got in contact with multiple sources there to try to investigate the situation in the camp. When I was making TRANSIT, I witnessed extreme health measure violations, piles of trash, sanitation problems, over-crowded tents, sinking bathrooms and the generally inhumane conditions inside the camp. So I knew that it would be impossible to maintain COVID-19 protection measures or social-distancing rules. A few months ago in an interview, I remember talking about how, if one case appeared, it would mean disaster as the virus would quickly spread to over 13,000 others. Unfortunately it happened. It was heart-breaking to then watch the news about the fire. This is devastating, but the situation inside the camp was totally intolerable.
ZM: What did you ultimately want to achieve by producing TRANSIT?
MM: I wanted to provide a platform for the voices of people living in Moria. I was the first filmmaker to enter Moria camp on Lesvos and to make a full-length documentary. My aim was for this film to uncover the truth and to expose the corruption taking place throughout the refugee trail. I wanted to give a powerful, authentic, balanced portrayal of the refugee 'crisis' as a crisis of humanity, of deadly sea journeys, corruption, and the misery of those trapped on Lesvos indefinitely. My aim was also to break down stereotypes about migrants.
ZM: Can you talk a bit about objectivity? Were you able to stay impartial but also remain human and empathetic?
MM: There is no such thing as  100% objectivity. A good filmmaker strives to stay objective as much as possible by bringing in all different angles, but at the end, the filmmaker is a human. I can't witness injustice, violations or lack of humanity and ignore it under the title of objectivity. I am a human before being objective. Objectivity is showing the truth and standing with those facing injustice, it is not a matter of pleasing everyone. That is how justice can be realised.
ZM: Did you ever experience conflicting feelings about wanting to get the stories and voices of the people you met on Lesvos heard, but also feeling uncomfortable over the fact that they open up and expose themselves and their vulnerabilities to you and then you leave and they are unlikely to experience the impact of the film first-hand?
Subscribe to shado's weekly newsletter
Exclusive event news, job and creative opportunities, first access to tickets and – just in case you missed them – our picks of the week, from inside shado and out.
MM: A good filmmaker must find balance between reporting the story and respecting the trauma and emotions of communities. You are always going to feel conflicting emotions when you come away from listening to people's stories and witnessing the situation on the ground. Compassion, empathy, ethical reporting, integrity and maintaining respect for personal dignity and privacy are the priorities when conducting interviews. A filmmaker/storyteller plays a critical role: they must tell the story in the best possible way to deliver the message and spread awareness which should create action. After my film TRANSIT was broadcast, the UN called for an official investigation into health violations inside Moria camp. This meant that the film attracted officials' attention, which is a milestone in itself, even if not sensed by everyone personally.
ZM: Were you concerned about the safety of anyone who featured and could be identified in your film?
MM: The safety and security of my characters as well as respect for them are the top priority in my films, I must plan for this well, or use alternatives that protect their identity. Informed consent forms are a must for my pieces of work and all individuals  have to sign them.
ZM: What roadblocks did you face when you were starting out?
MM: In the media industry, being a female, Muslim, Hijabi and coming from the MENA region – in other words, being a minority in a western male-dominated industry – was very challenging. I faced a lot of discrimination and sexism from various international media organisations despite the awards and recognition I received. I have been told I am too fragile as a female to work in filmmaking. One time, my work was unethically published under a male co-worker's name. The journalist used footage from TRANSIT and put together a report claiming that he got rare access to the camp. When I complained, I was threatened by the organisation and told to be silent. That lesson taught me that it is not just a refugee crisis we are suffering from, there is also a media corruption and ethics crisis. I realised from this experience that we need to heal the media and reporting industry before we can heal from such crises. Becoming a filmmaker and reporter is the best decision I have ever made however, it does come with a price, especially when you are someone who fights for media integrity, ethical reporting and stands up against corruption.
ZM: Your film shines a light on the severe mental health and psychological issues inside the camps – what do you believe can be done about this?
MM: The psychological aspect was a very important topic to mention in the film. I witnessed that so many of those living inside the camp are suffering from PTSD, depression, self-harm, suicidal tendencies and other mental health issues. These issues must be addressed urgently by mental health professionals and psychosocial workers as if they are left untreated, it will lead to a great negative impact.
ZM: Who would you most like to view your film? Who do you feel most needs to see it?
MM: Politicians, war criminals, legislative officers, international NGO workers, those who claim to be 'peacemakers', activists, of course other filmmakers and reporters… But, most importantly, the refugees themselves, so they can get more awareness about what they are passing through, to watch some resilient examples, and to learn how to tell their own stories to the world. I volunteer to teach storytelling courses in the camps, so people can tell their own stories and get their voices heard.
Mariam's documentary film TRANSIT is available to view on YouTube. Click here to watch.