If you live in the English capital, when you think of the South West London area of Brixton, you might conjure up images of the bustling Brixton market or the famous Brixton academy. One image that isn't likely to appear however, is horses.
And yet, there they are. Positioned in the middle of three of Brixton's largest estates is Ebony Horse Club. The organisation was started 26 years ago by a local resident who wanted to provide more activities for the young people on their estate, so she brought a few of them along to one of her riding lessons. 
This gradually grew, and the club now has its own centre, which was built in 2011, nine horses and a little Shetland pony. It sees around 150 young people a week aged from eight years old up to people in their early 20s.
Land of opportunity
Naomi Howgate is the General Manager of Ebony Horse Club, and sees over everything from media and marketing to finance. "People see London as a land of opportunity," she tells me. "People come here after they've finished university to find their dream jobs, but for a lot of the people that have grown up here, the reality is really different." 
Having always been interested in horses herself, she was drawn to the club after she learnt of its existence shortly after her move to London and she started volunteering soon after. "I did everything from sweeping, mucking out the stables, to leading kids around in lessons", she tells me. 
 "I was drawn in by the horses but once I got here I realised that it was such a community and a family. You come for the horses but stay for the people." This seems to be at the heart of the club's offering, which describes itself as a youth centre first, riding club second. 
Getting kids into the field
In this vein, the club isn't just about teaching kids to ride horses, but also offers exciting industry opportunities. "We get kids into the horse world, which just wouldn't be on the cards otherwise," Naomi says. Horse Riding Clubs in London are few and far between, mainly reserved for those who can pay the exorbitant club membership. Ebony allows kids who would never have access otherwise to interact with horses and even pursue horse related careers. "We've currently got 15 people from the club who are now working in the industry," Naomi says proudly. 
I ask Naomi if there's a past member she'd like to highlight and she immediately answers: "O'Shane. He's 16 now, and he joined us when he was nine. He's gone through all the programmes with our youth workers, completed loads of work experience and he's just great with horses. 
Since leaving us, O'Shane's completed a programme at the British Racing School which got him into employment. He's second generation here in Brixton and would never have been around horses if not for coming to the club. He's been really determined and accessed so much of what we have to offer."
But these incredible opportunities aren't limited to those that want to pursue working with horses as a career. The club also provides mentorship opportunities, helps with job applications and CVs and generally works to provide holistic support for its members.

"75% of our riders are non-white, which for a riding organisation is pretty much unheard of," explains Naomi. "We're situated in a super ethnically diverse community and that's reflected in the people that ride with us. 90% of them are from families with low incomes and 60-70% are in social housing." Because of this, a lot of the families the club interacts with are time and resource-poor, so helping out with something like a UCAS application is invaluable.
And it's not just within London that Ebony provides support and orchestrates new opportunities. "We have a whole trips programme, where we take kids outside of London. These are all about broadening their horizons," says Naomi. These trips sometimes consist of visiting riding yards so kids can see what it's like to work in that environment but other trips are just about having fun.

"Most of our youngsters don't have the opportunity to go for a picnic in the countryside or go to Brighton to swim in the sea. It can just be about showing them that there is a world outside of this South London estate that could be open to them," Naomi explains.
Why horses?
So why is it that this programme works so well, even for those who don't choose a career in horse riding, I ask? "Horse riding is something new," says Naomi. "You would never normally see horses in Brixton, so kids get the feeling that they're doing something different and challenging." 
There's also the therapeutic benefit. Equine therapy and the use of horses in social work is relatively established, with some doctors claiming that learning to control a horse positively stimulates the rider's central nervous system. 
Naomi adds that it's also about building relationships. "There's something about horses themselves; they're so big and powerful that you have to learn to put your trust in a horse," she explains. "You also have to show them empathy. If you don't treat a horse with respect then they won't treat you with respect either."
This equilibrium that must be reached between horse and rider is also replicated amongst members of the group. "From a sports angle, horse riding is a good leveller," Naomi tells me. "It doesn't matter if you're the strongest, fastest or have the best trainers. It's hard to get an animal to do what you want them to do, and as soon as everyone's on the horse, they're exactly the same."
The power of the club was really proven throughout COVID-19. While the horses went "on holiday," workers and volunteers organised Zoom tours of stables and continually held support groups for their members. "So many people were accessing our services and felt supported when the horses weren't even here" asserts Naomi. "So whilst it was also really difficult, it proved the point that we always knew. Ebony isn't a riding centre, it's a youth centre with horses."
Moving out of COVID-19, the club seems to be going from strength to strength and even has plans to open a new centre in another London borough. This is an incredible step which will provide another community with a space that benefits the people that already live there, an invaluable entity amongst rising access issues that plague many areas in London.
With Brixton suffering from gentrification at an unprecedented rate, it is community rooted programmes like Ebony Horse Club which are fighting to help their members feel that they are supported in their area. While horses might not be the first thing you think of in this inner-city borough, it's this horse club which is helping Brixton feel like home.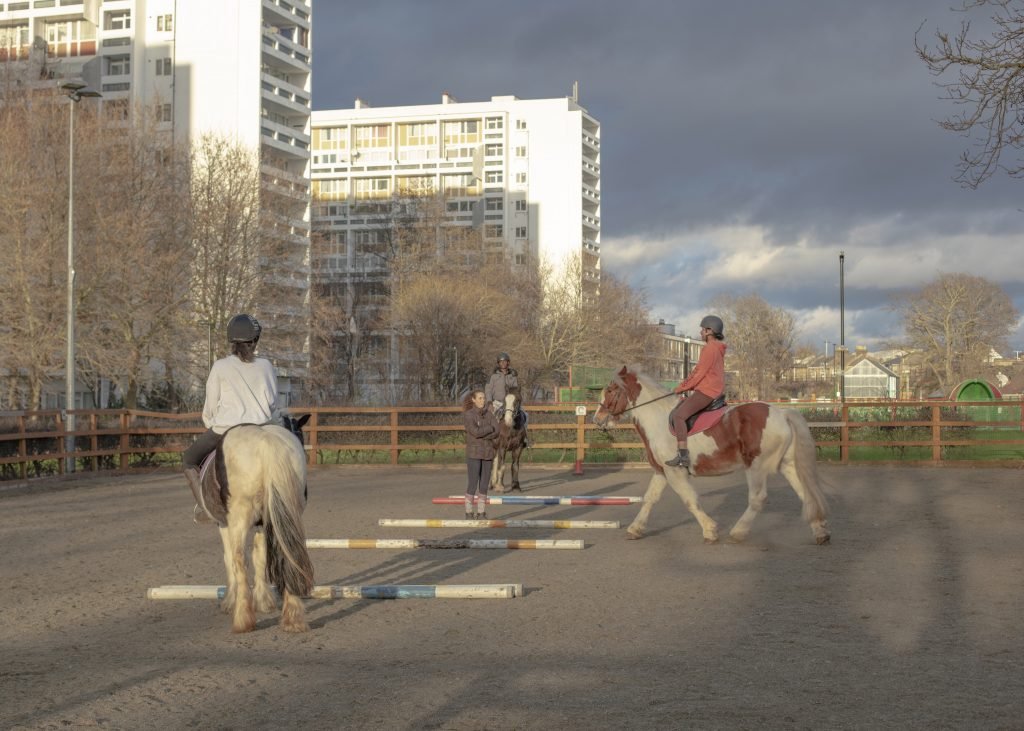 Subscribe to shado's weekly newsletter
Exclusive event news, job and creative opportunities, first access to tickets and – just in case you missed them – our picks of the week, from inside shado and out.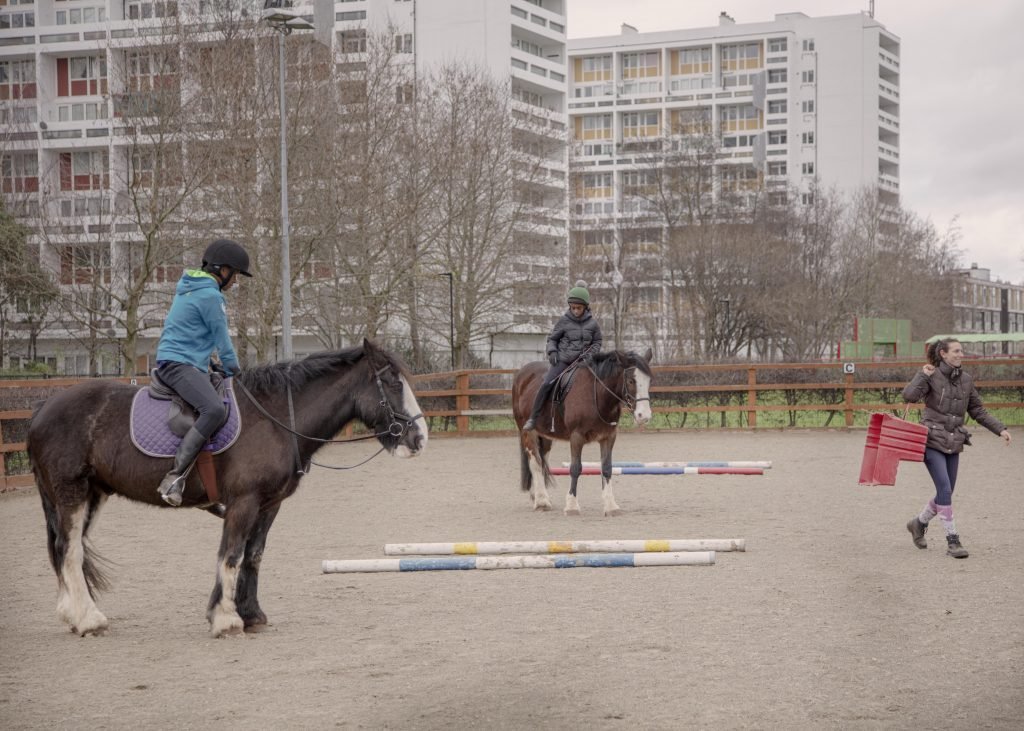 Photography by Stan Platford who says, "Ebony Horse Club fascinated me as soon as I first heard about it. A rumor from a man from a local pub in Loughborough Junction who claimed "They kept horses down the back of that estate" Something at the time I couldn't believe. Finally I went to check it out myself and was amazed to find the man was right. Nestled between South London tower blocks there was a little piece of the countryside. After researching the amazing work the Club does with young people in the area I wanted to go down to photograph the riders. Focusing on the sense of pride that these young people had for their horses and the club itself"