shado presents: Rewriting histories with Dawnie Walton and K Bailey Obazee
The revival of Black narratives and music in a whitewashed history
This month, shado will be hosting a conversation between K Bailey Obazee, founder of PRIM.BLACK and queer Black book club OKHA, and Dawnie Walton, author of newly released book: The Final Revival of Opal & Nev.
Against a backdrop of real life events, from race relations in a segregated American South and Nixon's Watergate scandal to the 2016 Trump-Clinton election, Walton brings a tale of a fictitious 1970s punk rock duo led by Black singer Opal "Jewel". Presented as an oral history, The Final Revival of Opal & Nev immerses you into a world at the intersection of journalism and fiction, reviving a Black, punk, woman role model whose boldness inspired generations and a partnership whose history favours whiteness – until now.
Join us for a conversation about creative storytelling, music and the importance of reviving Black narratives in and through art.
Register for FREE tickets HERE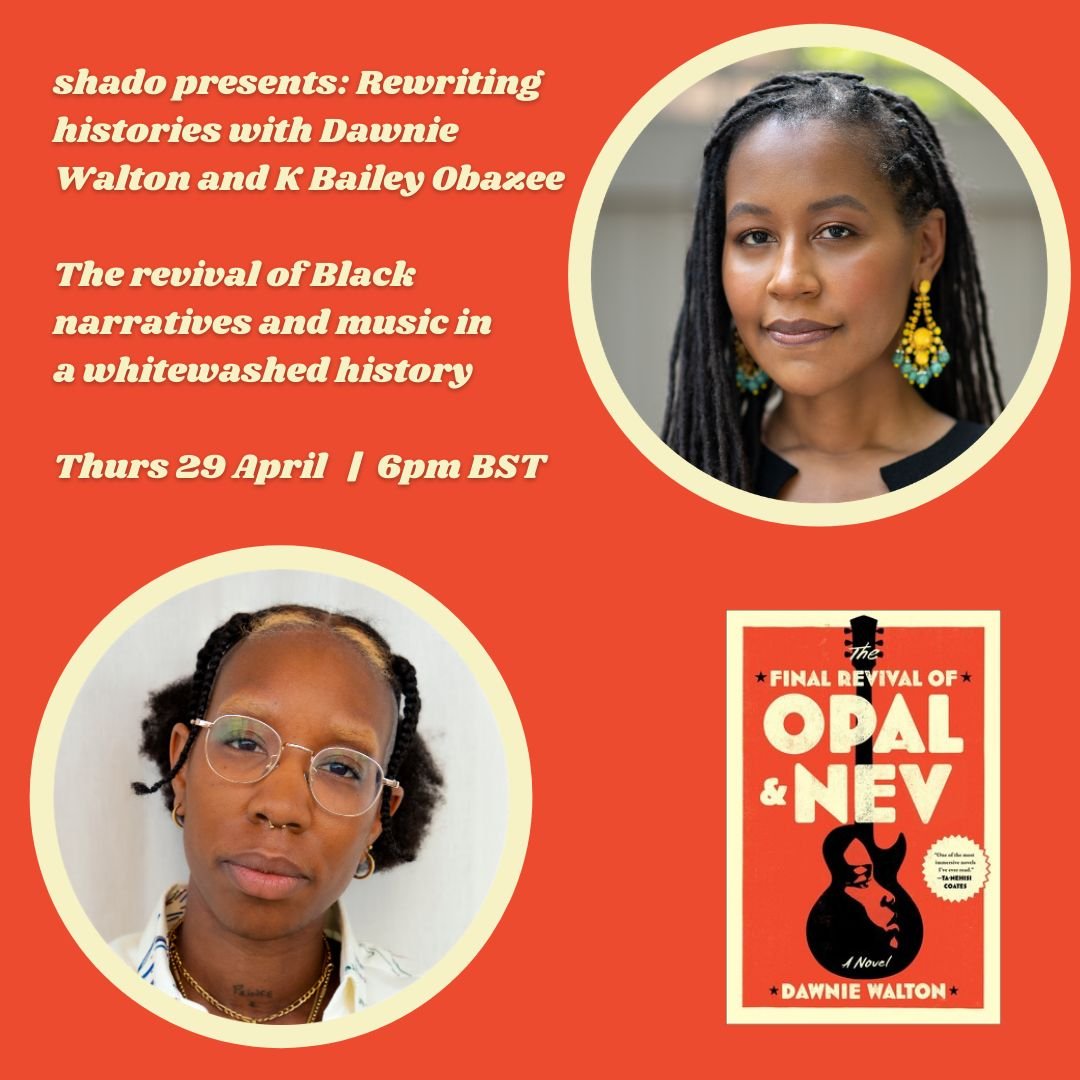 Dawnie Walton: Dawnie Walton was born and raised in Jacksonville, Florida. She earned her MFA from the Iowa Writers' Workshop (2018) and holds a journalism degree from Florida A&M University (1997). Formerly an editor at Essence and Entertainment Weekly, she has received fellowships in fiction writing from MacDowell and the Tin House Summer Workshop. She lives in Brooklyn, New York, with her husband.
K Bailey: K Bailey Obazee is Founder and Director of PRIM, a platform for storytelling which produces OKHA, a monthly queer + Black book club. She is also an Events & Culture Curator, Researcher, Host and DJ. K's focus is storytelling, and in particular ensuring storytelling by people of Black ancestry is available and readily accessible. She has so far collaborated with British Vogue, AKO Caine Prize, Arts Council England and been featured in The New York Times.
Born a Nigerian and raised in East London, she grew up wanting to go in politics and supported various groups in her local area Newham. Ultimately working on building for and with her Queer & Black community has always been numero uno.