Festival season is well and truly underway. After a slow start last summer, people are palpably excited to be properly back in a field. And while you may be someone who doubles down on spreadsheets to ensure you don't miss your favourite act, one of the best things about attending festivals is discovering new music. 
My own new favourite discovery from Roskilde Festival, Northern Europe's version of Glastonbury, is Kabeaushé, a Kenyan pop artist whose performance is impossible to walk past and not stop at. 
"Roskilde was just fucking yes, it was so sick," he tells mea week or so after their show. Kabeaushé is doing a mini tour in Europe before he's set to host a month-long residency in Berlin, and he's just spent the day exploring Brussels when we chat over Zoom.
Discussing the vibe of Roskilde, he recalls: "This dude sent me a video of them making a mosh pit in the crowd of my show, and I can tell they have no idea what I'm saying, but they know that when the beat drops – it's time to fucking jump – and I love that." 
It's this incredible accessibility that makes Kabeaushé so mesmerising to watch, even as a newcomer. "At first, I was a little worried as it's the biggest stage we've played," he explains. "But it doesn't matter if people don't 100% get the music. I just need them to be on the same plane as me – because as long as we can fly together, we're good." 
And the crowd at Roskilde definitely boarded that plane. After a slowish start, as Kabeaushé was programmed for 2AM on the Friday, people continuously trickled into the tent until it was full of people dancing their hardest, with Kabeaushé mocking them from the stage: "I bet you wish you were here from the beginning now, huh?" 
So, what is it that makes Kabeaushé so impossible to just pass by?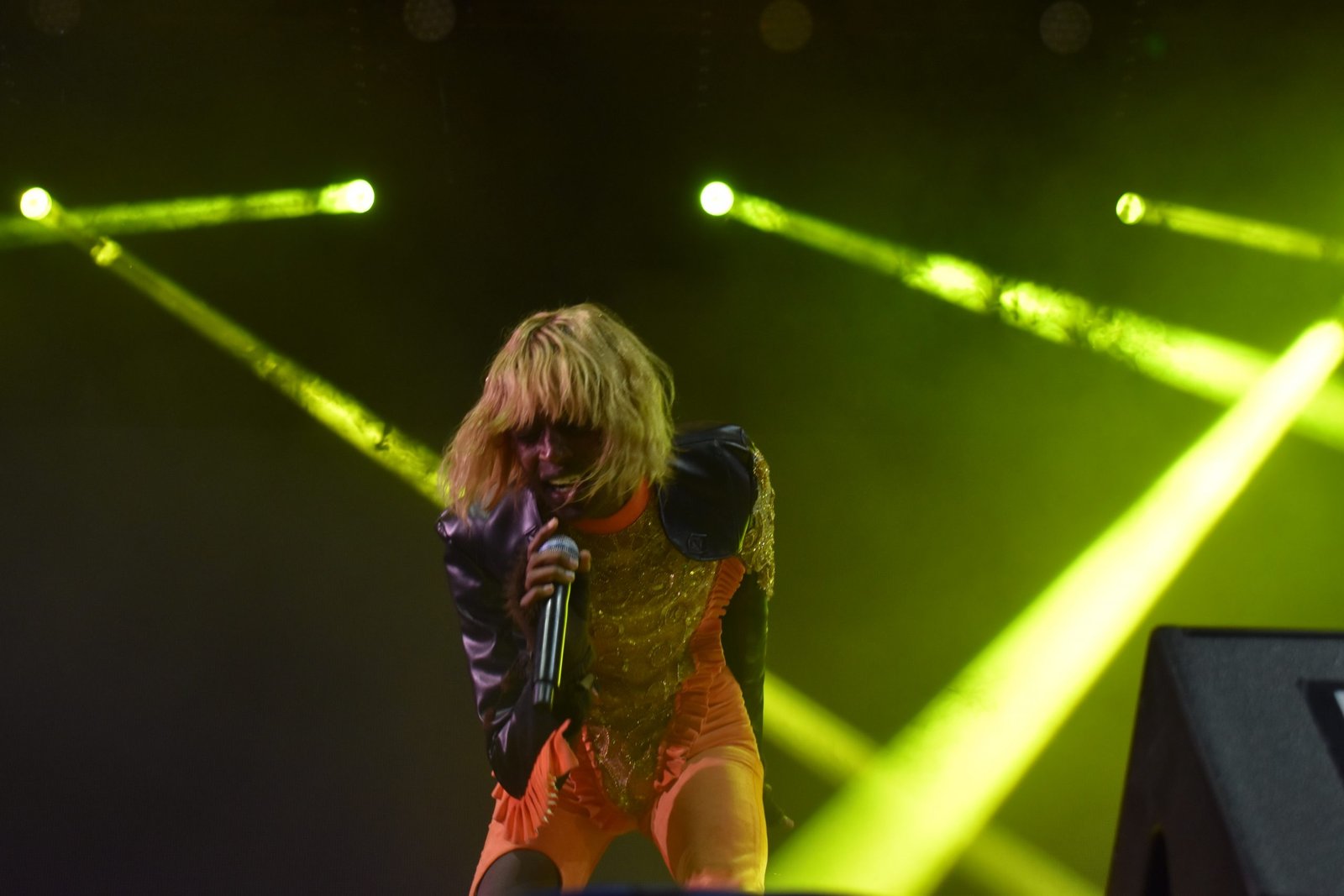 Well, first of all: it's the visuals. Jumping around on stage in a blonde wig and an orange velvet brocade jumpsuit made from an old sequinned wedding dress, Kabeaushé definitely catches the eye.
He tells me the story behind the outfit. "My real name – my grandfather and father's name – is Kabochi. So, Kabeaushé is this character I've created who wears a wig and a costume. We're separate, kind of like the David Bowie who's on stage vs the David Bowie in interviews". 
This character was born during a series of workshops in Jinja, Uganda, with Derek Debru, founder of East Africa's biggest electronic music festival: Nyege Nyege. Known for pushing the genre-boundaries, the festival also has a label, Nyege Nyege tapes, to which Kabeaushé was recently signed. 
"We decided that Kabeaushé was a creature that was always attracted to extreme softness, someone who rubbed baby owls against their skin and dressed up in exotic spiderwebs," Kabeaushé explains. While I'm trying to get my head around this concept, he continues. 
"Kabeaushé's obsession makes them develop the softest material, softer than Maharaja silk, and they want to express this feeling through music. That is until they're brutally executed," he says casually, explaining the arc of the show.
This life story is then portrayed on stage through a mixture of drama and music, though I didn't really get to experience the former first-hand as Kabeaushé explains of their Roskilde performance: "It was 2am, everybody's drunk. Ain't nobody wanna see no act. They just wanna jump around."
Aside from the look, it's Kabeaushé's music that really makes them unmissable. Listing references from Bollywood to Prince, his sound is probably best encapsulated, albeit slightly underwhelmingly, by: 'future pop'. This is a genre that's relatively new for Nairobi, a city better known for rap genres like Gengetone and Boomba music or guitar-heavy melodies from Sauti Sol, rather than alternative pop. 
Kabeaushé explains that it wasn't until the likes of Muthoni Drummer Queen and Blinky Bill ("Kenya's Daft Punk," he says) started to make a name for themselves in Nairobi that he realised pop didn't need to have limitations. "Listening to them I was suddenly like, 'we can do this? I didn't know we could do this!?'"
After this realisation, Kabeaushé decided that it was their duty to go as hard in their music career as possible. Despite this, he describes their journey into the industry as: "nothing deep whatsoever."
"I wrote a couple rhymes in primary school, that shit was cute. Then I wrote some rhymes in high school and that shit was…" 
"Cuter?" I interject. He looks at me, pauses and says: "no, that shit was horrible!"
After school, Kabeaushé then worked 9-5 as a radio presenter and decided in 2017 to chase his music career. He linked up with the Nyege crew over social media and joined Derek in Uganda shortly after.
Kabeaushé is now performing all over the world, and despite often being an unknown on the billing, he always brings remarkable energy to crowds. At Roskilde, Kabeaushé had only been on stage for two songs before he was dashing in with the crowd and inviting people on stage. I ask him why audience interaction is such a big part of their performance.
Subscribe to shado's weekly newsletter
Exclusive event news, job and creative opportunities, first access to tickets and – just in case you missed them – our picks of the week, from inside shado and out.
"It's boring being on stage – what the fuck am I doing there? First of all, you don't know my songs. Number two, all the energy is down there. Why would I want to be up here, I'm not Kanye. He can do that. I need to be down with the people. It's much more interesting than trying to sell you my music from the stage."
Schooling me with a masterclass on how to be unmissable, he continues: "I want to be someone who etches themselves into people's memories, so when someone in the crowd is asked by their friend, the next morning: 'so what happened last night?', that person can answer, "oh shit, I was just walking by and there was this weird dude in a wig and a fucking costume with a skinny ass and he made us jump around, it was insane. That story is going to spark your curiosity. You'll then go find them on the line-up, as even if the music is not your cup of tea, at least I contributed to you having a good night." 
Kabeaushé's intoxicating sound, combined with the impression he leaves on a crowd, means he's unlikely to stay unknown for long. I can't wait to be one of 250,000 people going nuts watching them at Glastonbury mainstage in a few years – this time with people singing along to their lyrics.