shado and Counterpoints Arts have collaborated on a series of articles in celebration of Refugee Week 2022. They are written by artists, activists and journalists who are creating change in their communities and exposing first-hand the hostility of the UK's asylum system. In this piece, shado speaks to rapper AWATE ahead of his night 'About Us!' at Southbank Centre for their penultimate day of Refugee Week celebrations.
"BBC and Sky News on speed boats, Brown folks on rafts, Britannia rules the seas, yo"
These are some of the opening lines of revolutionary rapper AWATE's track: 'Hostile Environment'. Pulled from his 2021 EP, 'FEAR!', the song explores the UK government's treatment of people of colour, both towards those residing within the country and those seeking asylum. 
Whether it's in his role as a screenwriter, journalist or venerated musician in the UK's hip-hop scene, AWATE is never one to shy away from holding power to account. "My first word in English was democracy," he tells me, laughing. 
'Hostile Environment' – the track
The Eritrean-born rapper has just released a new video to accompany the song, in which he uses figurines, cardboard boxes and social justice texts (Staying Power, Wretched of the Earth, Refugee Boy, Why are all the Black Kids Sitting in the Cafeteria) to create a model pastiche of life in Boris's Britain.
He was inspired to create the video after recording the figures (which are still all over his carpet while his partner is away) move in real time whilst rapping for Solidarity Knows No Borders' online event. The idea of simultaneous live creation came from watching Yasiin Bey (Mos Def) rap while playing timpani drums on The David Letterman Show in 2009. Casually dropping in that Yasiin actually advised him on these techniques years ago, AWATE illustrates the legacy this project will undoubtedly garner. 
The importance of the project is reinforced as AWATE speaks from personal experience. "If I commit a crime, they could deport me. Even though I have leave to remain and have status as a political refugee." He demonstrates the dreadful imagery his words can inspire as he continues: "They could shackle me and send me to Brook House, where I'm looking at a Gatwick runway as a form of torture, where I'm watching people who I've shared this space with, hooded, kidnapped and taken to another country". 
The latest in backwards Conservative action is the deportation of refugees to Rwanda. While the first flight to Rwanda was grounded, AWATE is sceptical of its long term effects. "What scares me, is the amount of people that have been enthused by this", he explains, stating that this facist policy is in effect a circus, a way to pander to xenophobic attitudes in the UK through public acts of violence. "It's Roman, it's kicking up gladiator fighting a notch, thinking: 'let's make them battle on boats and fight a bear while they're dismembered'." 
Revolution as a legacy
AWATE was named after Hamid Idris Awate, a famous Eritrean revolutionary, and both his parents grew up in the violent context of the British, then Ethiopian administration, in Eritrea. AWATE reminds me that this isn't uncommon for hip-hop artists: "The Shakur family were all Black Panthers, both Kanye and Nas' parents were all organisers." It's true that the theme of revolution is often the bedrock of hip-hop music, as 2Pac famously says: "Don't you ever be ashamed of what you are/It's ya panther power that makes you a star".
It's this legacy, coupled with the deep rooted knowledge of discrimination, that plagued AWATE's childhood. "Being brought up with a sense of justice, it's incompatible to growing up in an unjust society. That will lead a child to feel like they're fucking insane and want to rip their hair out," he explains. 
Made in Maiden Lane
AWATE grew up on Camden's Maiden Lane Estate, "the type of place Tony Blair would have labelled a 'Sink Estate'." AWATE faced years of racial discrimination, and was also punished at school for calling out the same action. Things started to improve with the introduction of new social programming in the late 1990s which included child care, education programmes and organised trips. He describes seeing a chartered train for the whole estate ready to take them outside of London for the day. "Imagine that, seeing a train with 'Maiden Lane' on the front of it, a name you only previously associated with something teachers would kick you out of class for before you even opened your mouth."
The main improvement which would benefit AWATE however, was the provision of music production schemes like The SHED, Roundhouse and London School of Sound. "We suddenly had spaces we could record in, we no longer had to spit into someone's earphone that they had somehow Macgyvered into a mic," he laughs. "And it wasn't just being able to record, but to make mistakes and learn from them, to understand what a harmony is for the first time and to add it into the track a week later." 
And while the technology had a major impact on AWATE, his bigger influence was the people that worked there. "They opened our minds," he says. "I got access to Jim Morrison albums and KRS-one lectures about how rap is just one element of hip-hop."  
The effect of cuts on the music scene
I ask AWATE about the effect that decimating Conservative cuts will have on the music industry. "It means that there's no older siblings who are paid by the council to widen their influences and help them hone their craft," he says. "It means that in the last 12 years of austerity, parents haven't had time for their children to teach them about their music, so it all sounds the same." 
He also believes that this homogenisation of the music industry is also due to the lack of its democratisation. "Rappers now all sound like the same drill artist. That's because rap is Black, and Black art forms in this white country are always going to be curated by white people. And if you're a white promoter from a small town, you form your ideas of Black people from what you see on TV. You don't know about Nas, you don't know Skepta is highly intelligent. You ignore that Black music talks about trauma and triumph in such a creative way – you just see the aesthetics and you think 'cool, I'll book that kid there who's on lean'." 
Healing through music
However, AWATE is working to change that. To celebrate Refugee Week, he is programming a night, About Us!, in collaboration with Counterpoints Arts at the Southbank Centre. Taking inspiration from Tekstlab incubator events in Norway, the rapper is delivering an evening of music, poetry and discussion in collaboration with other disruptive artists including:  Suhaiymah Manzoor-Khan, Isatta Sheriff, Kofi Stone, TrYb and Susanne Xin with the aim of showcasing, as he calls it: "paradigm shifting art".
The theme of this year's Refugee Week is healing, and when I ask AWATE what capacity music has to heal he tells me a story about the Eritrean Liberation Front. "The ELF had a cultural troupe that would go round villages after they'd been massacred and play music for them. But it wasn't trivial, it was to bring people together, to help them heal. It was to say, 'I know your reality has just been shattered, but we're all here playing for you. Listen to the bass, it's amazing; listen to the singers, they're incredible. There's still beauty in life'." 
AWATE's work is healing also, as it brings people together by highlighting that our common enemy is the endemic and structural issues that plague our society. Through his track 'Hostile Environment', he reminds us that all our struggles are interconnected and that fighting austerity is everyone's job. And through programming nights like About Us! at the Southbank Centre, he spotlights the fighters that will inspire the charge. 
What can you do?
Subscribe to shado's weekly newsletter
Exclusive event news, job and creative opportunities, first access to tickets and – just in case you missed them – our picks of the week, from inside shado and out.
Go check out Awate's amazing night,

About Us!

at the Southbank Centre

Share Awate's 'Hostile Environment'

video

Learn more about Migrant's Organise

Solidarity Knows No Borders

campaign

Join/Support your local Anti-Raids Network

Make your voice heard: educate, inspire, agitate!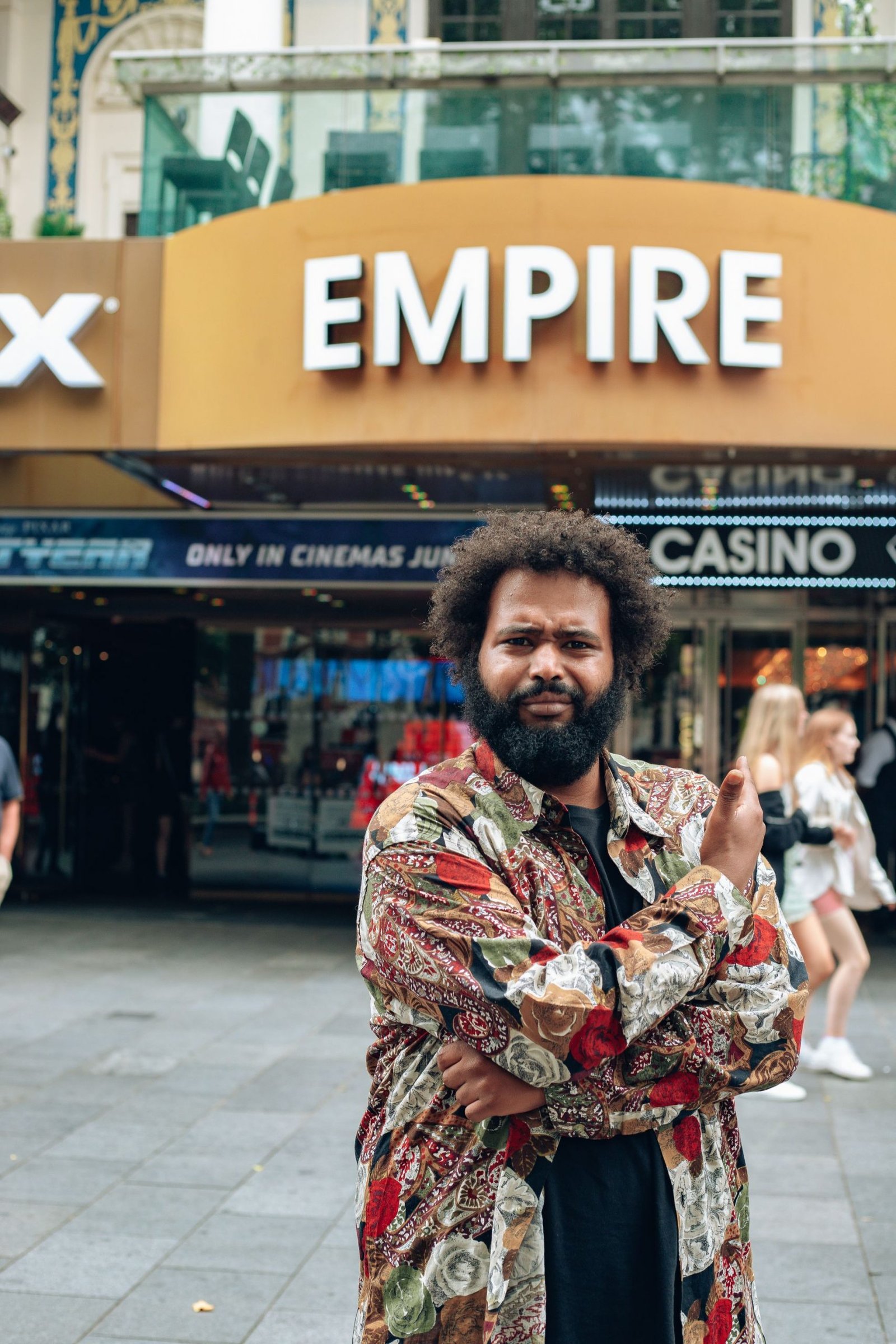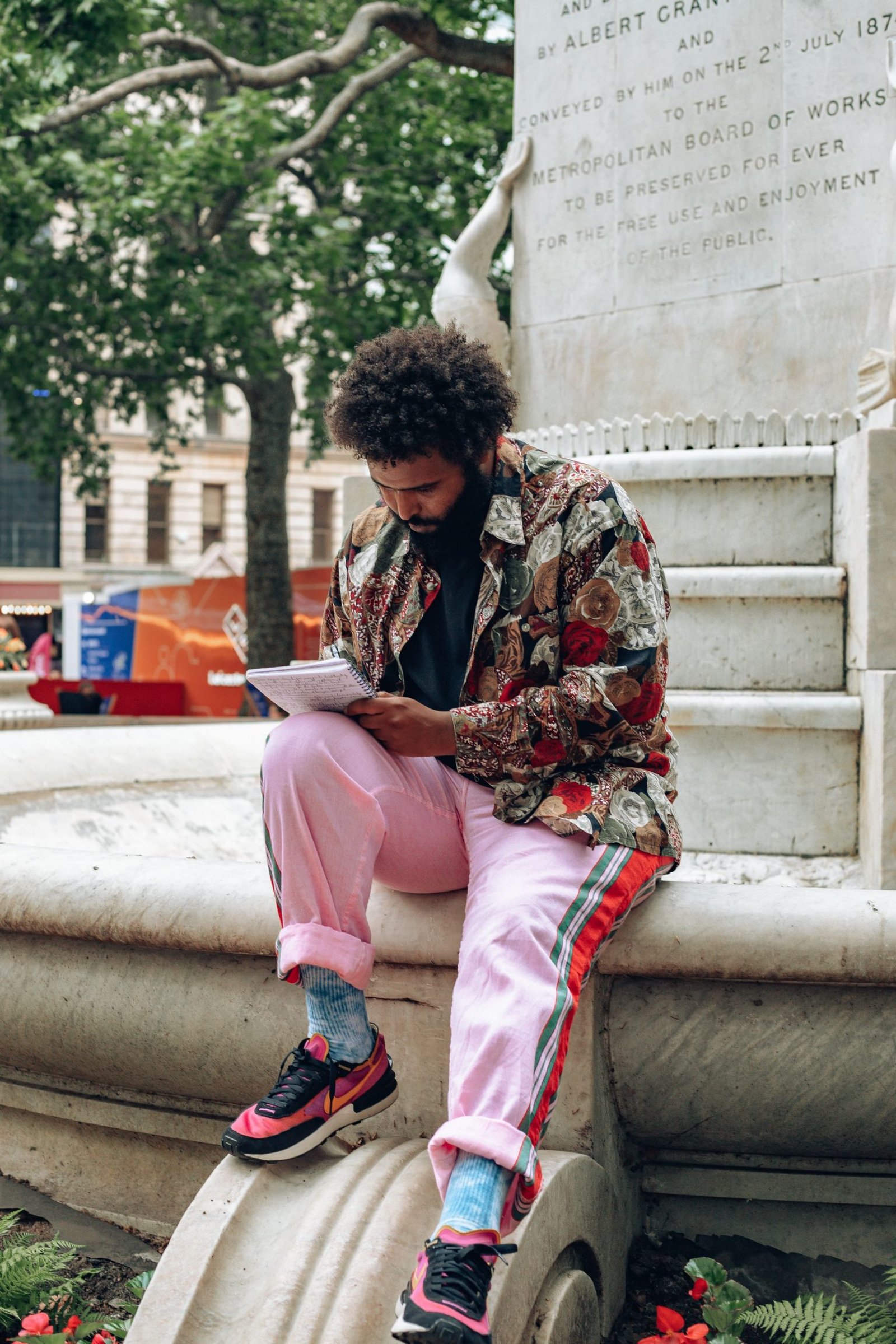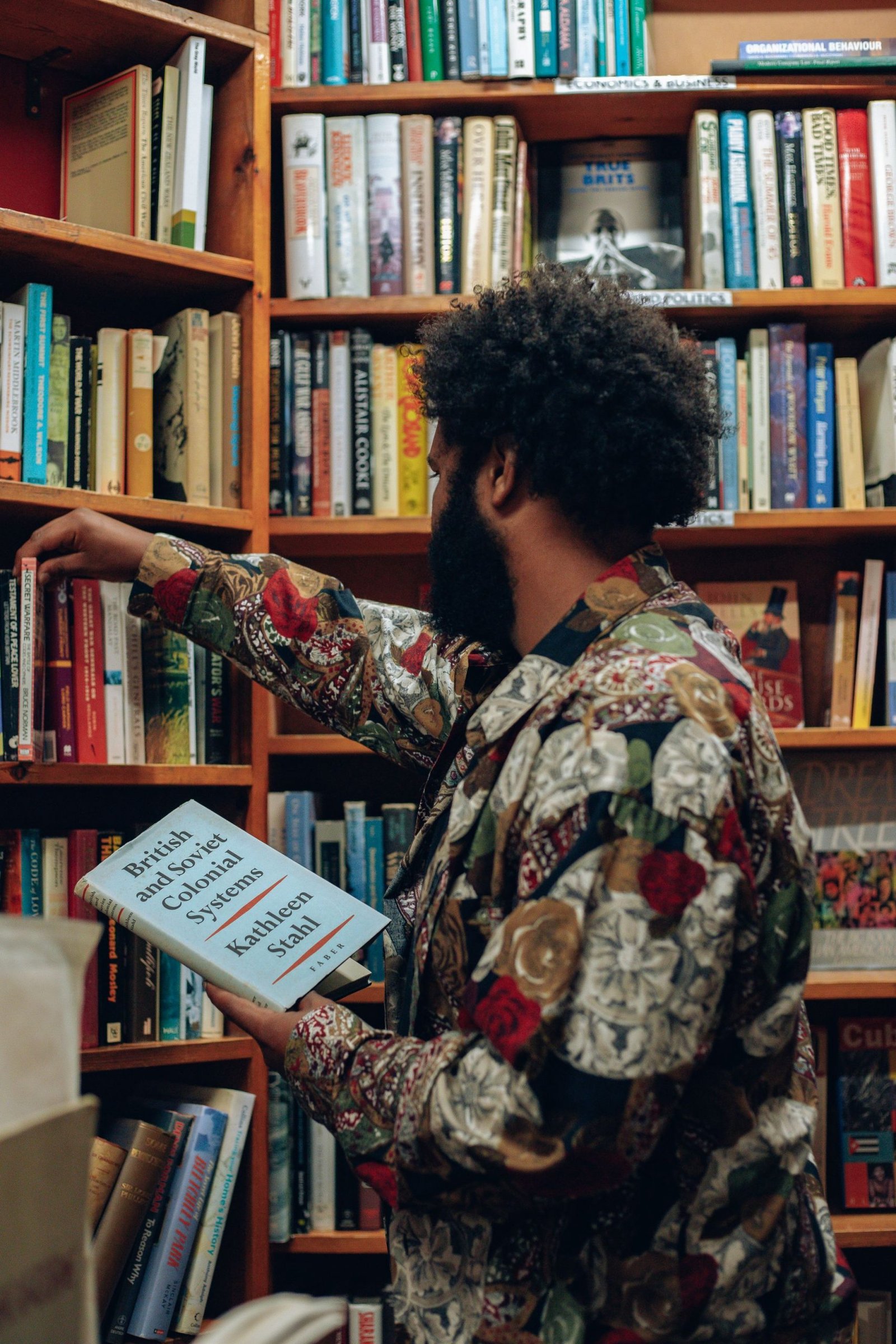 Photography by Salam Zaied @salamzaied who says, "Awate wanted to position himself in places of both irony and inspiration. In front of the Empire building showing his displeasure with the whole institution and what it stands for, contrasted by him flicking through books in the shop he worked in for work experience. This book shop played a significant role in his career and the network of artists he was able to connect with simply by being at the right place at the right time. His love of literature shaped his skills and opened his mind to challenge the status quo."