This Christmas, we've teamed up with Play Nice to bring you another incredible fundraiser at Grow Tottenham We have a festive day of art, workshops, food, bands, talks and DJs:
Day Schedule:
12pm – close: Latinx Exhibition
12pm – 2pm: Children's workshops
12pm – 2pm: Cartonera Workshop (15+ age)
2:30pm: Piñata
3pm – 4:30pm: Play Nice Banner Making Workshop
5pm – 6pm: Live Acts – JSCA and band
7:30pm – 8:30pm: Talks
Night time DJ Schedule:
9pm – 10pm: Horacio
10pm – 11pm: Papaoul
11pm – 12am: Manuka Honey
12am – 1am: Kelman Duran
All proceeds will go towards paying legal fees to re-appeal the decision to demolish the Latin Village in the High Court. Bring your lovely selves along to help make noise for our Latinx community and say no to the social cleansing of our working-class, migrant hubs in London.
What have the developments been in the last 2 months in terms of the campaign and what are the next stages?
We've had so many pivotal moments this year since the Compulsory Purchase Order (CPO) was issued in January. The CPO would allow the Latin Village to be demolished and the developers, Grainger PLC, to build 196 unaffordable homes and a shopping centre.
We sadly lost our appeal of the CPO at the High Court on October 10th. However, we are in the process of re-appealing with a much stronger case. It's not all doom and gloom; we have some extremely exciting announcements to make at the fundraiser. One about the Wards Corner Community Plan – made by the community for the community – that provides a viable alternative to the developer's 'regeneration' plan. Also, our Save Latin Village trustees had a very important trip abroad last month, and we will reveal all very soon. You'll have to come to the fundraiser to find out more. Mysterious, I know.
How can those from outside the Latinx community be better allies in terms of support for the campaign?
A really easy way to support us is to spend money at Latinx businesses. It can be as simple as getting your morning coffee at the Latin Village rather than at a chain. These small actions can make a huge difference.
In London, there needs to be an overall acknowledgement of the significance of our Latinx community hubs in both Tottenham and in Elephant & Castle.
They provide the Latinx diaspora with vital access to our culture. As well as greater intersectionality within Latinx communities, to consciously push Afro-Latinx and Indigenous people to the front. Especially when it comes to discussions such as climate justice. You can start by checking out Wretched of the Earth's work in the UK.
On a larger scale, we need way more platforms for all the Latinx talent we have in the UK. I've found Latinx is often conflated with Spanish, but I must emphasise it's just not the same. A better education on colonisation in Latin America would help, but that's a story for another time. Whilst it's amazing to see such a huge interest in Latinx culture, especially with genres like reggaeton infiltrating mainstream music, we need to be wary of Westerners taking the spotlight away from the Latinx communities. We should call it the 'Rosalia effect' or something. There are so many amazing Latinx music acts in the UK, like DJ Manuka Honey and the band Wara. The same applies for art, literature and countless other things. We must start championing Latinx talent.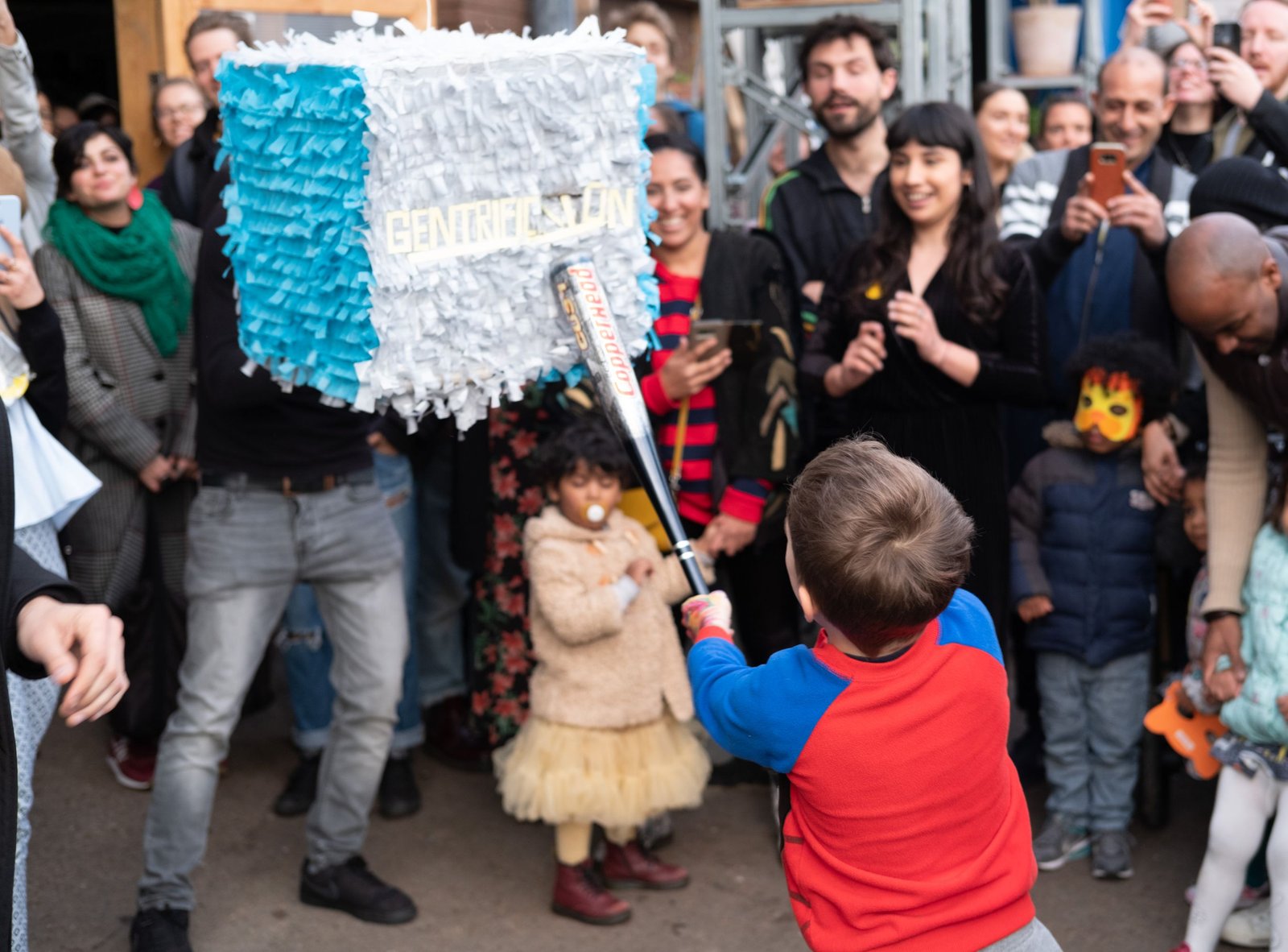 Obviously, it has been an incredibly tough and emotional last year for all those involved, why is so important to have events and spaces like these for people to come together in celebration?
Given how marginalised the Latinx community is, it's been imperative that we amplify these voices wherever possible. Our people have a long history of resistance and a huge emphasis on community bonds. We've had plenty of knock-backs this year, but the love that we have within the community gives us the strength to keep moving forward. It's worth mentioning that we're rapidly gaining support from the wider local community, due to our perseverance and grassroots mobilisation. Our local councils and government must listen – so many of us are united to preserve safe spaces for BAME communities and its time institutions stepped up and did their jobs.
The Latinx community will continue to mobilise and strengthen until we are heard. Resistance comes in many forms and what better way to end 2019 than to celebrate all we've achieved.
Come immerse yourself in our beautiful British-Latinx community at our fundraiser and scoff down some empanadas while you're at it. There's so much to celebrate.