Let's set the scene. It's 12pm on a Saturday afternoon, on any given weekend up to the late 80s  – and workplaces up and down the UK have just blown the whistle to signify home time. Hundreds of thousands of hard-working men and women go home, have lunch with their families, and flock to their local football stadium for 3pm. This 3 o'clock Saturday kick-off in football is as much a part of match-going tradition as flat beer, muddy pitches and dodgy refereeing decisions – but thanks in part to the eye-wateringly huge amounts of money that've come into the game over the last 20 years or so, this tradition is becoming relegated to collective memory. 
It's a forgotten ritual; a distant recollection in the outer reaches of supporters' minds that's fallen prey to the uglier side of the beautiful game. On the one hand, it could be argued that more money within football leads to greater prosperity, better facilities and more opportunities for progression. But on the other hand, the continually growing disparity between the haves and the have-nots in the game are starting to become a real problem.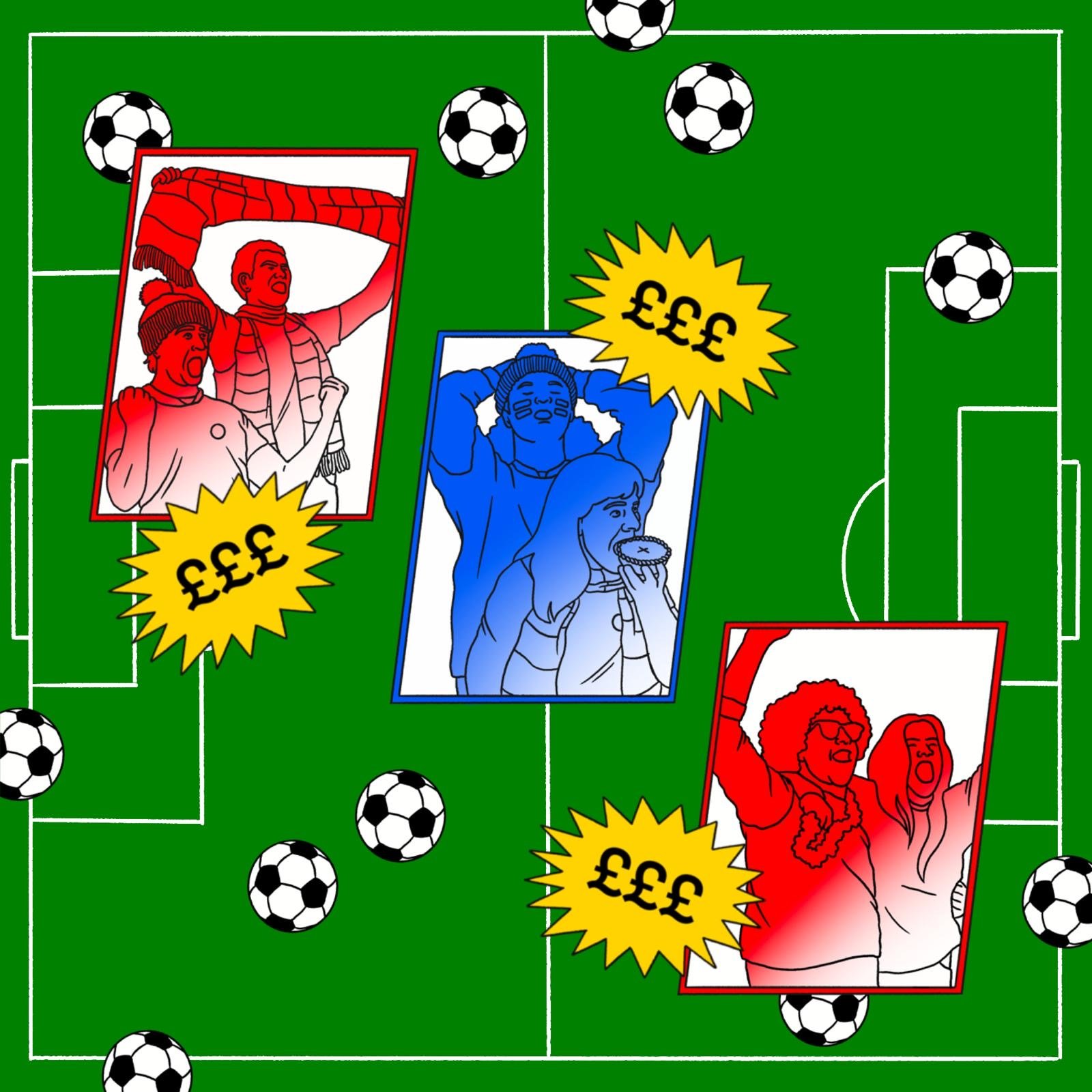 It's football's capitalism problem, and in mid-April, it came to a head. Plans for a European Super League (ESL) – essentially a 'closed shop' competition for Europe's elite, in which no team could miss out and every team would receive around £290 million just for joining up – had been discussed in the game for decades. But on April 18th 2021, twelve clubs issued a press release announcing the formation of the ESL. They put profit before passion, choosing to bypass their fans, players and staff entirely for a shot at even greater riches and involvement in a plan that essentially lays to rest hundreds of years of footballing tradition.  
The ESL's policy of allowing its founding members access to the competition regardless of their performance throughout the season stood in direct opposition to the reward-based model around which football has been built. Since the foundation of the game, any team can be rewarded for exceptional performances with a chance to prove their worth against the best teams around the world, and reap the financial rewards that inevitably come with this success. 
The ESL would have cut these opportunities off for the majority of clubs around the continent, and so it's needless to say the response from fans, players and pundits was hardly positive. Long story short, the ESL was dead in the water a mere three days after it was announced – following numerous fan protests, an outpouring of condemnation from figures within the game, and mounting pressure on greedy owners to 'do the right thing'. 
As the dust settled on the ill-thought out plan, it became clear that an atmosphere of distrust remained between supporters and owners. But as we know, this isn't a new phenomenon. The capitalism problem in football has resulted in the breakdown of several fan-owner relationships, sometimes even resulting in the creation of an entirely new club. These are called Phoenix Clubs and, in the wake of the ESL, they're more popular than ever. 
AFC Wimbledon, FC United of Manchester and Bury AFC are three such clubs. Clubs born from necessity, passion, and a desire to reclaim something that'd been lost along the way at their respective clubs of origin. For AFC Wimbledon, it was a misguided plan in 2002 to move Wimbledon FC from their South London home 60 miles north to Milton Keynes, thanks to mounting debts and the poor financial management of the owners. FC United formed in 2005 following the takeover of Manchester United by the Glazer family, a family who went on to be one of the driving forces behind the ESL plans. Bury AFC rose from the breakdown of former club Bury FC, following their 2019 expulsion from the English Football League due to their inability to prove financial viability. 
No matter the reason for the clubs' beginnings, one thing remains consistent – all three came together to take something back. They're either majority or completely fan-owned, and they're united by the fact they're for the people who make them what they are, rather than a silent few who finance projects with profit, rather than community, as the sole motive.  
I sat down with Ivor Heller, founder of AFC Wimbledon, George Baker, former board member of FC United and Jonny Greenhalgh, social media manager of Bury AFC. We spoke about the principles their clubs are founded on, their importance to the communities they serve, their opinions on football's capitalism problem, and how fans can continue to reclaim their fandom for the better.  
"Football fans reflect society almost perfectly" began Ivor during our Friday evening chat. Before I'd even asked a question, the exuberant Wimbledon hero knew what he wanted to say. What followed was an impassioned retelling of a club's beginnings, in which Ivor described a "solid year of protesting" following the relocation announcement, before a whirlwind week culminating in a General Meeting of the Supporters' Trust in which "eight TV crews and well over 1000 people […] were in the rafters and spilling out onto the streets". The outcome of this meeting was £80,000 in the bank account of a club that didn't yet exist, a renewed sense of hope among a forlorn fanbase, and an example of the power of reclamation in full effect, in what might be its most famous example.
It's no surprise the fledgling AFC Wimbledon gained so much support so quickly. As Jonny told me, the loss of a football club is "akin to losing a family member". "Everybody grieves differently, don't they? Some people get angry, some get sad, some lose interest. Some people are pragmatic and forge ahead like we've done" he continued, before going on to describe just how important football is to the town of Bury. Jonny told me how families have scattered loved ones' ashes on the old Bury FC ground at Gigg Lane, how die-hard fans pick out their gravesites at the cemetery across the road to ensure they're always facing the stadium, and how the emotions surrounding the breakdown of Bury FC and the subsequent ascension of Bury AFC have created small groups of impassioned mourners, unable to accept their beloved club won't be coming back.  
"A lot of people are ardently against it, and there is a lot of animosity – people getting called rats and abused on the street." But despite this disconnect between the separatists and those unable to let go, he remains confident in Bury AFC's ability to unite the town. "All we have to do is leave the door open for them. When you're stood side by side with the same people you were stood with at Gigg Lane, watching a team in blue and white run out and represent your town, the feeling's almost the same". We want a version of our team, but this version is ours." 
And that's what it's all about. It's fans coming together in the shadow of oppression, creating a new future for themselves and grabbing with both hands the kind of treatment they really want from their club. George suggested the formation of FC United was an exercise in creating "a club in the image of what we wanted Manchester United to be", and he wasn't lying. FC United of Manchester are the largest supporter-owned club in the UK, despite playing in the seventh tier of English football. With incredible support from day one of their formation back in 2005, they've regularly drawn match attendance figures in the three to four thousand range – a huge accolade in non-league football. They're the antithesis to the power-and-money hungry forces that took over Manchester United in the middle of the 2000s, and this philosophy is outlined clearly in their club manifesto. 
The manifesto demands a democratically elected board, a 'one member, one vote' ownership system, a commitment to always operating as a non-profit organisation and avoiding outright commercialism, and ensuring the club's pricing scheme and community outreach programmes help as many people as possible and are accessible to all with no discrimination. "Maintaining links with the community is one of the cornerstones of FC United," George claimed, "we get involved with them and in turn they get involved with us, we want to be a visible community presence in the area." He went on to describe how the club had donated winter clothes to the homeless through their annual Big Coat Day initiative, collected donations to help refugees, and ensured the hundreds of families in the M9 and M40 postcodes were able to make it through the worst phases of the COVID-19 pandemic, thanks to a food hub and a volunteer-led delivery service. 
The result is a relationship with the surrounding area of Moston that encapsulates exactly what FC United stand for. It's an inherently political statement club that, despite remaining apolitical in terms of party affiliation, works to better the lives of those involved with it. Success on the football field comes as an exciting and vindicating by-product of the brave decision to leave Manchester United behind in all but a spiritual sense. It's a kind of relationship AFC Wimbledon share with the footballing community as a whole. They've won several awards for their nationwide initiatives and Ivor claims their community work is "second to none". Bury AFC have also begun to put such a relationship in place for their own club – one that works for both sides equally, and thanks to the ESL, one that's only growing in popularity. 
"Fans are the ones who should be in control of the clubs", said George, before expressing his pleasure at the fan protests that took place across the country after the ESL announcement. And he, along with Ivor and Jonny, vilified the proposed Super League before revealing an unexpectedly positive side effect. Jonny told me that "it shone a light on what we're doing for a bit. We got that 48 hours of 'this is what it's like when it's yours'" – and a BT Sport documentary featuring both Bury AFC and Wimbledon AFC only hammered the point home. All three clubs saw upturns in their membership figures following the mass betrayal of fandom from the nation's biggest teams – and all three hope it can be a step in the right direction, despite the established ownership model of the elite not looking likely to change.  
"A lot of working class supporters have been priced out of the game. Class is important to these businesses, but it's not the working class." George held an opinion on the state of modern football that the other men reciprocated. The capitalism problem is in full effect, and unfortunately for the match-going fans of old – according to Jonny – there's "too much money for the few, and not enough opportunities for the many." 
"That old vision of father and son going down at quarter to three to watch their team play… that's not it anymore," but Ivor remains hopeful that people do come back into the grassroots game. "I think the clubs have probably got the message now that large sections of their fans are fed up of being treated as just customers. Whereas the difference lower down is that one vital thing, and that is the teams are a club. The fans belong to that club." 
And that's what all three clubs aim to do going forward – give a sense of belonging back to football fans who've either lost it or simply never had it. Whether fan-ownership in the UK takes on a more mainstream role, or the capitalism problem of the Premier League eventually gives way to a more unified experience – AFC Wimbledon, FC United of Manchester, and Bury AFC will be flying the flag of community-driven football excellence for decades to come. And no matter if you're an avid fan or an armchair enthusiast, it's impossible to deny the game's better off for having them around. 
Subscribe to shado's weekly newsletter
Exclusive event news, job and creative opportunities, first access to tickets and – just in case you missed them – our picks of the week, from inside shado and out.