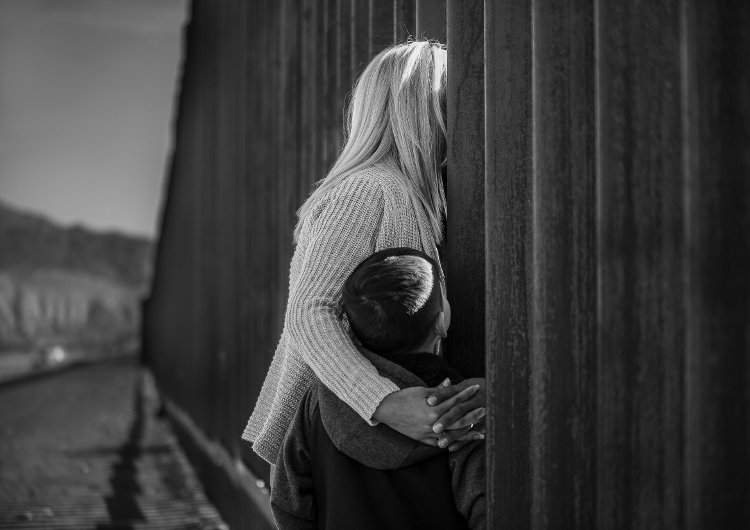 Living in the border has made me a witness to the devastation of the individual that occurs today right in front of our eyes. Unfortunately, this phenomenon replicates along many borders. Immigrants are forced to escape the horror they live in their countries, having no other choice than to take this traumatic journey. Confronted with a population who feels threatened by them, immigrants stand alone and deprived from their human rights. In this image, a woman "Dreamer" is married through the wall that separates El Paso, TX United States and Ciudad Juarez, Mexico, this is a legal marriage done by an American Judge. Her husband was working and living in the United States and deported back to Mexico. She lives under the DACA permit with their son in the United States and cannot cross to Mexico. This story is one of the many stories photographed during the "Hugs Not Walls" event done by The Border Network of Human Rights every year. These events reunite separated families that have been apart for many years and gives them a space to embrace each other again. People travel from all over the United States and Mexico to be able to hug their loved ones for only 3 Minutes, why only 3 minutes? during the event there are hundreds of people waiting for a turn to hug their loved ones, so they need to control this event by time. I asked an elderly mother what she thought of this 3 minute hug with her son? She said to event touch him again for a second is eternal to her. There are so many incredible stories from people who come to meet their parents, or grandchildren, we also see people who come to say goodbye because they are old and sick. People are touched by this event very profoundly, it is a symbol of hope and unity in the middle of this humanitarian crisis that separates and tear apart families. There is a need to talk about these realities happening at the border, from the perspective of a local woman that lives in this subculture. It is crucial that the reality is seen through a clear lens that focuses on humanity and not a vision of a controlled media. It is such a complex situation, and people look at it from so many perspectives. The truth is that people feel threatened by the figure of the immigrant, we are desensitized to the situation, dehumanized and blinded by our own prejudices. For the complete series go to  www.monicalozano.com 
Price: £55
Monica Lozano is a Mexican-American photographer born in El Paso, Texas and raised across the border in the sister city of Ciudad Juarez, Mexico. She is currently documenting the dire conditions of migrants, refugees and asylum-seekers housed in shelters and detention facilities in El Paso and Juarez. She came back to the border where she began life, straddling two countries and teaching University students about photography and how art can transcend borders.
Alongside our second print issue, shado has produced a 3-month photography project with 18 photographers around the world where each photographer has responded to the brief I AM A WOMAN.
There is no one way of defining what it personally means to identify as a woman – and we wanted to leave it to a community of photographers to open up these interpretations.
Print Quality: 600 dpi
Dimensions: A3
Production Time:
Each photograph is professionally printed in a London studio. Once ready, prints are shipped flat or in a sturdy cardboard tube and secured on both sides.
* For addresses in the UK, delivery will take up to 5 business days.
* International shipping is available to all destinations and postage will be added accordingly. For Europe estimated delivery is 5-6 business days, and for the rest of the world 5-12 business days.