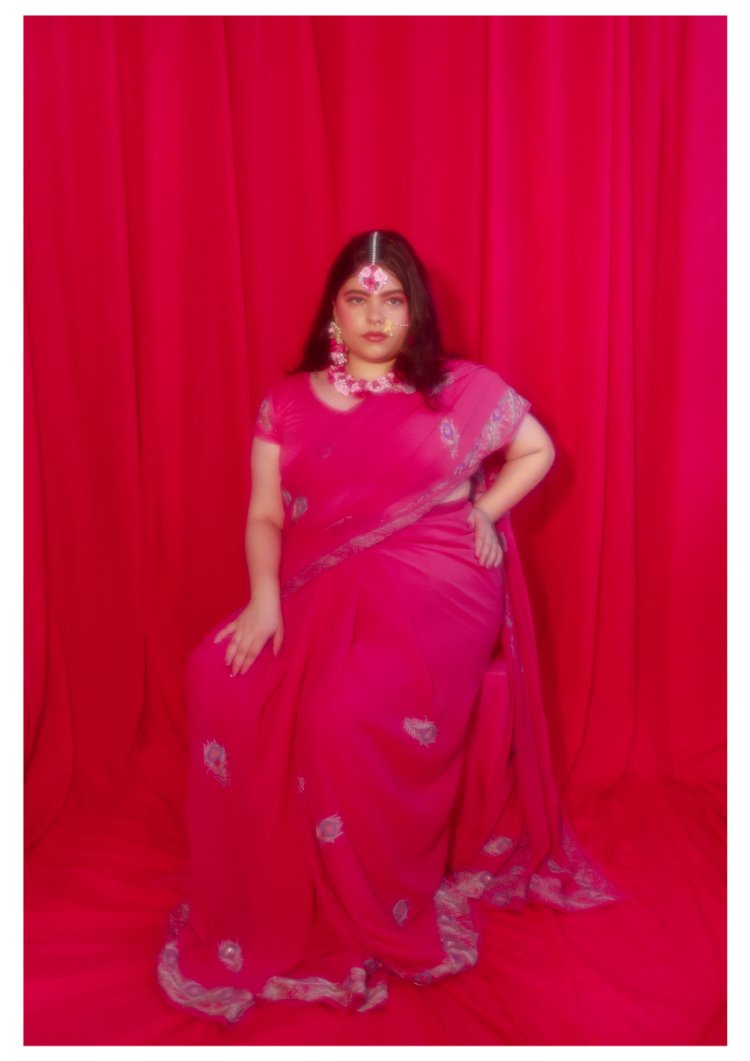 I have always had a complicated relationship with the term "I am a woman."
I spent so long trying to associate myself with what I thought it meant that I never stopped to understand that it could be whatever I wanted it to be and not one physical representation. As a fat girl, I wanted to be associated with my femininity growing up; I felt that if I presented a certain way then one day, maybe, I would be worthy of love.
It was a cycle in my head: makeup will make you more feminine, dresses will give you shape, always cross your legs, never cackle or snort, make your body smooth and hairless. Always make yourself smaller so people don't think you take up too much space.
The image here is titled "Alia Self Portrait 2019." I am wearing the sari I graduated high school in. I remember hoping people wouldn't look at my mid-riff or my arms and I refused to sit down for most of the day so my stomach rolls wouldn't show.
I was graduating that day and that's all I can remember.
I never take full-length photographs of myself. As much as I've grown since high school, there is still a part of me that has deep-rooted fat phobic tendencies. I spent so much time telling myself that no one would see beauty when they looked at me and it takes time to change that inner-narrative.
I used to think that my life would begin once I shed the weight I had been carrying around ever since I was little (both physical and emotional). I thought that in order to be seen as a womxn, in order to take part in life and not just watch it from the side-lines, I needed to fit into the societal mould.
When I first started to experiment with clothing and how I presented myself, it scared me but there was something so freeing about it. It stopped mattering whether I thought other people would be attracted to me as I started to take notice of how it made me feel, whether it made me happy and if it felt like 'me'.
When I took this picture, it was the first time I have ever looked at my whole self and felt beautiful. I'm wearing a sari that gave me so much anxiety, but being able to wear it again and see myself differently gave it different meaning.
This is me, a work in progress. Working on trying to love myself, trying to explore what being a womxn means outside the gender binary, loving myself as a fat womxn and finally believing I deserve love too.
Price: £55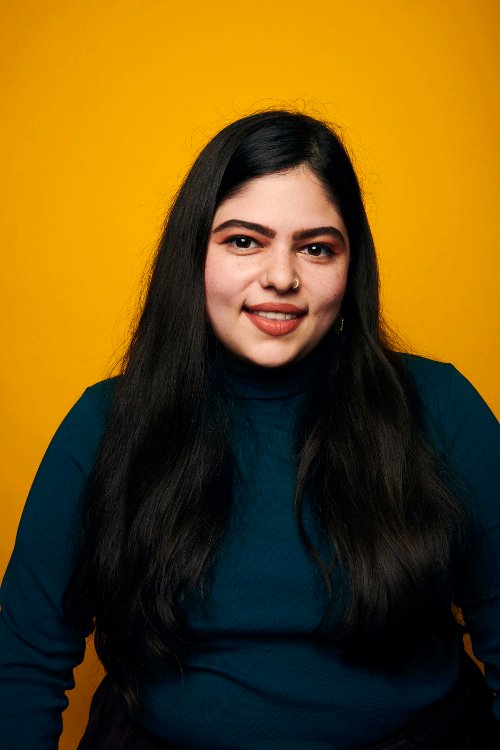 Alia Romagnoli is a twenty-two-year-old freelance photographer and art director. She focuses on fashion and portraiture and the concepts in her work explore her queer identity and biracial background. Her work has been shared by online platforms and publications such as British Vogue, VICE, Teen Vogue, The Guardian, Refinery 29 and INDIE Magazine. See more of Alia's work on her website: www.aliaromagnoli.com or her Instagram @a8lia
Alongside our second print issue, shado has produced a 3-month photography project with 18 photographers around the world where each photographer has responded to the brief I AM A WOMAN.
There is no one way of defining what it personally means to identify as a woman – and we wanted to leave it to a community of photographers to open up these interpretations.
Print Quality: 600 dpi
Dimensions: A3
Production Time:
Each photograph is professionally printed in a London studio. Once ready, prints are shipped flat or in a sturdy cardboard tube and secured on both sides.
* For addresses in the UK, delivery will take up to 5 business days.
* International shipping is available to all destinations and postage will be added accordingly. For Europe estimated delivery is 5-6 business days, and for the rest of the world 5-12 business days.