8/10 women in the UK stop breastfeeding before they want to. These statistics become more drastic when data is pulled from new mothers and disadvantaged areas. UNICEF commissioned a report stating that a potential £40 million could be saved in NHS fees if there was just a moderate increase in frequency of women breastfeeding. Despite this clear economic motivation, and the medical benefits it suggests, the UK still has some of the lowest breastfeeding statistics in the world.
This is due to a prevailing opinion that lactation should be done in private, which not only isolates mothers but causes unnecessary embarrassment. This in turn encourages women to switch to the bottle for ease. It is this public opinion, and its negative effects, that #FEEDON is trying to change.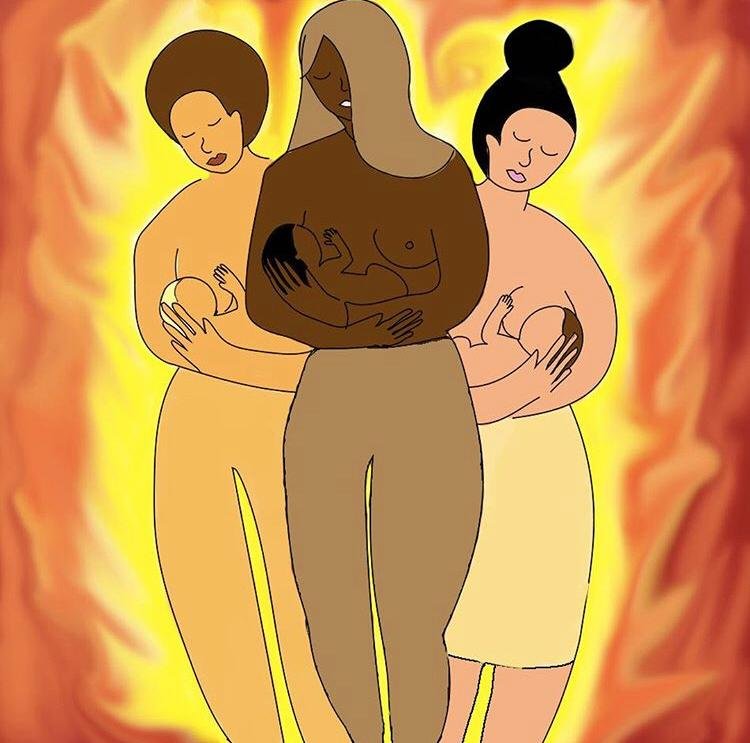 After an extremely successful collaboration which produced the #FEEDME campaign, featuring breastfeeding mothers in front of famous London landmarks, ABM (Association of Breastfeeding Mothers) and RÅN studios got together again to launch an even larger campaign.
Setting their sights wider, this campaign features over 40 women from across the UK, pictured in cities like Bristol, Cardiff, Cambridge and Manchester. The aim of this was to normalise breastfeeding nationwide, this time including a documentary to amplify the voices of breastfeeding women, getting their opinions on topical issues surrounding breastfeeding.
This year also marks the 40-year anniversary since ABM was founded, an organisation which offers training and support while also representing breastfeeding families at a national level. To celebrate National Breastfeeding Awareness Week, running from August 1-7, they collaborated with RÅN studios, created by Angela Nitecka and Robert Appleton, who are dedicated to producing socially conscious films.
Ann Bruce, from ABM, expands on the idea: "we hope that #FeedOn will have a positive impact on families of today and the families of tomorrow. The young woman who sees these images today might soon become a mum who is confident to feed her baby out."
Robert and Agatha also state that they wanted to show that breastfeeding is not just an issue for mothers, or even women.
We believe that listening to the experiences of others which may differ from our own helps to create debates and conversations that are centred around support and understanding rather than ones built on judgement and criticism. We hope that the #FeedOn documentary and accompanying photo series helps create more understanding and supportive discussions."
shado caught up with some of the women involved to see how the project has changed their approach to breastfeeding and hear their opinions on surrounding subjects.
SAMANTHA JONES
What inspired you to get involved in the project?
As a mum who is disabled it is an automatic thought that I would formula feed. When I read about the project, I thought it would be a perfect opportunity to be able to break down barriers regarding infant feeding. Breastfeeding is no longer the 'norm' in society and by being involved in the #FeedOn campaign I may be able to positively influence new mothers, especially new mums who are disabled.
Has your relationship with breastfeeding changed since the project?
Since becoming a mother, I have always been very passionate about breastfeeding. However, since being involved in the campaign I have begun to take further steps towards becoming a breastfeeding councillor. Without taking part in the project I don't think I would have had the courage to take that step.
What space do you feel has been the most welcoming or unwelcoming towards public breastfeeding?
I find small cafes are the most welcoming for breastfeeding mothers. It was in one of these places that I was brought water and asked if I needed anything whilst feeding.
The most unwelcoming place was actually in a hospital where I was told that I could feed in a private area rather than in front of other patients. They didn't specifically say that I couldn't do it in the waiting room but the way they asked the question made me feel that I was unable to continue feeding where I was. I politely declined the offer though because I knew my rights and I was comfortable feeding where I was.
What would you like to let new mothers know about breastfeeding/expressing?
I would like to say to new mothers that breastfeeding can be hard at first but once you overcome any potential obstacles it will be the best thing for you and your baby. Any amount of time that you manage to breastfeed for is incredible. Also, find support whilst you are still pregnant. Find your local breastfeeding support group and gain lots of knowledge around cluster feeding and what other normal new-born behaviors there are.
GIGI LEHAL

How important is the ability to be able to breastfeed publicly? Especially for new mothers?
It's one of the deciding factors when thinking about whether to breast feed at all. One wouldn't breast feed if they didn't feel comfortable in public. With the exception of my Muslim friend who has to breastfeed in the car when she goes out because of her Islamic attire.
What space do you feel has been the most welcoming or unwelcoming towards public breastfeeding?
Unwelcoming would be a place full of middle-class older people. For example, in certain posh restaurants or in my GP's surgery. Or in an eatery full of young people, like students.
Welcoming spaces are family cafes with comfy chairs and a laid-back staff and atmosphere. Also children's centres and parks.
KATIE STIMPSON
What inspired you to get involved in the project?
The UK has such a low rate of breastfeeding and much of this has come from how a woman feeding her baby in public is something that our society doesn't want to see. When I saw the post looking for mums to take part in the #FeedOn campaign I knew I wanted to be a part of it. Having recently had twins, one of which was in the SCBU (special care baby unit) and initially struggled to feed, I wanted to show that even with two babies it was possible to breastfeed.
What do you believe is the biggest challenge facing young mothers in today's society?
Being fully informed about all their options especially when it comes to how to feed their babies.
There seems to be a lack of understanding about the differences between breast and formula, with one documentary I watched quoting that over 50% of those asked thought that there was no difference between breast and formula milk. Women should have all options fully explained to them and be provided with the support needed to achieve their feeding goals.
I also think that as we live in such a celebrity-influenced world that there is huge pressure for women to just bounce back to their pre-pregnancy shape, when in reality your body has performed something amazing and will never be quite the same again!
How does breastfeeding/expressing make you feel?
Empowered and strong, I feel it gives me a really purpose and a strong connection with my boys… A bit like having a superpower!
They are hungry I can feed them;
They are sleepy I can feed them to sleep.
They are ill I can soothe them;
They are upset I can calm them.
All with boob power!
Though I will admit that there have been times especially in the very early days where you feed almost constantly where I have felt a bit like a dairy cow!
KATY SEWELL
What do you think about education surrounding breastfeeding in schools?
As far as I know it's basically non-existent. It needs to be taught, talked about and normalised. If we want to break this stigma then school is where to start.
What informed/will inform your decision about the 'right time' to stop breastfeeding/expressing?
I feel that a breastfeeding mother and child/children are a team. If one part of the team isn't happy or enjoying it anymore then that may be the right time to look at stopping. At the moment my team (my daughter and I) are really both benefitting from breastfeeding, neither of us are ready to stop yet. I was also given a wonderful piece of advice and that's "never quit on a bad day".
Where do you think government policy is lacking surrounding breastfeeding/expressing?
It's inconsistent more than anything. I hear of different people's experiences with health care professionals surrounding breastfeeding and it's so vastly different. Surely everyone in the NHS should be trained to the same standard with the same information about breast feeding. Without up to date training we are doing new mothers an injustice by not providing consistent correct information. I myself have even had to correct health care professionals about facts that they have wrong surrounding breast feeding.
What do you believe is the biggest challenge facing young mothers in today's society?
Honestly, I think it's other mothers. From a young age, we are made to believe that we need to be better than the next woman. When really what we need to do is lift each other up and support each other in any way we can. Thankfully I'm seeing this more and more. However, I still see and hear this "I'm better than you" mentality.